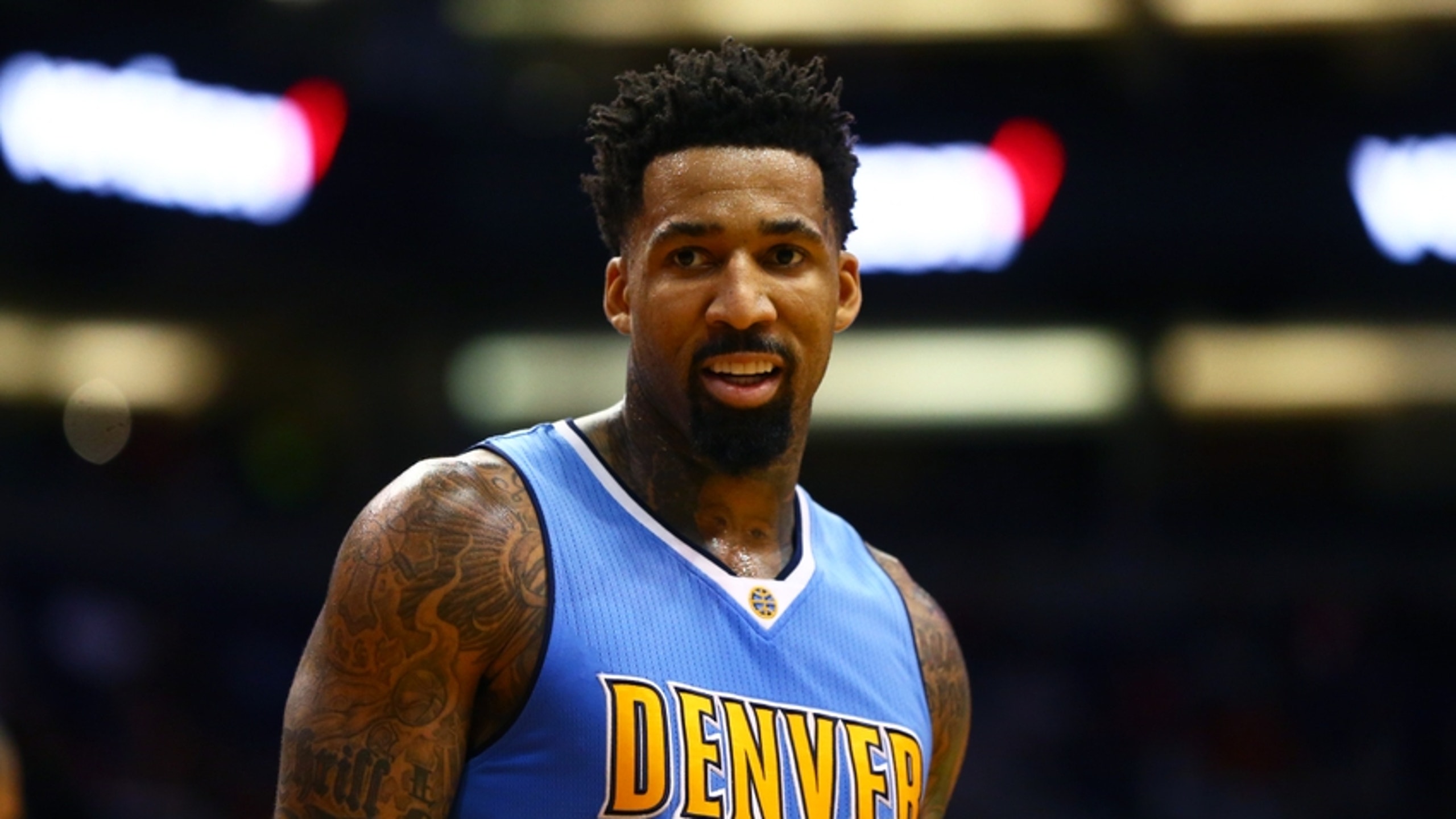 Denver Nuggets—the DESPERADOES
BY Fansided and Charles Murray/FanSided via Nugg Love • December 29, 2016
DESPERATE Fall Down Bank Shot; DESPERATE Block; DESPERATE Over the Head Heave;  ¼ Inch of Lady Luck Saves Game for the Nuggets—the DESPERADOES.
Denver won its game against Minnesota, but they tried to put it in a Christmas stocking for the Timberwolves.
They were up 10 points with four minutes in the game, and again, lost focus and urgency.
They started hoping instead of willing the outcome of the game.
Their confidence will increase as they win more of these.
They won this one; now win the next one. And the next one.
Want your voice heard? Join the Nugg Love team!
They can do it.
Mandatory Credit: Bruce Thorson-USA TODAY Sports
The Value of Desperation
They learned how they can win when they are DESPERATE.  It seems like in order to win these games means they need to change their name to the DENVER DESPERADOES.
Desperation is the result of presence of mind, urgency, fear, focus, anger and pride. Repeat.
Gallo's shot, a fall down hail Mary banker over Wiggins; Chandler's extraordinary block without a foul on a driving Wiggins; Lavine's three pointer attempt with one second, which had perfect alignment but was ¼ inch short, determined the final outcome of the game.
But don't forget or leave the heave; Gary Harris had the presence of mind to toss Chandler's block over his head, 60 feet behind him into the back-court to use the final seconds, and it worked.
Think what our record would be if they had played with more desperation and execution on those other two minute games which we lost.
It takes time to cultivate that posture but the Nuggets are doing it.
Mandatory Credit: Isaiah J. Downing-USA TODAY Sports
Basketball is Fun, When the Nuggets are Prepared
Yes, it was a fun game. It was a good game with excellent substitution from Mike Malone.
There was obvious improved game management and preparation.
More from Nugg Love
The double teaming of Towns was right the right thing to do.
Offensive and defensive coaches, you are becoming more relevant with your laborious study and helping the coach.
It was obvious that Malone was well prepared to win this game.
There was an appropriate Nurkic sighting!
It was good to see that there is no apparent discordance in the locker room but rather proper utilizing the personnel in the best way possible for the team.
Mandatory Credit: Brad Rempel-USA TODAY Sports
What Could Have Happened
So in spite of the Nuggets too common breakdown in the last two minutes, Lady Luck was on our side, this time.
Desperation and Lady Luck came to Denver.
Gallo could have missed that shot; Chandler could have fouled Wiggins; Harris could have tossed the ball into the Wolves hands; Zack could have hit the last second three pointer.
But none of these things happened, because Denver played just that much more focused, in the end.
There was a Nurk sighting, and he played smart.
Tiny Details with Effort
Basketball is a game of tiny, tiny details, accuracy, and a sense of urgency.
The best teams exude urgency in as many plays as possible. It is as though they will never play again unless they will to get the next play exactly right.
Not almost. Exactly right, every night. And it will happen more than not.
This desperate attitude is what separates the men from the boys.
Did you notice that when Nurkic (not a tiny detail) came in the game they were 13 points down, and when he left the game they were tied?
Nurkic was playing with exact desperation, because he doesn't play unless he plays right.
And Murray hit a couple of threes and played like Curry on defense, as hard and fast as he could.
He wants playing time too.
Mandatory Credit: Bruce Thorson-USA TODAY Sports
Coaching and Substitution
Denver started out asleep again.
There were three immediate time outs to address closing the lane.
Come on guys, you don't need to get your butts kicked to start out with presence and focus and effort!!
nuggets
Nugg Love 2wDenver Nuggets: What It Means To Win in the Mile High
More headlines around FanSided:
9w - Denver Nuggets: DFS Picks for the Season Opener against the Pelicans12w - Denver Nuggets Fantasy: Implications From Preseason Opener12w - Emmanuel Mudiay: Analyzing the Art of Passing15w - Denver Nuggets: Will Malik Beasley Sadly Only Get Insurance Minutes?15w - Top 5 Denver Nuggets with Any Fantasy Basketball ValueMore News at Nugg Love

They didn't pass crisply.
Mudiay lollygagged bringing the ball down and there was no bodying up and no good pressure on the ball on defense.
The time outs did change the momentum, a little.
But when coach brought in our 280 pound, 7 footer, the game really changed. Barton and Murray contributed; but there was blood to be had, and coach had the presence of mind to know and reward Nurkic for keeping his chin up, playing hard in practice, and being smarter.
He will play more.
Coach is not permitting mistakes or lack of effort any more.
Mudiay sat early and rightfully so. He needs to get a perfect drive and assist or and a score to get going early. He is not playing with intention when he first gets on the court. Correct it, Mudiay.
If he misses, he should lock down his man on defense to compensate and focus. Close a lane and steal the ball. He has the physicality, but is so young, his emotions and confidence are his barriers.
He will hit his threes if his feet are beneath him in a pass on the flow.  He finally got it going a little, but is still in school.
Coach pulls his men out when they are tired, frustrated, or getting beat.
He should anticipate these characteristics before they happen so that the player doesn't build up the 'lactic acid' of discouragement. Keep the game in a winning mode throughout. Be on top of it, assistant coaches!
Mandatory Credit: Isaiah J. Downing-USA TODAY Sports
The Last Two Minutes—Will to Win
Now, what about those last two minutes?
Playing without the intent to win during the last two minutes is a similar story throughout this year.
They might as well forgo 40 minutes of game time, play two minutes, and whoever wins, wins. The rest is great entertainment but does not define the victor.
DenverNuggets105
The victor is determined in the last two minutes. They see this time after time, time after time.
The experience of Chris Paul, or the will of LeBron James can win the last two minutes.
Denver does have players getting this edge; Gallo, Chandler to less an extent, Barton.
But the unstoppable future might be with Jokic. With a little movement and screens and cuts Jokic has a tremendous presence of mind on what to do and can get his shot off even when pounded.
But don't just hope, guys. Every man has to be in every second of the last two minutes.
Concentrate, move, body up, run as fast as you can, cut, screen, get smart position, react, adjust.  WILL THE WIN.
Coach needs to run two minute drills and beat up on the players missing their assignments, on both defense and offense.  Ask: "What went wrong that you won't let happen again?"
The only reason the Wolves caught up and almost picked the fruit out of the Christmas stocking is because they played with desperation and urgency the last four minutes. And the Nuggets didn't until the end.
Denver was playing hopeful, not willful. Towns came alive and showed Denver what he is and will be, because of his will. And he almost got it.
Mandatory Credit: George Walker IV/The Tennessean via USA TODAY NETWORK
Practice DESPERATION
Gallo and guys, if you don't learn to play DESPERATE through more of the game, you may not be so lucky next time.
You have to practice desperate playing.
Start with two minute practices.
Assignments missed, sit or run 50 laps.
Effort not there?
Want your voice heard? Join the Nugg Love team!
Sit or run 50 laps.
Mandatory Credit: Bill Streicher-USA TODAY Sports
Preparation Also Means Resting
Coach, you are doing better in managing the game.
But, you look beat. Take a yoga class with Murray; it will help your efforts.
Get the FanSided App
Eat well and rest. And shave, okay?
You don't have to be one of the guys.
You have to be one of their inspirations.
By the way, after the game did you see that Towns said that Gallo was a special basketball player in the NBA? What an intelligent, gracious comment which Gallo should take to the bank.
No you can't have him, Mr. Towns.
---
---