Dan Majerle explains why Charles Barkley was his favorite teammate of all time
BY Aaron Torres • December 9, 2016
Although Charles Barkley retired from the NBA almost two decades ago (man, how old are we?), his spotlight has not waned: It's as if the former 76ers and Suns player has almost become more famous now as an NBA analyst than he was as a player. As a member of the "Inside the NBA" panel on TNT, Barkley is never afraid to speak his mind, while serving as one of the most insightful, entertaining and downright funny voices covering the league.
Still, that doesn't change the fact that Barkley was a heck of a player, someone who went to 11 All-Star games, won the 1993 league MVP and eventually was enshrined into the Basketball Hall of Fame.
He was also a heck of a teammate, according to his former Phoenix Suns teammate and current Grand Canyon coach Dan Majerle.
In fact, Majerle told FS1 college basketball insider Evan Daniels on "The Sidelines podcast" that Barkley was his favorite teammate of all-time.
"He was my favorite teammate," Majerle said of playing with Barkley. "I've never played with a guy at that size, or even seen a guy at that size, who could dominate a game. He was maybe, 6'5", probably 6'4", but he was so strong in his lower body, just the way he dominated, rebounding. When he came to the Suns in '92-93, he just put us on his shoulders and singlehandedly won some games.
We were always good before he got to Phoenix; we won 50, 55, 56 games, but we could never really get over the hump. And when he came to our team in '92-93, which is right after he experienced the Dream Team I thing [in the summer of 1992]. He was a great player, won the MVP that year, we won 62 games, had the best record in the league that year, went all the way to the Finals.
I really enjoyed playing with him, he was a lot of fun to play with. Being around him off the floor was a lot of fun, it was never boring. That's for sure."
Majerle's excerpt hits on great things about Barkley: One, for all the talk about his larger-than-life personality and all the crazy things he says on air, Barkley was a really good basketball player. You don't make the Basketball Hall of Fame by accident, after all.
At the same time, Barkley might have been just as fun to hang out with off the court as he was on it.
"If you're loyal to him, if you're a friend of his, he'll do anything for you," Majerle continued. "He was fun to be around off the floor. He liked to have a good time. We had so many different personalities on that team, but we got along so well. Charles is one of those guys that gets along with everybody. We'd go out and he'd be just like a regular guy, and we'd have a blast. Fans loved him. That year was by far my favorite year of my pro career."
Barkley and the Suns' magical 1993 Finals run were just some of the wide-ranging basketball topics Majerle touched upon during his 25-minute "Sidelines" interview. Majerle and Daniels hit a number of topics, from Majerle's playing career, to what he thinks of the modern NBA to his current job at Grand Canyon. You can listen to the whole interview above, or by clicking here.
Check out previous episodes of "The Sidelines Podcast," which included interviews with Duke coach Mike Krzyzewski and Villanova's Jay Wright.
To subscribe to the podcast, click below.
SUBSCRIBE: iTunes | Google Play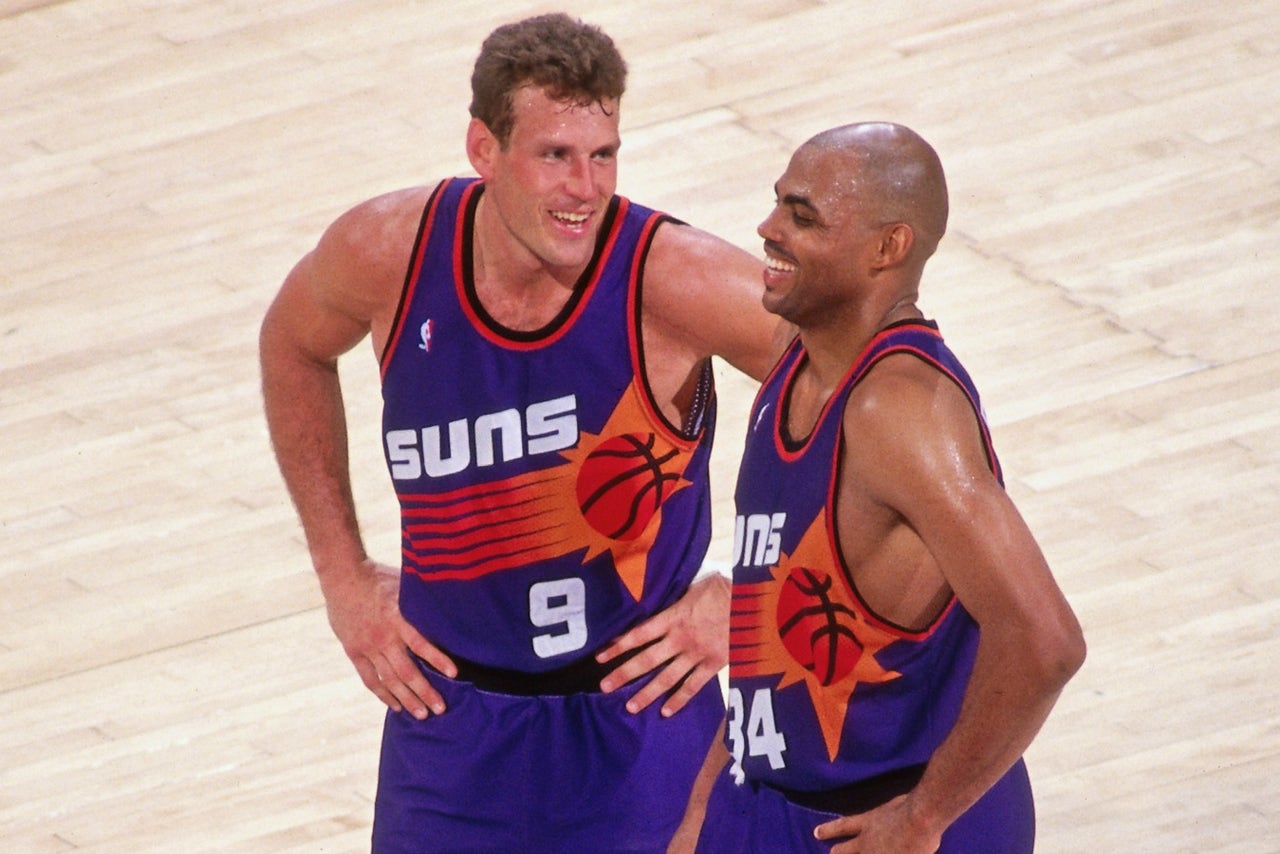 ---
---