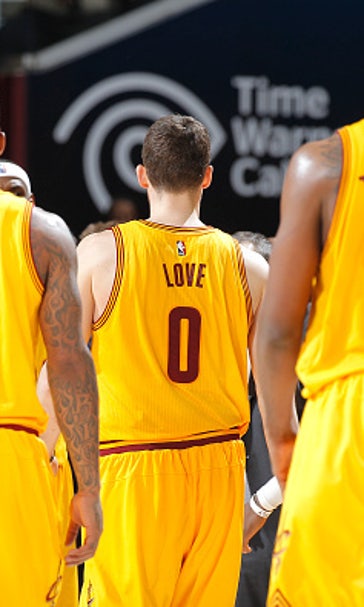 Cavs on verge of shattering NBA's luxury tax record
July 2, 2015

by Jacob Rosen
With Wednesday's flurry of long-term contracts, fans of the Cleveland Cavaliers now have a clearer picture of what the team will look like during the 2015-16 season. As many hoped, it will look very much like the team that finished last regular season on a 33-3 tear, thanks in no small part to Dan Gilbert's spending.
We've seen the reported figures for Kevin Love, Tristan Thompson, and Iman Shumpert. But, what is the true price of all of these moves? How will it affect the team's tax bill in this season and beyond? I've built a nifty little GIF on Twitter that helps to explain the tax consequences for this season with any further roster moves. I'll attempt to add even more context behind what it all means here and how it affects the future.
As a reminder, the projected 2015-16 NBA salary cap is $67.1 million. There have been some reports of it being perhaps $2 million higher than that, but $67.1 mil is the figure I'm using for these calculations. Obviously, things would shift all over just a wee bit if the cap was a bit larger.1 Based on that cap, the tax line is projected to be $81.6 million and the all-important "apron" would be $85.6 million.
For those new to NBA salary cap discussions: The league typically does not have a traditional "hard cap," as do some other sports leagues. NBA teams can pay up to whatever amounts they'd like — legally under the CBA, of course — to retain and sign players. However, if they surpass that season's tax line, they're forced to pay back a very progressive luxury tax. That tax payment goes back into revenue sharing and league operations.
What does this progressive luxury tax system look like? Take a look at this screenshot from the incredible Larry Coon CBA FAQ website.
As most everything in a Collective Bargaining Agreement, it's confusing! That's why I've created my own CBA Tax Calculator for your use. All of the configurations behind this tax system and my calculator are at work in the GIF above. A "progressive" tax means that the more money you spend, the higher your rates. So as the Cavaliers steadily add more and more player salaries in 2015-16, this rate will skyrocket.
This was the warning behind my February post entitled "Summer trade of Brendan Haywood could carry 300 percent tax rate for Cavs." Ultimately, now, such a trade could carry an incremental tax rate closer to 500-600 percent. Going back a bit further, it's why the Cavs saved at least $10 million — and likely now, perhaps closer to $30 million-plus because of tax effects — when Kyrie Irving barely missed the All-Star Game starting nod in January.
Let me summarize the GIF from above in one clearer paragraph: As of now, before signing LeBron James to his expected near max contract (of some unknown length), the Cavaliers have $79 million guaranteed to eight players for next season. That's just under the $81.6 million tax line. Once they add LeBron's contract, they'll be at $100.7 million in salaries and $42.2 million in taxes. If the Cavs add just $23 million more in salaries from there, they'll add an additional $130 million in taxes. That's how progressive tax rates work very quickly.
In terms of historical context, the 2013-14 Brooklyn Nets own the NBA record with the largest luxury tax bill at $90.6 million. However, because of that season's smaller salary cap, they only paid about a combined $200 million in player salaries and taxes. To surpass Brooklyn's record, the Cavs would need to add about $11 million in salaries after LeBron. To surpass the $375 million that Dan Gilbert paid when purchasing the team in 2005, the Cavs would need to add about $31 million in salaries after LeBron.
This is the also current context behind contract negotiations with J.R. Smith2, Matthew Dellavedova, and candidates for Cleveland's taxpayer mid-level exception starting at $3.376 million. It's also a stark reminder that although the Cavaliers will likely fill their bench with some minimum salaried players — valued at the rookie minimum of $525,000 in my GIF, but that varies based on veteran status — those salaries will actually count closer to five- or six-fold because of taxes. This is what Miami was thinking about when it amnesty-waived Mike Miller back in 2013.
Going forward, a clear goal for the organization will likely be to avoid the even more rigorous "repeater" tax rates. Starting recently, the repeater tax takes effect once a team goes over the tax for three out of four years. Based on the outlook below, which factors in the Cavs with LeBron's max deal and future salary cap projections, they're likely to be well over the tax line again in 2016-17. Then, the team maybe could sneak back under the tax line before the 2017-18 season, but those projections — and many other salary-related items — could be affected by the expected CBA negotiations.
With just a few more minor moves, the 2015-16 Cleveland Cavaliers will make NBA history. All in all, we're likely talking about one of North America's largest single-season sports expenditures. As fans, it's hard not to enjoy that for all it's worth. Because it is certainly worth quite a lot of money.
For more salary cap articles at WaitingForNextYear, check out these links:
— Yes, Tristan Thompson can sign a five-year deal with Cleveland — Jun. 30, 2015
— It won't be easy for the Cavaliers to acquire Dwyane Wade — Jun. 22, 2015
— Everything you need to know about the Cavs and future salaries — Jun. 1, 2015
More from Waiting For Next Year:
---
---