Buzz: 'Laker Girl' Buss felt 'betrayal'
BY Sam Gardner • September 23, 2013
The hiring of Mike D'Antoni as the head coach of the Los Angeles Lakers last November upset scores of Lakers fans. But perhaps no one was more disgruntled by the decision than Lakers executive vice president of business operations Jeanie Buss, who said she felt betrayed when the team settled on D'Antoni over Phil Jackson.
On Sunday, the LA Times published an excerpt from an updated version of Buss' memoir, Laker Girl, and in it, Buss recalls the moment that her brother, Jim, the Lakers' executive vice president of player personnel, hired D'Antoni when she believed the job was going to her then-boyfriend (now-fiancé) Jackson.
After firing Mike Brown on Friday, Nov. 9, just five games into last season, Jim Buss approached Jeanie about the possibility of Jackson returning to the Lakers bench. A meeting between Jackson, Jim Buss and Mitch Kupchak was subsequently set up for Saturday.
After 90 minutes, the parties agreed to meet again on Monday, but that never happened. Late Sunday night, Jackson received a call at the house he and Jeanie Buss share, informing him that D'Antoni had been selected for the job, despite this happening at both home games between Brown's dismissal and D'Antoni's hiring:
"Two days after Phil got that phone call, I was at the gym when I started crying so hysterically that they sent me home," Buss wrote. "My sister, Janie, knew the whole situation was tearing me apart, but I don't think anybody else in my family understood how much it had hurt me. It physically hurt me.
"The sequence of events — Phil almost coming back and then being told someone else was better for the job — practically destroyed me. It almost took away my passion for this job and this game. It felt like I had been stabbed in the back. It was a betrayal. I was devastated.
"I felt that I got played. Why did they have to do that? Why did Jim pull Phil back into the mix if he wasn't sincere about it? . . . Phil wasn't looking for the job, and then he wasted 36 hours of his life preparing for it when they were never in a million years going to hire him anyway.
"How do you do that to your sister? How do you do that to Phil Jackson? I hope the flirtation with Phil wasn't just a PR stunt. I still can't get my head around the whole story."
The Lakers would go on to win 45 games last season under D'Antoni before being swept in the first round by the San Antonio Spurs. And in February, Lakers owner Jerry Buss — Jeanie and Jim's father — died at the age of 80.
But it seems that the death of their father, a Christmastime engagement for Jeanie and a season to separate themselves from the Jackson-D'Antoni drama has done little to mend fences between Jeanie and Jim Buss.
"My dad made it clear to the entire family that he put me in charge of the team's business operations and my brother was in charge of the basketball decisions," Buss wrote. "He wanted that structure in place to carry us forward when he was no longer running the show.
"What is not clear to me is why, if they had their doubts about Phil being physically able to coach, they hired a guy who was still recovering after having his knee replaced? D'Antoni wasn't physically prepared to hit the ground running with the season already underway.
"Despite my brother's desire to open up the channels of communication between us, we still rarely if ever discuss basketball. That should be okay because my dad was confident the franchise could be run that way. But I want my brother to realize that I'm not the enemy."
I can't wait to see a fictionalized version of this incident play out on Buss and Jackson's Showtime drama.
Now, for some links:
• Kobe Bryant is headed for Dubai.
• A Detroit Lions player got fined $5,000 for wearing the wrong socks.
• Tony Allen live-tweeted Disney on Ice:
• For the first time in years, Dirk Nowitzki is playing 5-on-5 before training camp.
• Former Madden cover-player Peyton Hillis was released this weekend — this time by the Bucs.
• An inconsolable little Winnipeg Jets fan is devastated that Ondrej Pavelec sat out a preseason game:
• Generally, taking an interception out from seven yards deep in the end zone is not advisable, but in this case, it worked out:
• Despite getting 18 minutes of a running clock that they say they didn't ask for, FIU still lost by 72 points against Louisville.
• And Miami and Savannah State played a 12-minute fourth quarter — and Miami still won by 70.
• #Henrying is a thing now:
• Though he has retired from the NBA, Tracy McGrady says he still might play one more year in China.
• Magic Johnson says Michael Jordan was the greatest one-on-one player ever.
• Via SB Nation, this FAMU-Ohio State referee took almost as bad of a beating as FAMU did Saturday: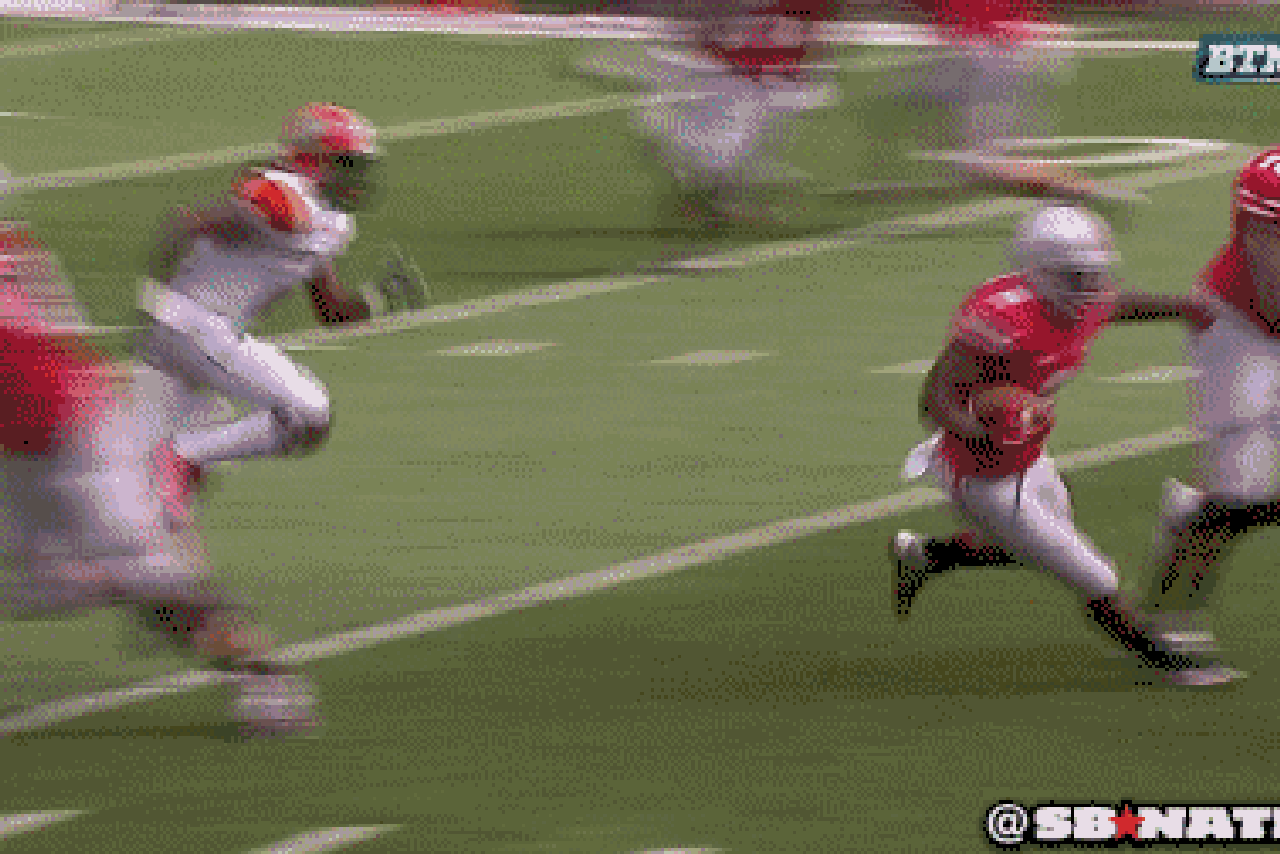 • The Ohio State School for the Blind performed "Script Ohio" at Saturday's halftime show:
• Tomas Vokoun is out indefinitely after a procedure to dissolve a blood clot, but it's not the first time clots have impacted the Penguins goalie.
• A Michael Vick autograph event was reportedly postponed on account of death threats against the organizer's family.
• Colby Rasmus will miss the rest of the season after being hit in the face by a ball while running onto the field for pre-inning warmups: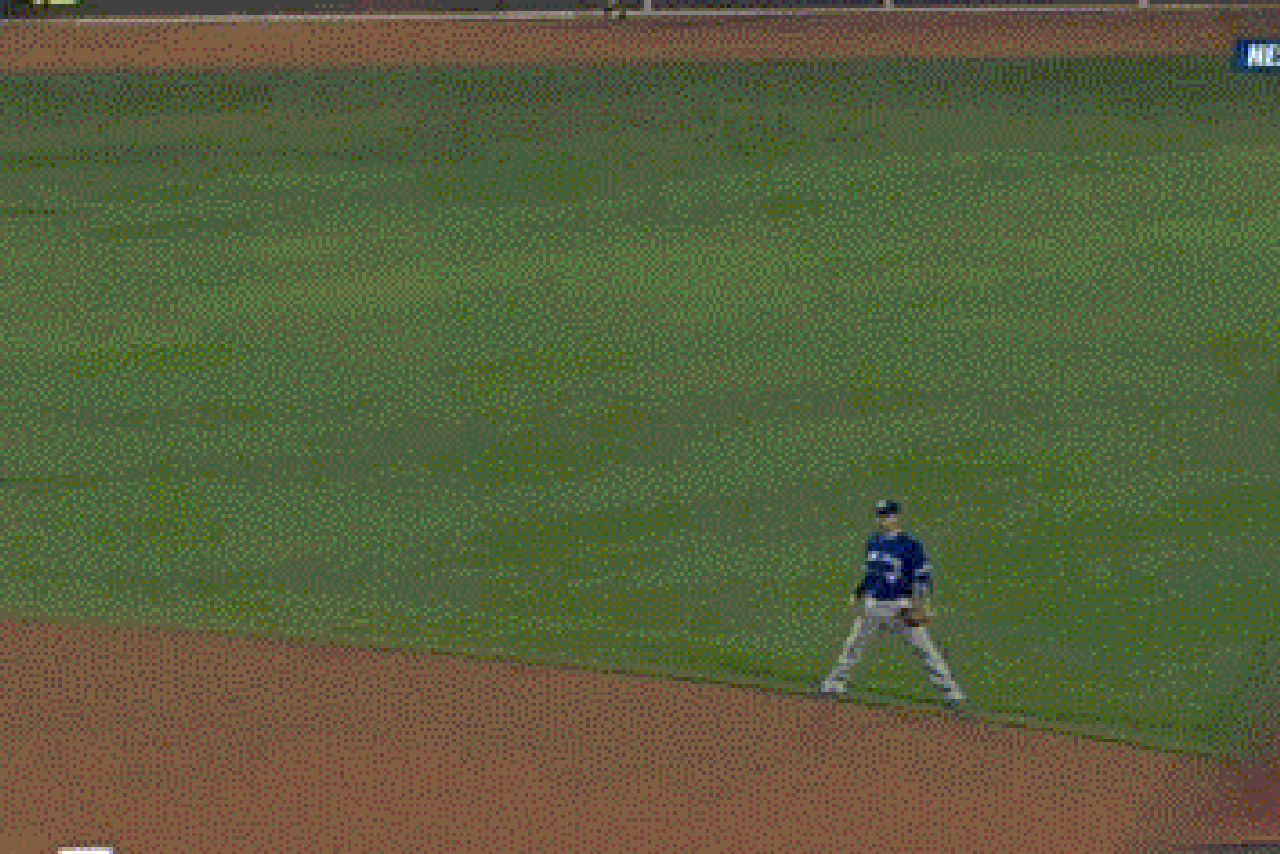 • Sewage water made its return to Oakland:
• Logan Morrison says he wants the fences moved in at Marlins Park.
• TMZ reports that the Brian Holloway-house party story may be a bit misleading.
• Via The Big Lead, watch out, ballboy: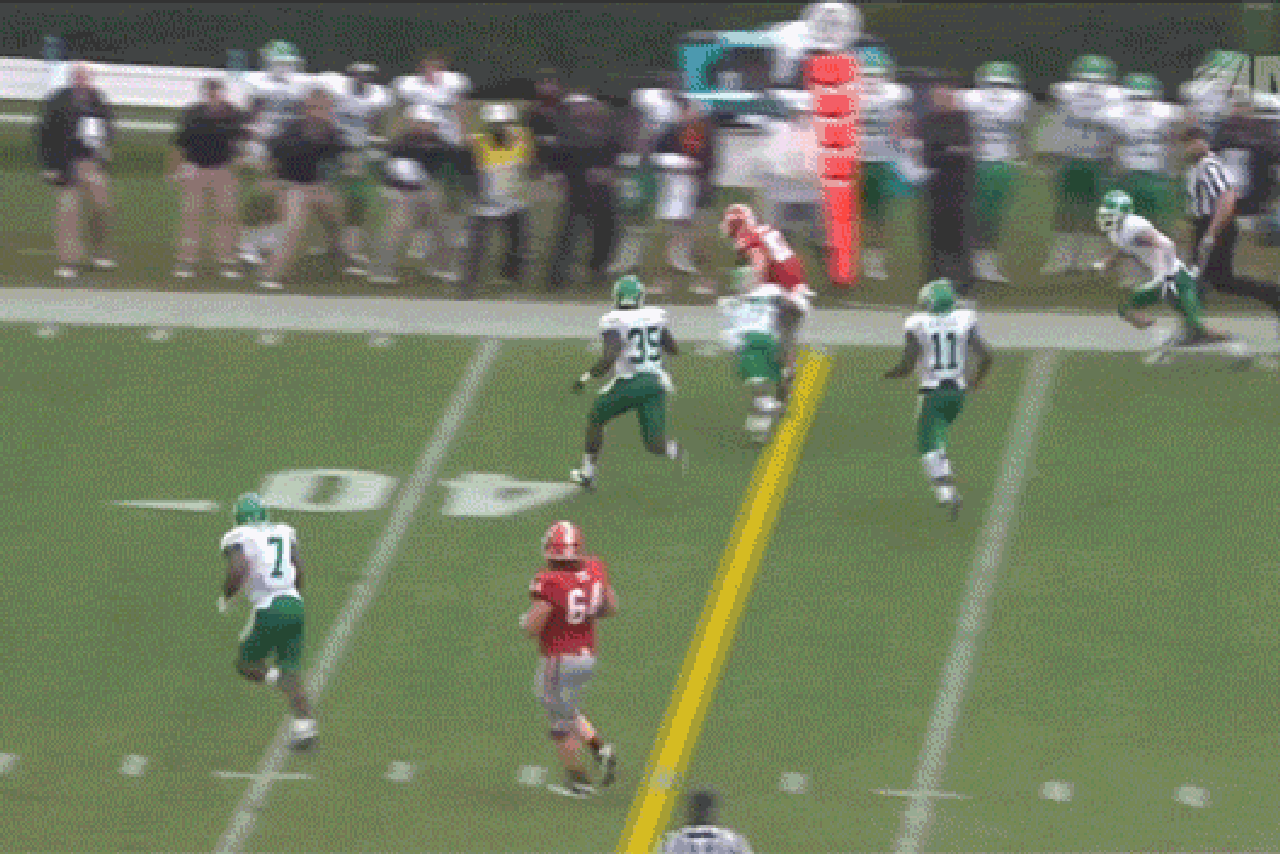 • San Jose State's punter was ejected for fighting:
• The New York Islanders played a game in their future home in Brooklyn, to mixed reviews.
• Sacramento mayor Kevin Johnson — the guy who saved the Kings — is being accused of "hating" the team.
• Ouch:
• Riddick Bowe is learning how to drive a truck.
• The Philadelphia Phillies have taken the interim tag off of manager Ryne Sandberg.
• Via The Big Lead, a Kansas State sideline worker got drilled in the face by a David Ash pass: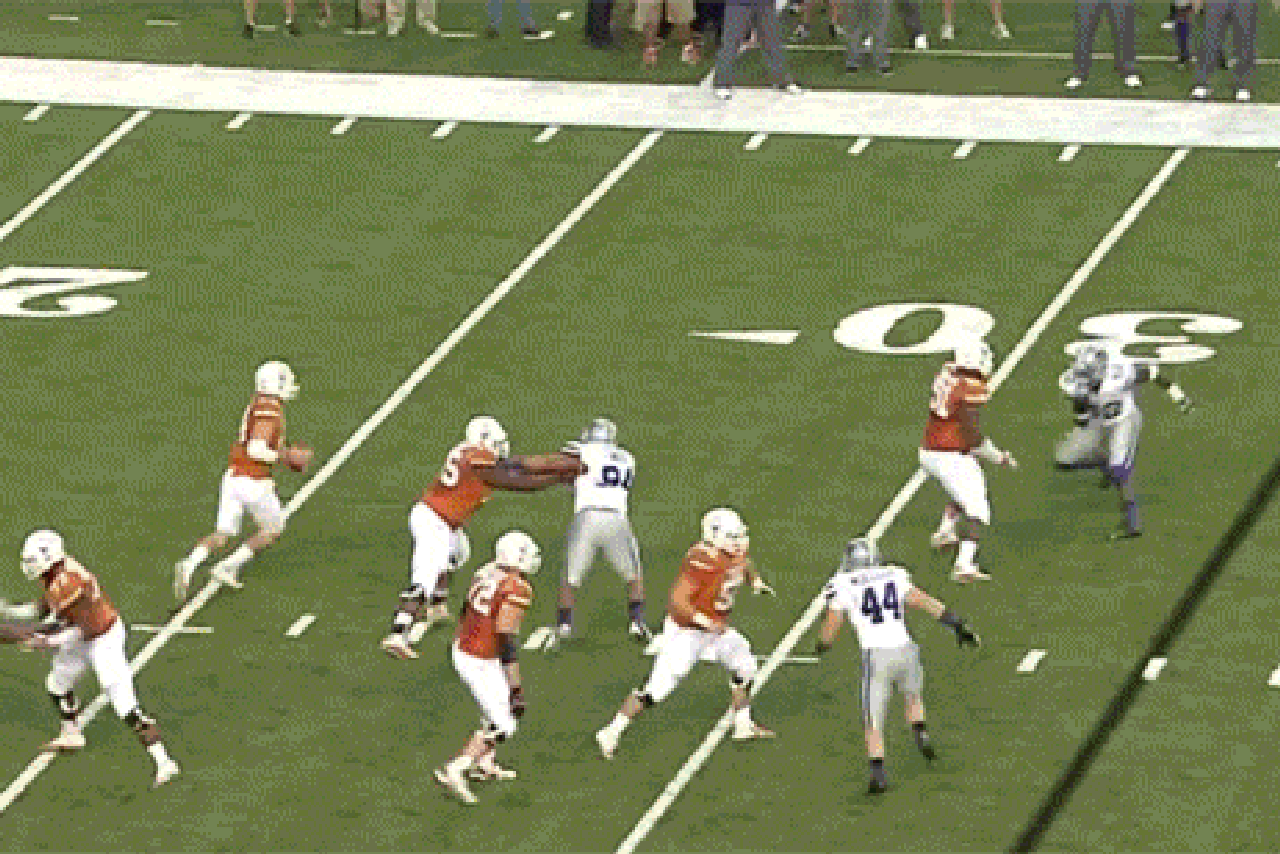 • Dominic Oduro celebrated a goal by eating pizza:
• Shaq is not a fan of the New Orleans Pelicans' new nickname.
• The Cincinnati Bengals benched Katy Perry.
• Metallica played at Yankee Stadium in honor of Mariano Rivera:
• Where is his torso?:
---
---