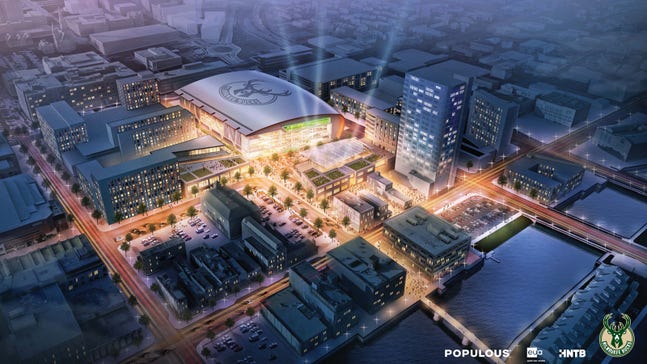 Bucks unveil updated renderings of new downtown arena
Updated
Mar. 4, 2020 9:09 p.m. ET

The Milwaukee Bucks are getting a new arena, and boy does it look fancy.
The Bucks released renderings of their proposed downtown Milwaukee basketball palace Wednesday, ahead of the team's submission of plans to the city.
The Bucks yet-to-be-named arena will have a curved roof and what appear to be wood panels, which is so Wisconsin it hurts. (It's not actually wood, but instead something called zinc patina.)
The new arena didn't come without some controversy, as so many do these days. The new arena is being half funded by state and local taxpayers, whose $250 million stake in the $500 million arena will increase to $400 million with interest.
 
---
---