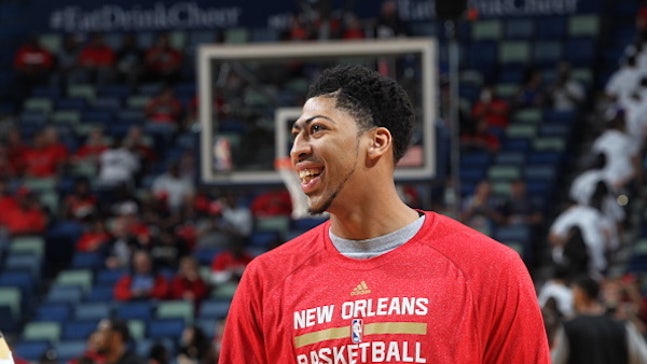 Answering the five biggest questions in NBA free agency
Published
Jul. 3, 2015 4:29 a.m. EDT

By Vincent Frank
Entering the third day of free agency around the NBA, there are still stop top-end free agents remaining on the market. However, a lot has already been decided.
The New York Knicks and Los Angeles Lakers look to be the early losers of the free agency period. Meanwhile, under-the-radar clubs such as the Milwaukee Bucks and Indiana Pacers have made some solid moves.
Here are five questions we are attempting to answer as free agency continues to dominate the NBA world.
1. Did the Portland Trail Blazers Really Give Al-Farouq Aminu $30 Million? 
We get that $7.5 million in today's market isn't what $7.5 million in last year's market was. We get that it's the future equivalent of about $4 million. We fully understand that the cap increase next summer is going to make the contracts this summer look like bargains. We also understand that Aminu averaged 5.6 points and less than 19 minutes for the Dallas Mavericks last season. Here's the same player that the Los Angeles Clippers selected eighth overall in the 2010 draft before sending him to the then New Orleans Hornets as part of the Chris Paul deal. Here's a player that just received $30 million over four seasons.
Aminu, 24, is still young. He might end up being a darn good player. Heck, he did average 11.2 points and 7.2 rebounds in the Mavericks loss to the Houston Rockets in the Western Conference Quarterfinals. By no means does this indicate that he's worth $7.5 million, even in today's market. Consider this: Brandan Wright had a similar regular season for the Phoenix Suns and Dallas Mavericks. He ended up signing a three-year, $18 million deal with the Memphis Grizzlies on Wednesday. Heck, Amir Johnson may have received $12 million annually from the Boston Celtics, but that came in the form of a two-year deal.
Portland had money to spend. It needed to add more talent to the roster. And in reality, it may have jumped on Aminu a little too soon here. The team likely would have been better off being a bit more patient in this situation.
2. Is Anthony Davis' Five-Year, $145 Million Extension a Bargain?
(image via ESPN Stats & Info)
The largest contract extension in Association history. An average annual salary of $29 million per season. Nearly $354,000 per game. How in the world could this be considered a bargain? The answer to this question is rather simple.
First and foremost, Davis is a 22-year-old big man that averaged 24.4 points, 10.2 rebounds and 2.9 blocks per game last season. He followed that up by averaging 31.5 points and 11.0 rebounds in the Pelicans first-round playoff loss to Golden State.
Secondly, Davis signed this deal before max contracts are set to skyrocket. For example, a player at the highest tier will earn somewhere in the neighborhood of $30 million annually when max deals increase next summer. While Davis wouldn't have been in that group based on service time, we can all agree he's already one of the top players in the game.
Finally, New Orleans locked Davis up for another six seasons. As the salary cap is set to consistently increase annually over the next few years, $29 million in today's market will be much more of a bargain in say 2018. Equally as important, it puts the Pelicans on the map. With an elite big man to build around, the team is going to be an attractive free-agent destination moving forward. It's a win-win for all sides.
3. Despite Losing DeMarre Carroll, Did the Hawks Improve?
Carroll was a major cog in Atlanta's surprising 2014-15 campaign. In addition to averaging 12.6 points and 5.3 rebounds per game while shooting 39 percent from three-point range, Carroll played stifling defense against the opposing team's best offensive player. That type of production will be hard to repeat moving forward.
Atlanta did, however, retain big man Paul Millsap on a three-year, $59 million contract. The All-Star seemed to be Atlanta's top priority over Carroll, which made a ton of sense. It's not easy to retain a player that averages nearly 17 points, as well as eight rebounds and three assists per outing. In addition to retaining Millsap, Atlanta added a defensive-minded big man in Tiago Splitter in a salary dump by the San Antonio Spurs. While Splitter is somewhat of an injury concern, he was a staple in San Antonio's defensive scheme over the past five seasons. Don't sleep on that addition.
The Hawks most definitely need to add a wing player to replace Carroll, but they did a tremendous job adding other assets. Tim Hardaway Jr. will be a good top-end option off the bench, while Splitter adds a big presence when either Millsap or Al Horford is on the pine. That's three intimidating big's up front.
4. Anyone Going to Take the Lakers Money?
From upper-echelon free agents such as Marc Gasol and LaMarcus Aldridge to mid-tier guys like DeAndre Jordan and Greg Monroe, the Lakers simply haven't made a good impression thus far during free agency. It's even gotten to the point where rumors are swirling that they might have to turn to acquiring David Lee from the Warriors in an attempt to bring on talent and get someone to take their cash. That's such a steep tumble from one of the most historical franchise in Association history.
It's hard to pinpoint where the Lakers have failed. Kobe Bryant can't be seen as the problem here, especially considering he likely has just one more year remaining with the team. Despite Julius Randle's injury last year, the Lakers have also drafted well. Adding D'Angelo Russell and Randle to the mix should be attractive to free agent targets. This team also exists in the second-largest media market in the United States—signifying major endorsement possibilities.
Maybe it's the organization. From owner Jim Buss and president Jeanie Buss to general manager Mitch Kupchak, it appears to be a failure from the top down here. And in reality, the Lakers need to get is straight to avoid the real possibility of playing second fiddle to the Clippers in the Southern California market. More than that, they are not going to be able to land top-end free agents until the product improves on the court. That's the harsh reality for the once proud franchise.
5. Best Contracts Thus Far in Free Agency?
It's surprising to see that Draymond Green received $8 million less in total value than he could has signed on a max deal with the Golden State Warriors. There seemed to be some back-and-forth between the two sides on Wednesday, but ultimately they came to a common ground before Green tested the market as a restricted free agent. That common ground came in the form of a solid five-year, $85 million contract.
Khris Middleton's name came up as a potential max player heading into the offseason. And while his stats (13.4 points, 4.4 rebounds and 47 percent shooting) don't suggest max numbers, the 23-year-old swing man is among the most underrated players in the game. He can play three positions on offense, guard four positions on defense, and is someone that can stretch the court. Retaining him on a five-year, $70 million contract was big for Milwaukee.
The Indiana Pacers added that second-scoring option behind Paul George in the form of Monta Ellis, who came over from the Dallas Mavericks on a surprisingly mild four-year, $44 million contract. Ellis is an enigmatic personality and a divisive figure, but he is averaging 19.3 points and nearly five assists during his career. Getting him at an average cost of $11 million, especially in today's market, was an absolute coup.
More from Sportsnaut:
---
---