3 things you need to know about the Derrick Rose trade to the Knicks
BY Andrew Lynch • June 22, 2016
The Derrick Rose era in Chicago has ended.
As the NBA's trade season unofficially tipped off on Wednesday, the New York Knicks and Chicago Bulls shook up the basketball world with a blockbuster trade that will send Rose to New York in exchange for a grab bag of Robin Lopez, Jerian Grant, Jose Calderon and a second-round pick. Here's what you need to know:
If the hiring of Jeff Hornacek as Knicks head coach this offseason wasn't enough of an indication, trading for Rose puts the final nail in the coffin for Phil Jackson's beloved system. A typical triangle point guard is tasked with getting the ball into the post, making smart cuts and creating angles for passes to the perimeter for open shots.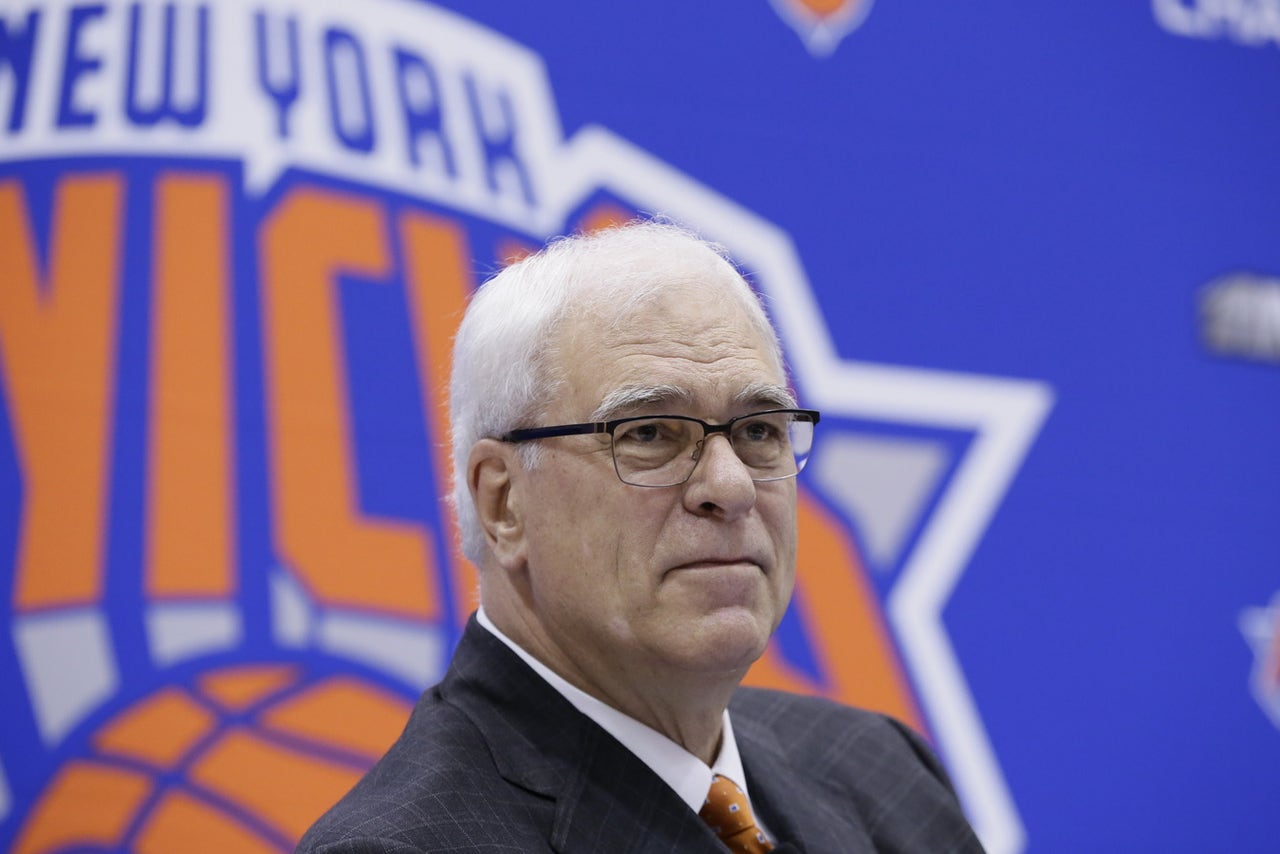 " :( " -- Phil Jackson, probably. (Getty Images)
Rose does none of those things, except maybe the cutting. He is a ball-dominant point guard who thrives in the pick-and-roll and wants to score the rock. In Hornacek's point-guard-heavy offense, he's a solid choice.
Hornacek has said all the right things about abiding by Jackson's wishes and incorporating triangle philosophies into what the Knicks do this season. But acquiring Rose is the truest signal of how much New York's offense will change next season. If we're lucky, that'll mean a return to form for Kristaps Porzingis, who struggled in the second half of last season under interim coach Kurt Rambis.
Let's be clear: Rose is no longer an NBA star, let alone someone who can reclaim his former MVP level of play. Knicks fans would be wise to temper their expectations accordingly. For New York, this trade is more about clearing Robin Lopez's contract -- which runs through 2018-19 for an average of $14 million per year -- and moving on from Jose Calderon, who is owed almost $8 million in 2016-17. Rose, meanwhile, is entering the last year of a deal that pays him just over $21 million in 2016-17. In the short-term, the trade is essentially a financial wash.
So why make the trade? For the Bulls, it officially begins a new era, opening the door to rebuild around Jimmy Butler. (Chicago acquiring Lopez almost certainly brings Joakim Noah's time with the Bulls to an end, as well.) The Knicks, on the other hand, have another big name to put next to Carmelo Anthony, which should help sell some tickets, and they gain flexibility after next season -- which could sink them, depending on how they use it ...
Depending on the final numbers for the salary cap (and pending any more trades), New York will have plenty of cap space this summer. And that should scare the living crap out of the Big Apple faithful -- because even if the Knicks aren't truly running the triangle next year, Jackson is obsessed with big-name big men.
The idea of Howard joining the Knicks is perfect in its absurdity. Just imagine Dwight, the same man who was eaten alive in the press for the "Dwightmare" in Orlando, dealing with the New York media. He'd be torn apart before his third game. Combined with the buzz that Rose's arrival would create, a Howard signing would bring the kind of distractions in the locker room that the Knicks don't need at this point in their rebuild.
Howard's still one of the best defensive players in the league, and he shows flashes on offense. Until he decides to commit himself to being the best pick-and-roll big man in the league, rather than someone who demands the ball with his back to the basket in a misguided attempt to gain Shaquille O'Neal's respect, he's not going to be the answer. Not for New York, and not for anyone else.
Signing Pau Gasol or Joakim Noah, two bigs with whom Rose is obviously familiar, wouldn't be a bad idea in a vacuum, of course. It'd also be an unfortunate indication that the Knicks want to get back to the playoffs as soon as possible, regardless of any plans for a slow-but-steady rebuild.
It's not a bad thing for a team to look to improve. But Knicks fans will be the first to tell you how badly things can go when you try to skip steps.
---
---