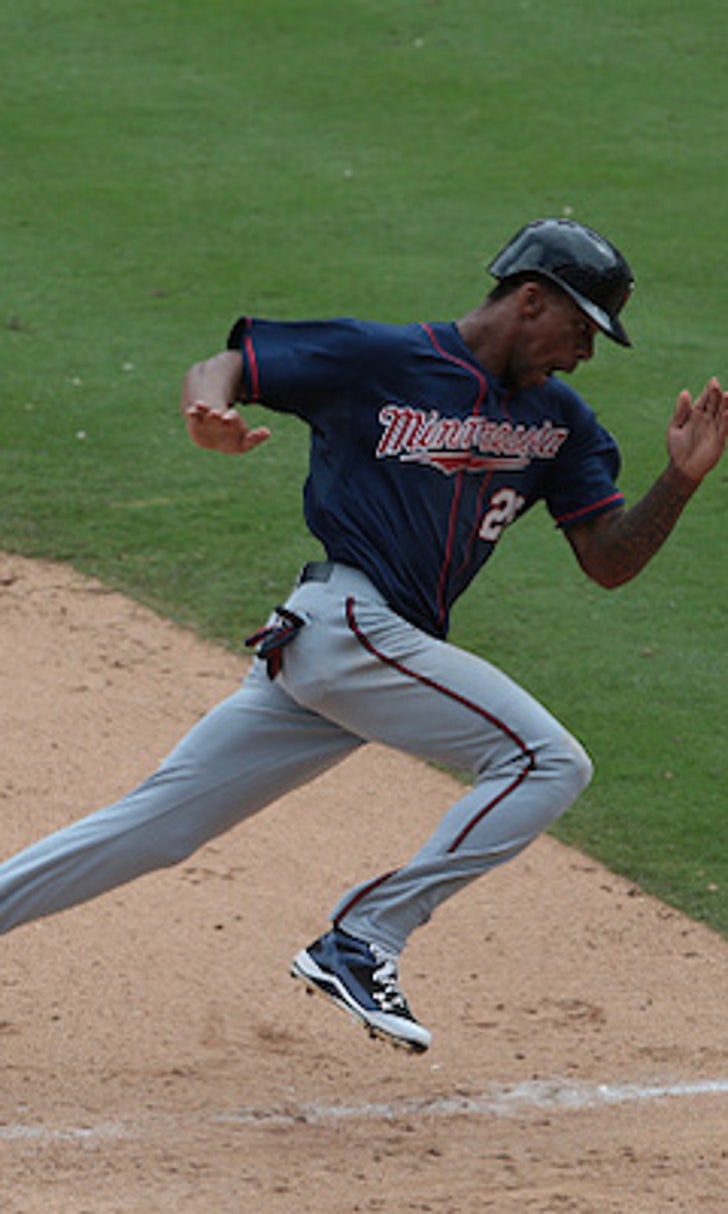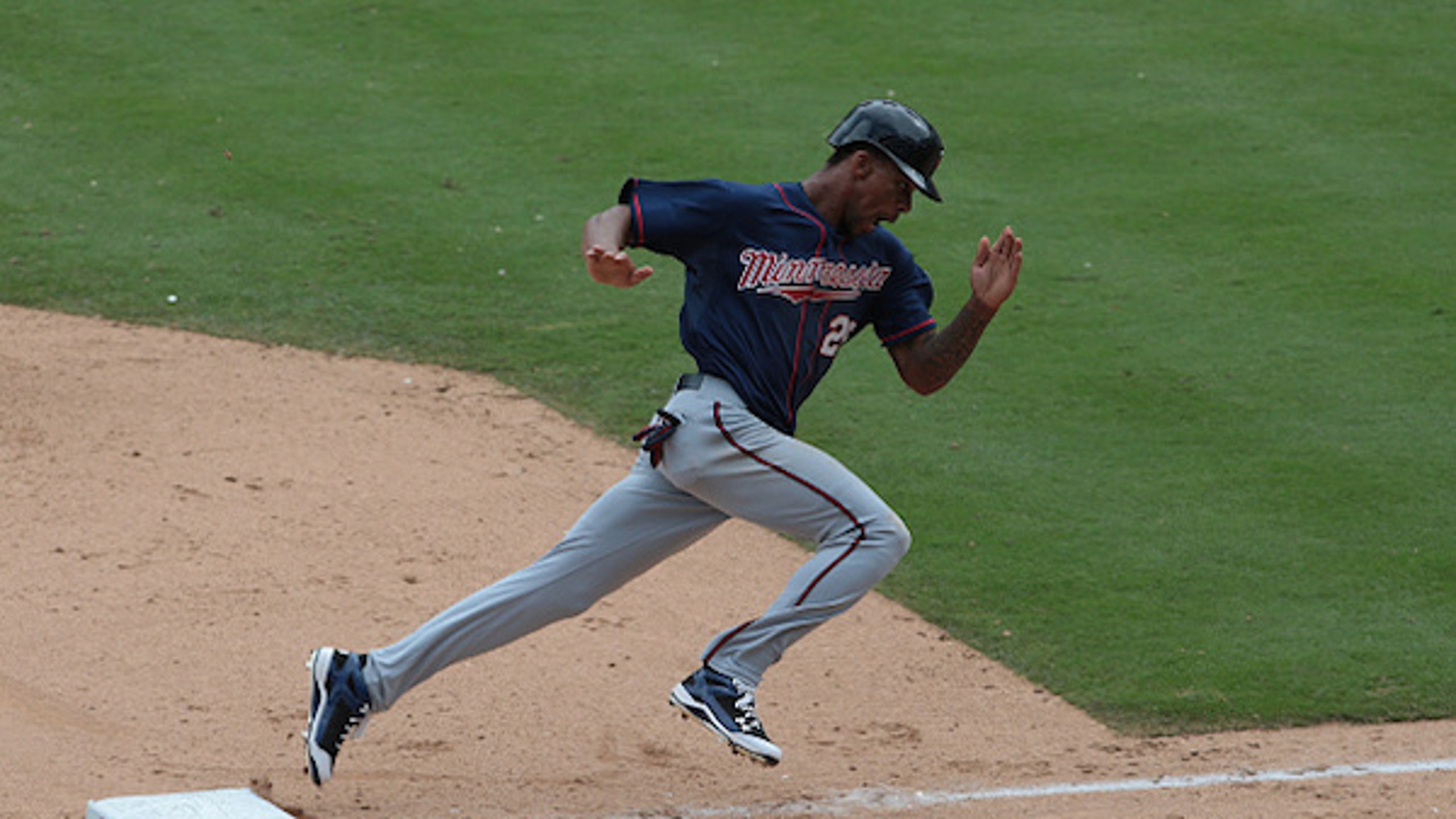 What to expect from Byron Buxton after call-up by Twins
BY foxsports • June 16, 2015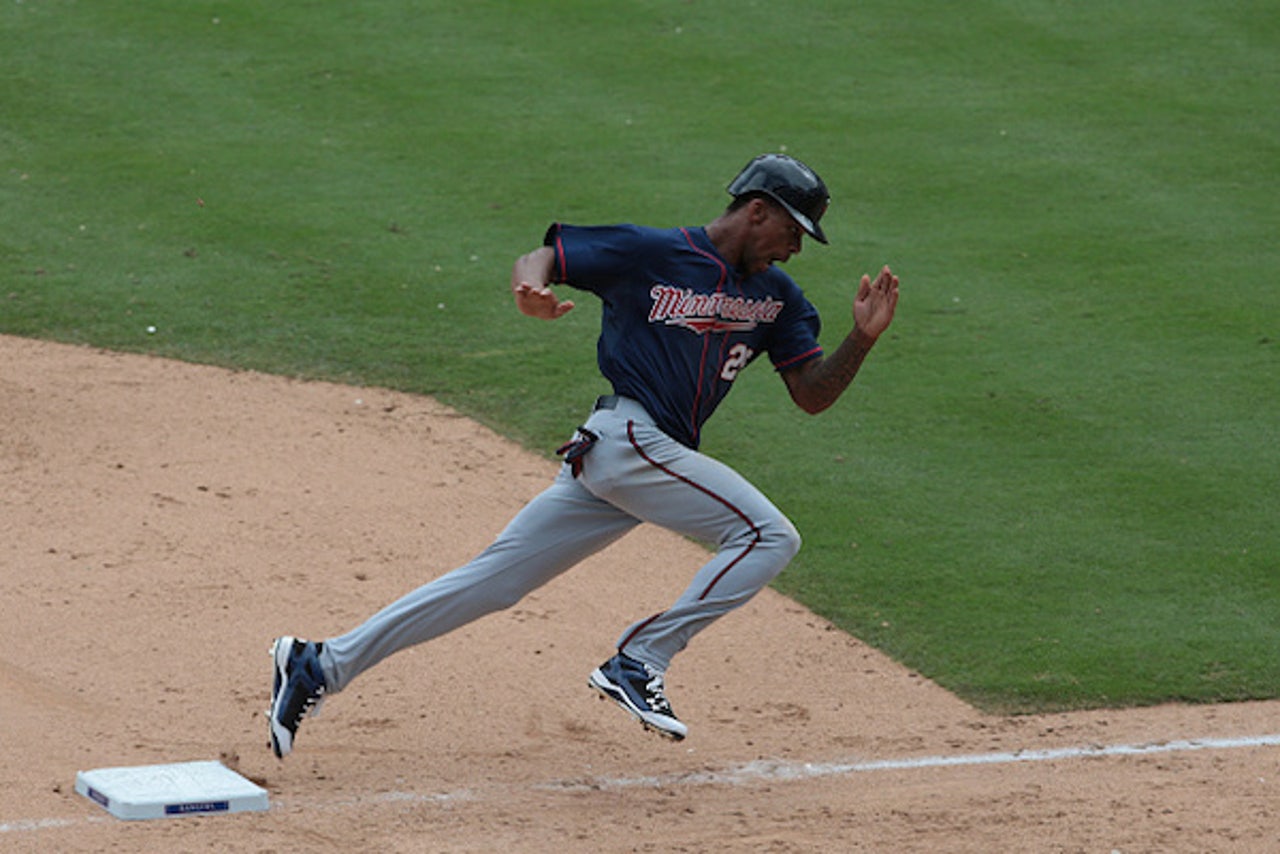 By Chris Mitchell
Believe it or not, the Minnesota Twins kind of look like a playoff contender. Their 34-29 record is tied for 4th best in the American, and puts them just 2.5 games behind the Royals in the AL Central. They also hold a slim lead over the Rangers and the Tigers in the Wild Card chase. The Twins have recorded one of the better records in baseball over the season's first two and a half months. This is a fact. They have those wins in the bank. But it's not at all clear they have the talent on their roster to keep winning going forward. Several Twins have outperformed their projections to date, and it remains to be seen if first-half contributors, like Brian Dozier and Mike Pelfrey, will be able to keep up the pace down the stretch.
But the Twins will have some additional help in the form of Byron Buxton — their new centerfielder. The Twins summoned the 21-year-old from Double-A Chattanooga before Sunday night's game. Buxton's gone one for seven in the big leagues so far, but that one was a stand-up triple. Typical Buxton. Prior to his call up, he had twice as many three-baggers as any other player in Double-A.
Prospect evaluators have been drooling over Buxton's tools since he was in high school. The Twins selected the Georgia native second overall in the 2012 amateur draft, and his name immediately started showing up at the tops of prospect lists. Here at FanGraphs, we've ranked him 16th, 1st and 2nd the last three pre-seasons. Other outlets have given him similar praise, with some — MLB.com and Baseball Prospectus — ranking him as the top prospect in baseball this year, ahead of Kris Bryant. 
Buxton earned his promotion by way of a strong showing in Double-A Chattanooga. Although he was one of the youngest players in the Southern League, he still managed to hit .283/.351/.489, making him one of the top 20 or so hitters at the Double-A level. Buxton's performance in Double-A was especially reassuring following his disappointing 2014 campaign. He hit an unspectacular .240/.313/.405 between wrist injuries last year, before a devastating head injury ended his season in August.
Buxton's done some nice things with the bat this year, but his offensive ability is only one part of the total package. Thanks to his 80-grade speed, he's also a huge asset both defensively and on the base paths. Buxton swiped 20 bases in 22 attempts in Double-A this year, which gave him the eight most steals — and the highest wSB — in Double-A this year. He ran wild in prior years, as well. He went 102 for 131 over his entire minor league career. Not only is that a lot of steals, but he's stolen them at a solid 78% success rate.
His speed also plays well in center field, where Kiley McDaniel gives him present and future fielding grades of 65 and 70, respectively. According to Baseball Prospectus' minor league FRAA numbers, Buxton was an above-average centerfielder at every minor league stop. This year, in just 59 Double-A games, he amassed a jaw-dropping 13.9 runs better than the average Double-A center fielder.
Buxton's prospect pedigree has always been tied to his tools more so than his on-field performance, but KATOH's still in love with Buxton's stat line. Considering his 2015 numbers, my system projects him for 13.3 WAR through age-28, up from a weak 2.3 WAR after last year. Heading into the year, only three prospects — Joc Pederson, Kris Bryant and Jorge Soler — earned a higher projection than Buxton's 13.3 mark. Buxton's a 21-year-old with an .840 OPS in Double-A who also steals tons of bases. Players like that are few and far between.
To get an idea of what's become to players similar to Byron Buxton, let's pull up some comps. These should give us some sense of what the future might hold for the toolsy outfielder. Using league-adjusted, regressed stats, along with age, I calculated the Mahalanobis distance between Buxton's performance between Buxton's performance and every Double-A season since 1990 in which a batter recorded at least 400 plate appearances. Below, you'll find a list of historical players whose performances were nearest and dearest to Buxton's, ranked from most to least similar.
*Batters who have yet to play their age-28 seasons.
Buxton's upside is clear. He's already a top-notch player on defense, and if his bat develops the way most think it will, he'll be one of the league's better hitters. Taken together, that makes for a perennial All-Star: Basically, what Corey Patterson almost was in his mid-twenties.
But Buxton's minor league performance suggests he's not quite ready to make that sort of impact with his bat. Buxton did a fine job against Double-A pitching this year, but his .283/.351/.489 batting line doesn't exactly scream "big league ready". Furthermore, the gap between Double-A and the majors is a wide one. Some hitters are able to handle the transition seamlessly, like Manny Machado and Christian Yelich did, but plenty of others others have struggled. Heck, even Mike Trout hit a weak .220/.281/.390 in his first crack at the big leagues after dominating in Double-A.
Recognizing the difficulty of this jump, the projection systems aren't overly excited about Buxton's bat. From now until season's end, Steamer expects a .241/.291/.377 showing from the rookie outfielder, which works out to an uninspiring 86 wRC+. That's basically Ben Revere or Juan Lagares. In fairness, though, the projections know nothing of Buxton's physical tools — his untapped power and excellent bat speed — that make him such a highly-touted prospect. Buxton almost certainly has more going for him than the typical player with his stat line.
Regardless of how well Buxton hits, he'll almost certainly make the Twins a better team on the strength of his defense. This is especially true given the sorry state of the Twins outfield, as injuries to Aaron Hicks and Jordan Schafer have left the Twins with few options. On Saturday, the day before the they called up Buxton, Minnesota trotted out an outfield featuring Eduardo Escobar, Shane Robinson and Eddie Rosario. Woof.
Buxton will be the Twins everyday centerfielder from here on out, so we'll find out sooner rather than later just how developed his bat really is. It's possible that the Twins are being overly aggressive with Buxton, but there's no denying that they're a better team with him in the lineup. He'll almost certainly provide a one or two win upgrade over whoever he's replacing, and may even give them a bit more than that if he grows into his tools faster than expected. That alone won't guarantee the Twins a playoff berth, but it will certainly help.
Buxton might not make a huge impact for the Twins this year, but his best years are yet to come. He'll patrol center field in Minnesota for the foreseeable future. And if his bat comes around the way people think it will, the Twins could have themselves a special player.
More from Fangraphs:
---
---