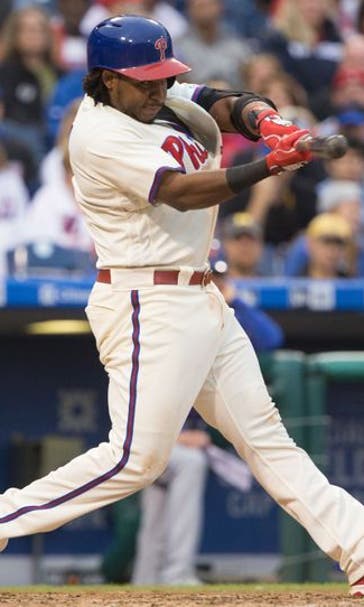 Top Ten Phillies Moments from 2016
December 28, 2016

Fansided, Evan Gusz/FanSided via That Balls Outta Here
Jul 5, 2016; Philadelphia, PA, USA; Philadelphia Phillies center fielder Odubel Herrera (37) celebrates with starting pitcher Vince Velasquez (28) in the dugout against the Atlanta Braves at Citizens Bank Park. The Phillies defeated the Braves, 5-1. Mandatory Credit: Eric Hartline-USA TODAY Sports
With the year coming to a close it's a great time to reflect on the year that was.  And there's no better way to do that then a "Top 10 Phillies Moments of the Year" slide show!
There were up's and there were a lot of down's but overall the organization is moving in the right direction, which is clearly evidenced by numbers four, five and seven on my list.
Have a Happy New Year and be safe.  But until then enjoy the slide show and let me know if I forgot anything or what your top ten moments were.
10. Freddy Galvis Hits 20th Home Run
Freddy Galvis went on binge late in the season, smashing 11 home runs over a 36 game span from August 9th to September 18th.
He slashed an impressive .279/.329/.581 for a ridiculous .910 OPS.  Hopefully for the Phillies and their fans he'll pick up where he left off come 2017.
9. Phillies Rally After Franco Get's Plunked
More from That Balls Outta Here
The Phillies were down 5-1 entering the fourth inning and it had been a tough outing from Aaron Nola. Nola hit three batters with pitches in the first three frames and he was exhibiting unusually poor control.
None of the hit batters seemed intentional but rather just a wild outing. Johnny Cueto didn't appear to see it that way and he retaliated by hitting Maikel Franco with a pitch of his own.
What was remarkable is what happened after that when the Phillies, as a team, took it personally. They proceeded to tag him for five runs, four of which came in the next two innings.
Jun 29, 2016; Phoenix, AZ, USA; Philadelphia Phillies outfielder Odubel Herrera against the Arizona Diamondbacks at Chase Field. Mandatory Credit: Mark J. Rebilas-USA TODAY Sports
8. Odubel Herrera – Walk This Way
Odubel Herrera walked a total of 28 times in all of 2015.  By the 38th game of 2016 he had already eclipsed that number by walking twice in that game. In fact that game was part of a 18 game stretch where Herrera walked 20 times.
Odubel made an adjustment during the offseason and it showed – big time.  His approach varied a bit during the season but overall it was vastly improved and that change was reflected in his yearly totals.
Sep 11, 2016; Washington, DC, USA; Philadelphia Phillies second baseman Cesar Hernandez (16) singles against the Washington Nationals during the eighth inning at Nationals Park. Mandatory Credit: Brad Mills-USA TODAY Sports
7. Matt Stairs Named Hitting Coach
After firing Steve Henderson the Phillies made a positive change in bring Matt Stairs down from the broadcast booth to replace him.  The team was one of the worst in baseball at approach indicated by their worst in baseball walk totals and on-base percentage.
Stairs frequently preached discipline and mechanics from the booth and hopefully he can impart his incredible knowledge of hitting on to the young Phillies hitters.
[Editors note: I actually predicted this would happen.]
Jul 7, 2016; Denver, CO, USA; Philadelphia Phillies third baseman Maikel Franco (7) celebrates after scoring with shortstop Freddy Galvis (13) in the fourth inning against the Colorado Rockies at Coors Field. Mandatory Credit: Ron Chenoy-USA TODAY Sports
6. Franco Hits Absolute Bomb in Colorado
Maikel Franco hit an absolute shot at Coors Field on July 10th.  It was a 471 foot screamer into the second deck.  It was not only the longest Phillies home run of the year but it also came in at number four on  MLB's list of Top Ten Longest Home Runs for 2016.
The shot showcased exactly what Franco is capable of and what Phillies fans are hoping to see more of for the rest of his tenure in red pinstripes.
Sep 21, 2016; Philadelphia, PA, USA; Philadelphia Phillies second baseman Cesar Hernandez (16) , shortstop Freddy Galvis (13) and center fielder Odubel Herrera (37) celebrate win against the Chicago White Sox at Citizens Bank Park. The Phillies defeated the White Sox, 8-3. Mandatory Credit: Eric Hartline-USA TODAY Sports
5. Phillies Seven Games Over .500 at 41 Games In
The Phillies were the worst team in baseball in 2015 and many thought the exact same thing would happen in 2016. But a funny thing happened on the way to the All Star break: 41 games into the season and the Phillies were seven games over .500 and in second place in the National League East.
Obviously this wasn't sustained but it showed Phillies fans something.  It showed them that this team is heading in the right direction ad that they could win games.  It showed them that their Phillies weren't the worst.
Sep 25, 2016; New York City, NY, USA; Philadelphia Phillies starting pitcher Jake Thompson (44) pitches during the first inning against the New York Mets at Citi Field. Mandatory Credit: Anthony Gruppuso-USA TODAY Sports
4. Phillies Named "Farm System of the Year by MiLB.com
It was fairly recent that the Phillies were sporting one of the worst farm teams in the sport but all that has changed over the last two years…. and changed in a huge way.
The Phillies are now stacked from top to bottom with promising young talent and that was recognized officially by MiLB.com, the minor league equivalent of MLB.com, on November 1st when they were named "Farm System of the Year."
The depth the Phillies have managed to acquire is really remarkable and it's a credit to player development, good drafting and great scouting in trades. The Phuture is indeed bright.
3. Double Play To End The Ballgame
This was one of the best plays in all of baseball all season long. Make the play and the game ends and the Phillies win; don't make it and the tying run scores and it's anyone's ball game.
The Goeddel throw was absolutely spot on. The fact that Rupp was able to make the catch and then hold on after the collision was nothing if not spectacular.
2. Vince Velasquez Pitches An Absolute Gem
What can you say?  Just watch the clip, it says it all.
1. One Pitch = Three Outs
My personal favorite, most memorable, top Phillies moment of the past year.  This inning was heading for disaster, late in a one run game, no one out, the tying run on second  – it had meltdown written all over it.
Ramos throws a good pitch and five seconds later three outs have been recorded, disaster is averted and the team is heading to the dugout.  Ramos pitch, grounder to Franco, throw to Hernandez, throw to Joseph: a 5-4-3, around-the-horn triple play.  Beautiful.
Triple plays, like a straight steal of home or an immaculate inning, are rare but when they happen they're just amazing to see.
---
---