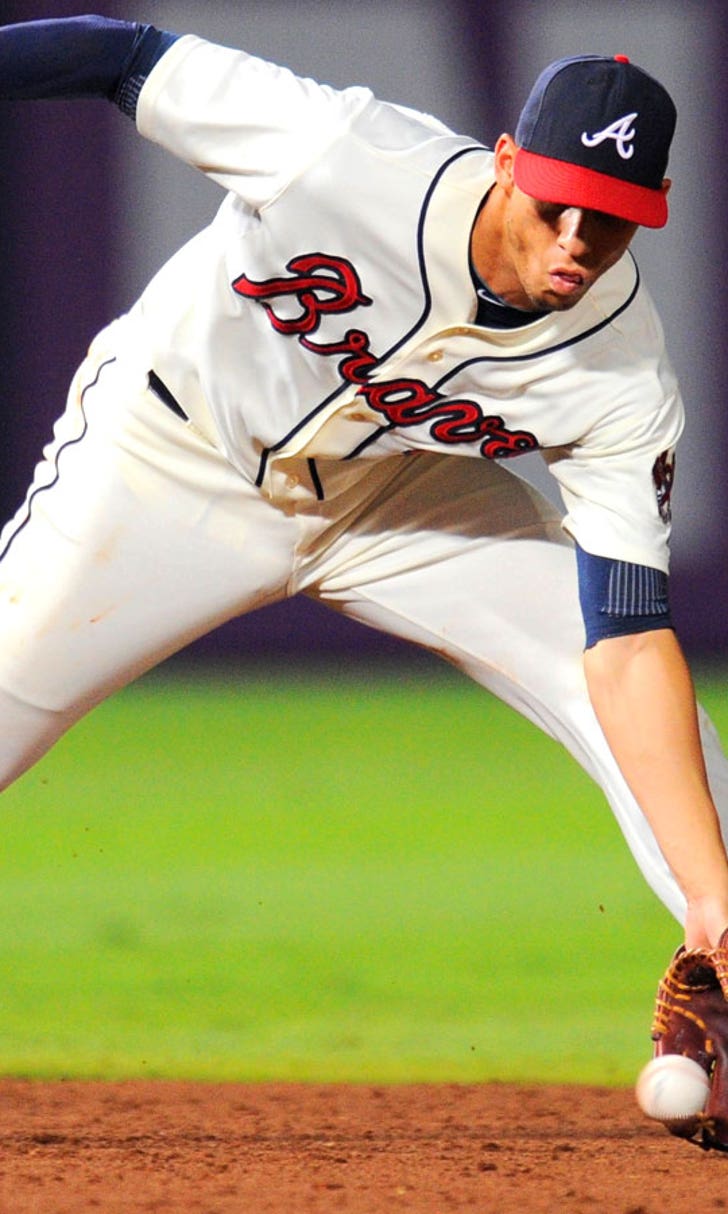 The Hart Doctrine gets some help from the Hart
BY Rob Neyer • February 21, 2014
Thursday, the Braves did it again. They locked up yet another young player beyond 2014. This time it was Andrelton Simmons, who's the best defensive shortstop in the game. Probably by a lot. This sort of thing has been happening for a couple of decades now, but as MLB.com's Terrence Moore writes, there's more than just tradition connecting the Braves to the beginning of this trend:
Ever hear of John Hart? He is an analyst for MLB Network, and when he was the general manager of the Cleveland Indians for 10 years through the 2001 season, he sort of invented something on the fly. Here's the Hart Doctrine: if you're a baseball executive interested in keeping one eye on the present and the other on the future, and if you have a slew of young players with talent, then you should sign them to the longest contracts possible to drag them past the arbitration process.
Sound familiar? Now consider this: after Hart spent the previous eight seasons as a special adviser for the Rangers, he accepted a similar role in November with the Braves. Here we are, three months later, and Atlanta general manager Frank Wren is going wonderfully nuts with the Liberty Media checkbook by giving lengthy deals to young guys who can play a little.
Just so we're clear, the Hart Doctrine doesn't require the presence of John Hart. The Rays have been practicing the Doctrine for years, most famously when Evan Longoria signed a six-year deal just a few days after arriving in the majors. The Royals locked up Billy Butler and Alcides Escobar, and Salvador Perez is basically a Royal for Life. These are just a couple of teams and they're hardly alone. While the Hart Doctrine lay relatively dormant for a while, it's come back strong in the last five or six years.
One thing that's changed: The money's a lot bigger! Especially now. During the 1992-1993 off-season, the Indians committed roughly $56 million to lock down 22 player-seasons of Carlos Baerga, Albert Belle, Sandy Alomar, Kenny Lofton, and Paul Sorrento. Later, Jim Thome and Manny Ramirez would sign multi-year deals, too. But let's focus on those first five, since they came in a bunch.
They weren't all the same sort of deals. Sorrento's was just $2.1 million for three years, obviating arbitration. Hart really didn't enjoy arbitration. According to a new book about the Indians of that era, Hart became especially disenchanted when the Indians lost an arbitration case to Greg Swindell after the 1991 season. The Indians' figure was $1.4 million; Swindell's was $2 million. He won, and so baseball history took a turn because of a lousy $600,000.
Of course, it also just made sense. From a 1994 Murray Chass column:
"I have a relationship with these guys," Hart said, "and I don't want to sit across the table from them saying what they can't do. All this over a few dollars. At the end of it, I want to cry and he wants to cry. There's a relationship here. We've never had a harsh word. We've signed contracts."
At the time Hart started signing the contracts, he was greeted with much skepticism.
"Everybody said it was a gamble," the general manager recalled. "I said this isn't a model for anybody else. This is our way to survive and compete. I was in position to run 20-plus players through the arbitration system. We couldn't do it. We couldn't survive with that."
In fact, one thing that's usually forgotten is that the Indians didn't restrict their multi-year, arbitration-avoiding contracts to just their stars and future stars. Mark Whiten, Jack Armstrong, Scott Scudder, Glenallen Hill, Rod Nichols, Felix Fermin, Thomas Howard … these were just some of the lesser lights who also benefited from the Hart Doctrine. Basically, Hart didn't want any young player with any demonstrated talent to wind up getting arbitrated. So the Indians wound up paying some players more than their performances merited. On balance, though, it seems almost certain they came out ahead.
Granted, the Hart Doctrine today isn't what it was. Twenty years ago, Hart locked up virtually all of his young players, and the dollars were relatively small. Remember those first five: $56 million for 22 player-seasons. This winter, the Braves have locked up five players: $281 million for 27 player-seasons, ranging from Jason Heyward's modest two-year deal to Freddie Freeman's non-modest eight-year deal.
But it made sense then and it makes sense now. Beginning in 1995, the Indians won five straight division titles and six in seven years. They sold out 455 straight home games, which now must seem like a cruel memory to the people running the franchise. The Braves, of course, are already successful.
I will note, if just in passing, that the model's not quite the same this time around. Hart didn't hand out any eight-year contracts to his Indians. Freeman's really good, but he's coming off a career year and his deal will include two or three seasons when he's past his prime. Julio Teheran and Craig Kimbrel both got long-term deals -- four years for Kimbrel, six for Teheran -- while Hart didn't hand contracts like those to many pitchers when he was in Cleveland; granted, the Indians were hitter-heavy. But there's a risk factor with Teheran and Kimbrel there wasn't with Baerga and Belle. And we shouldn't get too cocky about our ability to predict the future; barely halfway through Baerga's six-year deal, the Indians traded him because he just wasn't much good any more.
The Braves are in great shape for the future. But being in great shape isn't a guarantee, and they'll have to keep churning out young players worth long-term contracts.
---
---