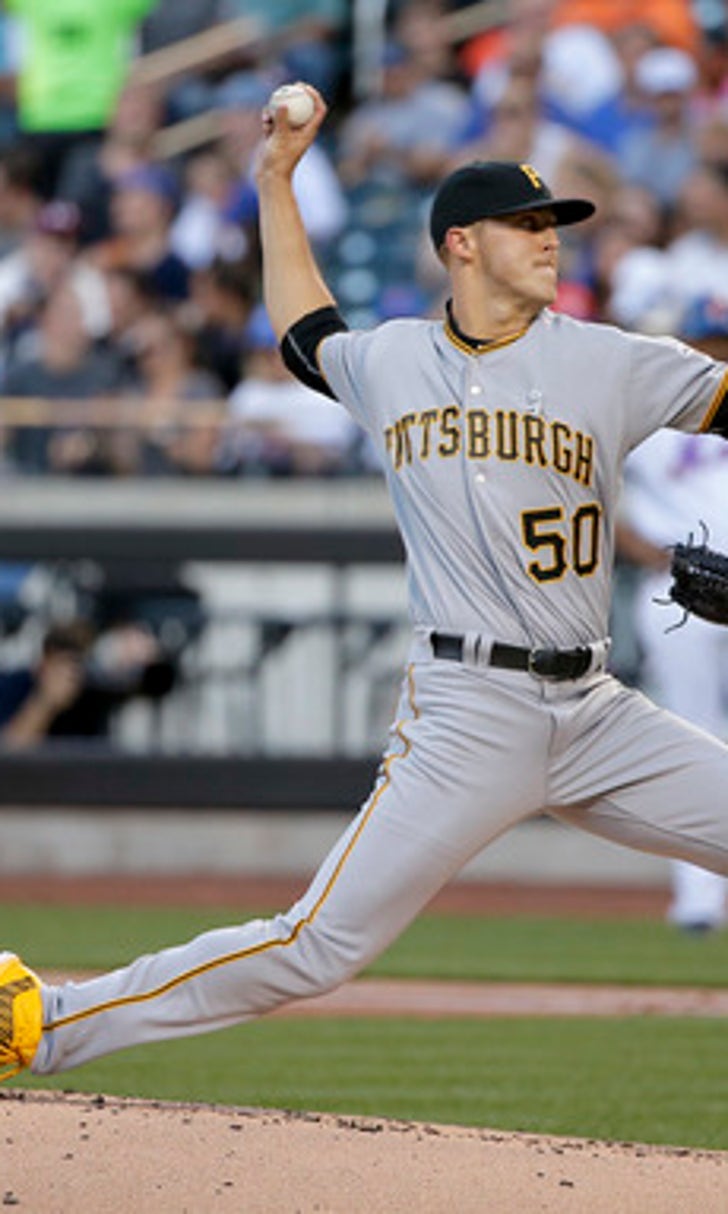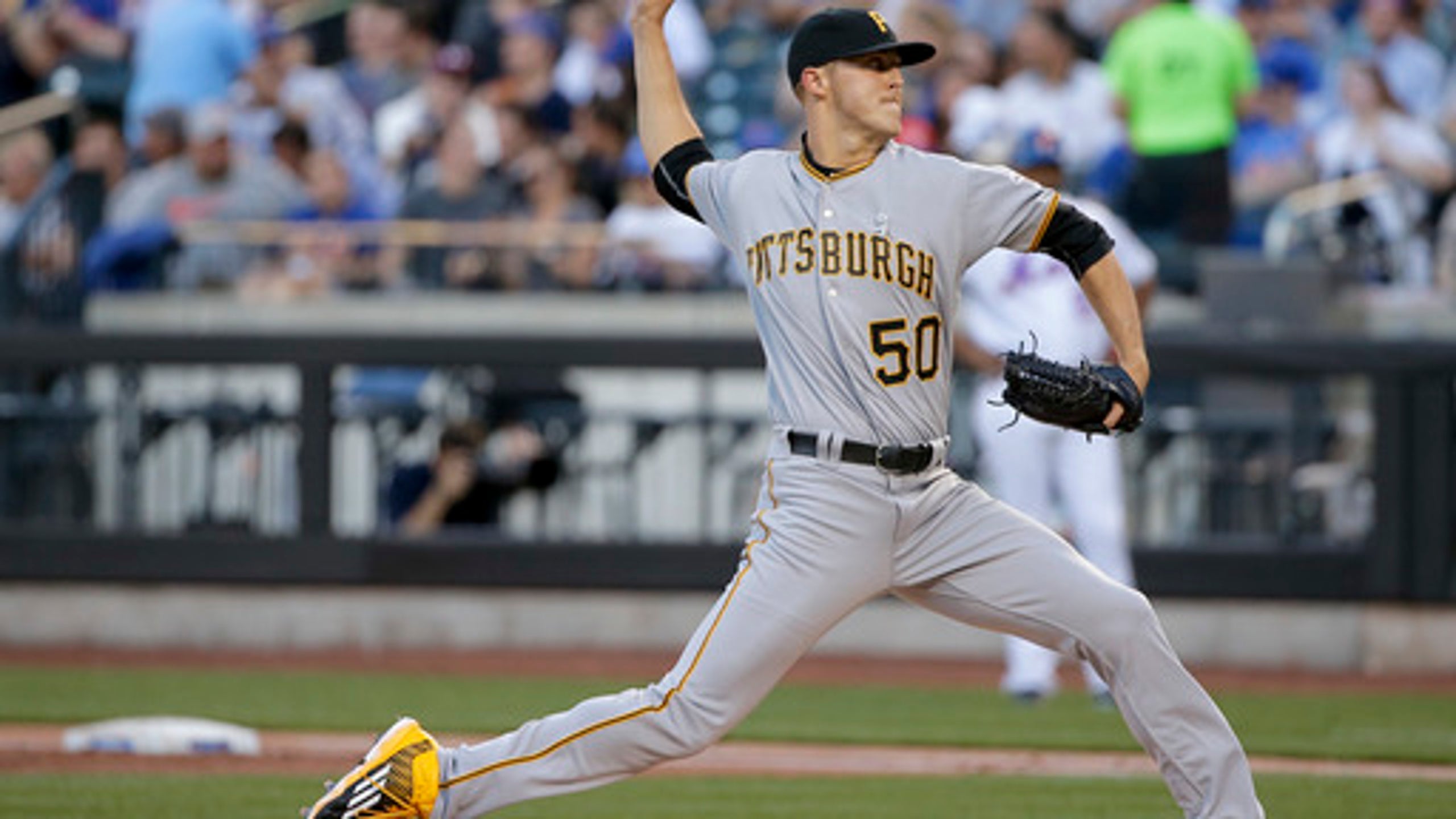 Taillon dominates, Pirates top Mets 4-0 to stop 5-game skid
BY foxsports • June 15, 2016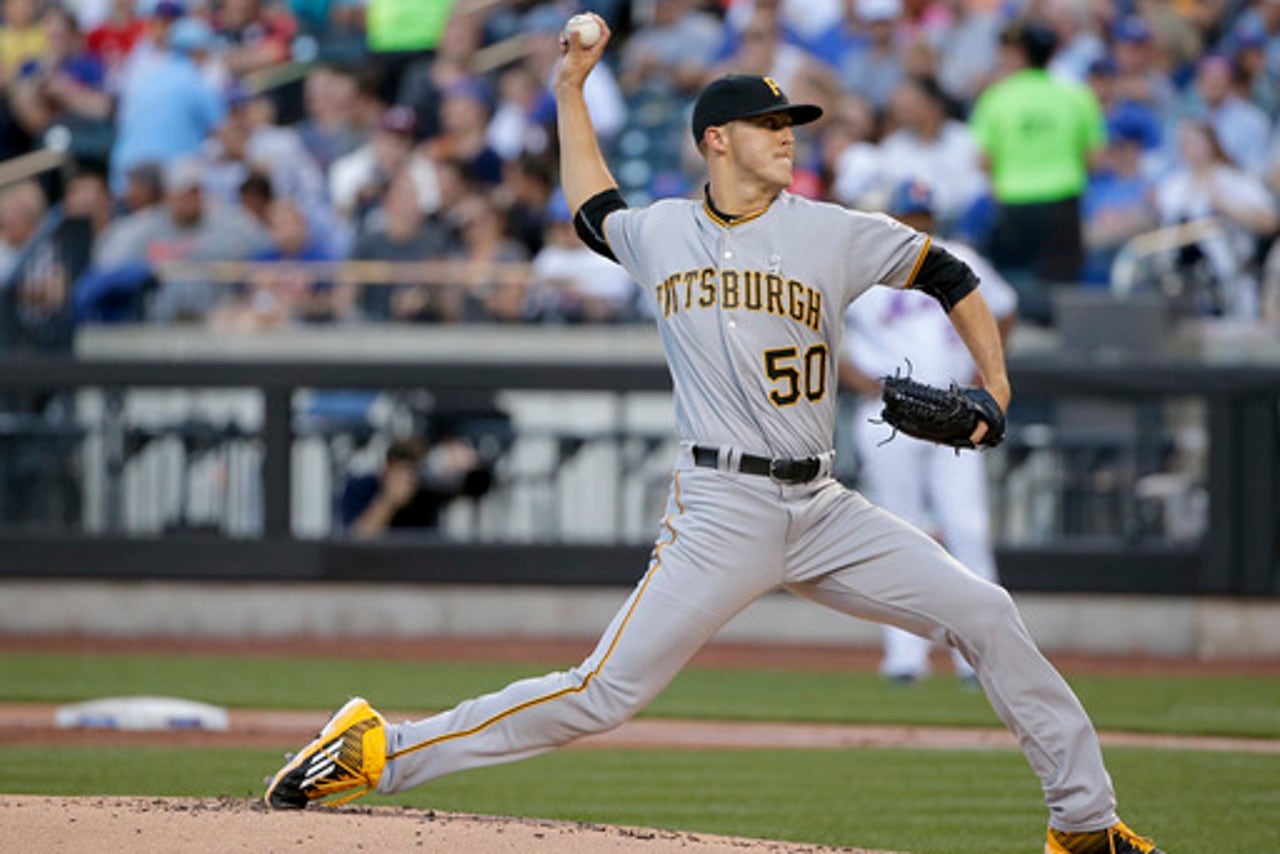 NEW YORK (AP) Jameson Taillon was almost untouchable in his second major league start.
Pittsburgh's touted rookie took a no-hit bid into the seventh inning, dominating the New York Mets while pitching the Pirates to a 4-0 victory that snapped their five-game losing streak Tuesday night.
''The kid's special,'' Pittsburgh catcher Chris Stewart said. ''I think this is just the beginning.''
Jung Ho Kang and Starling Marte each hit a two-run homer for the Pirates, backing eight efficient innings of two-hit ball from Taillon.
One of baseball's top pitching prospects, the sturdy right-hander from Texas held New York hitless until Curtis Granderson grounded a leadoff single in the seventh, squeezing it through the shift between two diving infielders on the outfield grass.
Taillon never wavered, though, and promptly got slugger Yoenis Cespedes to ground sharply into a double play.
''I was pretty locked in,'' Taillon said. ''Once I gave up the hit, I felt like I kept my emotions in check.''
Taillon (1-0) was recalled from the minors before the game when Pittsburgh put ace Gerrit Cole on the 15-day disabled list with a strained right triceps. The 6-foot-5, 240-pound Taillon certainly showed what all the fuss is about, outpitching All-Star Jacob deGrom (3-3) in a rematch with the defending NL champions.
''It's a big shot in the arm,'' Pirates manager Clint Hurdle said. ''Very impressive outing.''
The second overall pick in the 2010 amateur draft, the 24-year-old Taillon sat out the past two seasons while recovering from Tommy John surgery and a sports hernia operation. He made his long-awaited big league debut last Wednesday in Pittsburgh against the Mets, allowing three runs and six hits over six innings.
The Pirates lost 6-5 in 10 innings, ending their nine-game winning streak over the Mets, and Taillon was optioned back to Triple-A Indianapolis the following day.
''A long journey. A lot different than I could have imagined, but I'm here now and I never lost confidence,'' Taillon said.
Back in the big leagues less than a week after his debut, Taillon commanded his 95 mph moving fastball and sharp curve to win the opener of a three-game series between 2015 playoff teams.
''Threw more two-seamers probably than the other night,'' said Mets manager Terry Collins, who was back on the bench and feeling better after missing Sunday's loss at Milwaukee, where he spent a night in the hospital. ''You saw he got his breaking ball over consistently for strikes. When he got ahead, he expanded the strike zone. So, he pitched like a big leaguer.''
Taillon said he was told Sunday in Indianapolis he was going to start two days later at Citi Field, where Pittsburgh has now won eight of its past 10. Following that brief blip last week, the Pirates quickly got back to their winning ways against New York and stopped their longest skid of the season.
''It's been a whirlwind couple of days for me,'' said Taillon, given a keepsake lineup card to go with his souvenir game ball that got stained when he was doused with Gatorade.
''It was cold. I've seen a lot of college football coaches get those, so I've always wondered how it felt.''
James Loney's clean single with one out in the eighth was the only other hit off Taillon, who needed just 91 pitches to get through eight innings. He struck out five and walked one, sending the injury-depleted Mets to their third consecutive defeat.
Tony Watson worked around a leadoff double by pinch-hitter Matt Reynolds in the ninth to finish the three-hitter for Taillon in a crisp game that took only 2 hours, 28 minutes.
''We'll just let him write his own story going forward,'' Hurdle said. ''This man's battled. There's perseverance. There's resilience. There's a want-to that's significant. There's a will inside of him that continues to drive him.''
Marte singled with two outs in the sixth before Kang homered to left-center off deGrom, who fell to 0-3 in eight starts since winning his first three of the season. Pitching in tough luck lately, the right-hander hasn't won since April 30 against San Francisco.
THOUGHTS AND PRAYERS
There was a moment of silence before the game and both teams wore silver ribbons to honor the victims of Sunday morning's mass shooting in Orlando, Florida.
TRAINER'S ROOM
Pirates: Back in the lineup for the first time since leaving Saturday's game with a sore left ankle, Stewart had another painful night. He was clocked in the left jaw by Juan Lagares' backswing in the sixth, then hit by a pitch near the left hip leading off the seventh. ''Hasn't been the best week for me,'' Stewart said. ''As long as we keep winning ballgames, I'll keep wearing `em.''
Mets: 2B Neil Walker (lower back) and slumping LF Michael Conforto (left wrist) remained out of the starting lineup. Conforto struck out as a pinch-hitter in the eighth. ... Lagares (toothache) grounded out as a pinch-hitter in the sixth.
UP NEXT
RHP Noah Syndergaard (6-2, 2.00 ERA) pitches for New York against LHP Jeff Locke (5-4, 5.38) in the middle game of the series Wednesday night.
---
---