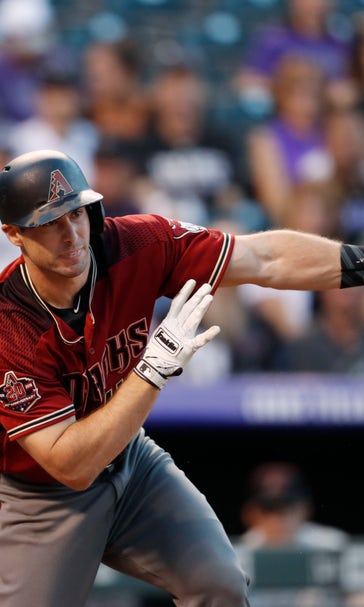 Rockies chasing 1st division title in tight NL West race
September 14, 2018
DENVER (AP) — Opposing managers Dave Roberts and Bud Black are close friends. Star infielders Nolan Arenado and Paul Goldschmidt talk all the time.
Just maybe not so much right now.
This NL West title chase is serious business and shaping up to go down to the wire. Colorado holds a 1 1/2-game lead over Los Angeles and stretched its margin to 4 1/2 over Arizona by taking three of four this week. The Rockies are aiming for their first division title in franchise history.
"I expected us to be in this position," Arenado said . "I thought we had the type of players who could do something like this."
Typically, Dodgers left-hander Rich Hill doesn't start looking at the standings until mid-September. He made an exception after his win over the Rockies on Sunday, just to see where things stood.
It's scoreboard-watching season.
"We have a beautiful scoreboard out there," Rockies manager Black cracked. "We have to have that heightened focus we've had all season long. I don't think you ratchet it up any higher. You keep it at a nice level of intensity with the focus but yet loose in your body to perform. I think our guys are in a pretty good spot."
This marks the latest in a season Colorado has been alone in first place since 1995.
"It's what you grew up dreaming about, having a chance to win the division and play important games like this," Rockies shortstop Trevor Story said. "For me, though, it's trying not to do too much. Just play within myself and that will be enough."
The Dodgers have 10 NL West titles since Colorado entered the league in 1993, while the Diamondbacks have five since '98. The Rockies finished just behind Arizona in 2007, when they beat San Diego in a tiebreaker game for a wild-card spot and advanced to their only World Series appearance.
Following a 7-3 homestand, Colorado embarks on a nine-game trip, including three in Los Angeles and three more in Arizona. The Rockies finish up with seven in a row at home against Philadelphia (four) and Washington (three).
Los Angeles started a four-game set Thursday night in St. Louis with a win against a Cardinals team trying to get into the postseason. Then, the Dodgers play only division opponents the rest of the way.
The Diamondbacks have the toughest stretch of the three. They still play a series in Houston against the reigning World Series champions and host a Chicago Cubs team that's trying to win the NL Central.
"Pretty much every game for us, the Dodgers and the Rockies has been a playoff game in September," said Goldschmidt, whose Diamondbacks team is 3-9 this month. "You don't get this opportunity that often. It should be a fun end to the year, for whatever team comes out on top."
Arenado and Goldschmidt have been friends for a while, stemming from their meetings at All-Star Games and playing for Team USA. It's on the backburner for the moment.
"I probably won't talk to him during this series," Arenado said. "After it, we'll talk a little more."
Roberts and Black go way back, too, with Roberts serving as one of Black's coaches when they were together in San Diego.
"He knows a lot of my tendencies. I know his," Roberts said. "It's going to be exciting. I know that.
"(The tight division race) is great for baseball. It's great for all three fan bases. It's great."
The Dodgers have won five straight NL West crowns in mostly comfortable fashion — by 11 games in 2017, four in '16, eight in '15, six in '14 and 11 in '13.
"It's been a fun September so far, and a lot of good games from now on," Dodgers utilityman Enrique Hernandez said. "It's going down to the final series."
Colorado has 43 comeback wins this season, including five walk-off homers. The Rockies also feature two players who should garner some NL MVP votes in Arenado and Story. Arenado is hitting .301 with 34 homers and 100 RBIs, while Story is batting .292 with 33 homers and 102 RBIs.
"We're very confident we can (win a division title)," Story said. "That's one of our goals. We're going to go for it."
---
---