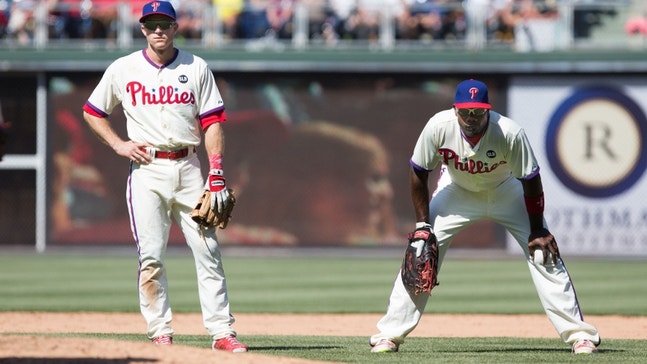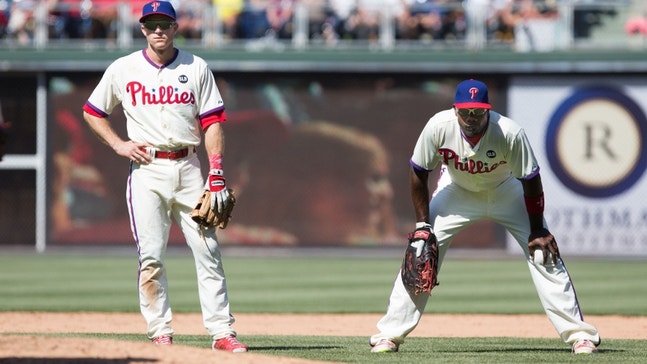 Phillies Reportedly Not Interested in Reunion with Chase Utley or Ryan Howard
Updated
Mar. 4, 2020 8:08 p.m. ET

Fansided, John Town/FanSided via That Balls Outta Here
To the surprise of very few, the Phillies are reportedly not interested in bringing back former All-Stars Ryan Howard or Chase Utley.
When Chase Utley returned with the Dodgers to face the Phillies this summer, he got a rousing reception from the Philly faithful. It wouldn't be a stretch to say fans may want Utley to make a return to Philadelphia, especially as he remains unsigned on the free-agent market.
However, it doesn't appear Utley or former Philadelphia teammate Ryan Howard will be returning to Philadelphia. Jon Heyman of FanRag Sports reports that while the team would prefer to pick up a left-handed hitter, "word is they aren't going the ex-Phillie route of Ryan Howard or Chase Utley." Heyman also reported that Howard has not been connected to any team and "his most likely scenario may be a minor-league deal, or extremely low base."
It should come as no surprise that no team, including the Phils, are interested in Howard. If they wanted to retain Howard, they would have picked up his option or perhaps restructured his deal if they didn't want to pay him as much. While he hit 25 home runs in 2016, Howard was worth -1.5 wins above replacement according to Baseball Reference.
More from That Balls Outta Here
Meanwhile, Utley is a better candidate to return to Philadelphia, but it was still a stretch. The only positions he can play are second and first, both of which the Phils already have covered. He would only add to the infield logjam that could soon be formed when J.P. Crawford reaches the majors.
However, Utley could still be a worthwhile addition to a team. Rumors linked the 38-year old to the Angels early in December, where the SoCal native could remain close to home and still play. Utley bounced back from his injury-plagued 2015 to be a two-WAR player with the Dodgers last season.
Despite his age, Utley could well be a contributor for a team next season.
While we will likely not see Howard or Utley in red pinstripes again playing actual games, they may still return to Philadelphia with another team, and hopefully they get the warm welcome they deserve.
---
---