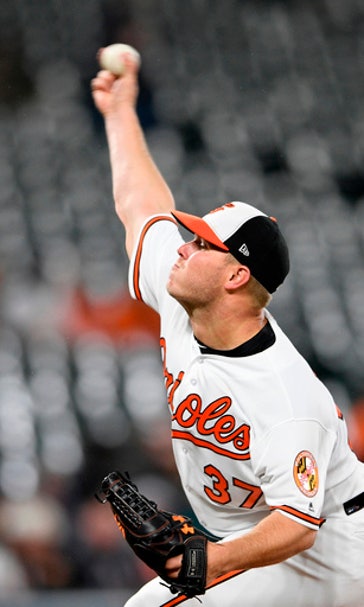 Pearce, Donaldson HRs lift Blue Jays past Orioles 7-1
April 9, 2018
BALTIMORE (AP) With one swing of the bat, Josh Donaldson turned a tight duel into a blowout and sent the historically meager crowd at Camden Yards scurrying toward the exits.
Donaldson hit his fourth career grand slam, Steve Pearce homered in a third successive game and the Toronto Blue Jays beat the Baltimore Orioles 7-1 Monday night before 7,915 chilly fans.
Gametime temperature was 44 degrees, and a slight mist made the conditions even more miserable. That contributed to the lowest paid attendance in the ballpark's 27-year existence, breaking the previous record of 9.129 for Baltimore versus Tampa Bay on April 12, 2010.
There were no fans at a game on April 29, 2015, when the Orioles hosted the Chicago White Sox in a closed stadium due to security concerns amid civil unrest in Baltimore.
In this one, the Blue Jays were clinging to a 2-1 lead in the ninth before Curtis Granderson drew a bases-loaded walk and Donaldson followed with a shot to center off rookie Nestor Cortes Jr.
''He's done that many times since he's been here. Two-run ballgame, that makes a huge difference,'' manager John Gibbons said. ''That gives the team a huge, huge lift.''
On a raw night far better suited for football, Donaldson - a three-time All-Star - displayed mid-summer form.
''It's tough to hit anyhow, in general. The conditions definitely make it more difficult,'' Donaldson said. ''But we have to be professional about it and go out there and do our job.''
That's certainly how the 34-year-old Pearce operates.
After getting his 500th career hit in the second inning, Pearce put Toronto up 2-0 in the third with a two-run shot off Dylan Bundy (0-1) on a 3-0 pitch. It marked the first time in his career that Pearce, who's had three separate stints with the Orioles, homered in three consecutive games.
"He's on a nice little roll,'' Gibbons said.
J.A. Happ (2-1) struck out nine in six innings, allowing one run and five hits. He was 0-3 against the Orioles last season.
Bundy gave up two runs and four hits with 10 strikeouts in seven innings. The right-hander has a 1.35 ERA in three starts, yet remains winless.
''It was one mistake there,'' Bundy said of this outing, ''but I gave up more runs than we had, so that's baseball, I guess.''
Manny Machado hit a third-inning homer for the Orioles, who went 0 for 12 with runners in scoring position and stranded 12.
''We just couldn't get that big knock,'' manager Buck Showalter lamented.
Slugger Chris Davis, who's off to a miserable start, cracked the bat over his knee after striking out in the sixth. He later was thrown out trying to bunt against the shift during an 0-for-4 performance that lowered his batting average to .088.
TRAINER'S ROOM
Blue Jays: 1B Kendrys Morales strained his right hamstring running out a single and was removed for a pinch runner in the second inning. Gibbons did not expect Morales to land on the disabled list. ... OF Anthony Alford (hamstring) has started his rehab in Florida, where he is expected to remain for a few days before likely heading to Triple-A Buffalo, Gibbons said.
Orioles: DH Mark Trumbo (quad strain) is expected to start for Double-A Bowie on Tuesday and Wednesday. ... RHP Alex Cobb could make his season debut Saturday in Boston, Showalter said. Cobb missed most of spring training before signing as a free agent in late March.
SKID OVER
Toronto OF Randal Grichuk doubled in the ninth inning, ending a career-long 0-for-26 drought. He's 3 for 35 (.086) this season.
PROSPECTING
The Orioles recalled their top pitching prospect, Hunter Harvey, to fortify a weary bullpen. Harvey, the 22nd overall pick in the 2013 draft, has not yet pitched in the majors.
UP NEXT
Blue Jays: RHP Aaron Sanchez (0-1, 5.40 ERA) seeks his first win since July 14 in the second game of the series Tuesday night.
Orioles: RHP Andrew Cashner (1-1, 4.09) makes his second home start with Baltimore. In his Orioles debut, he yielded three HRs in a loss to the Twins on March 31.
---
More AP baseball: https://apnews.com/tag/MLBbaseball
---
---