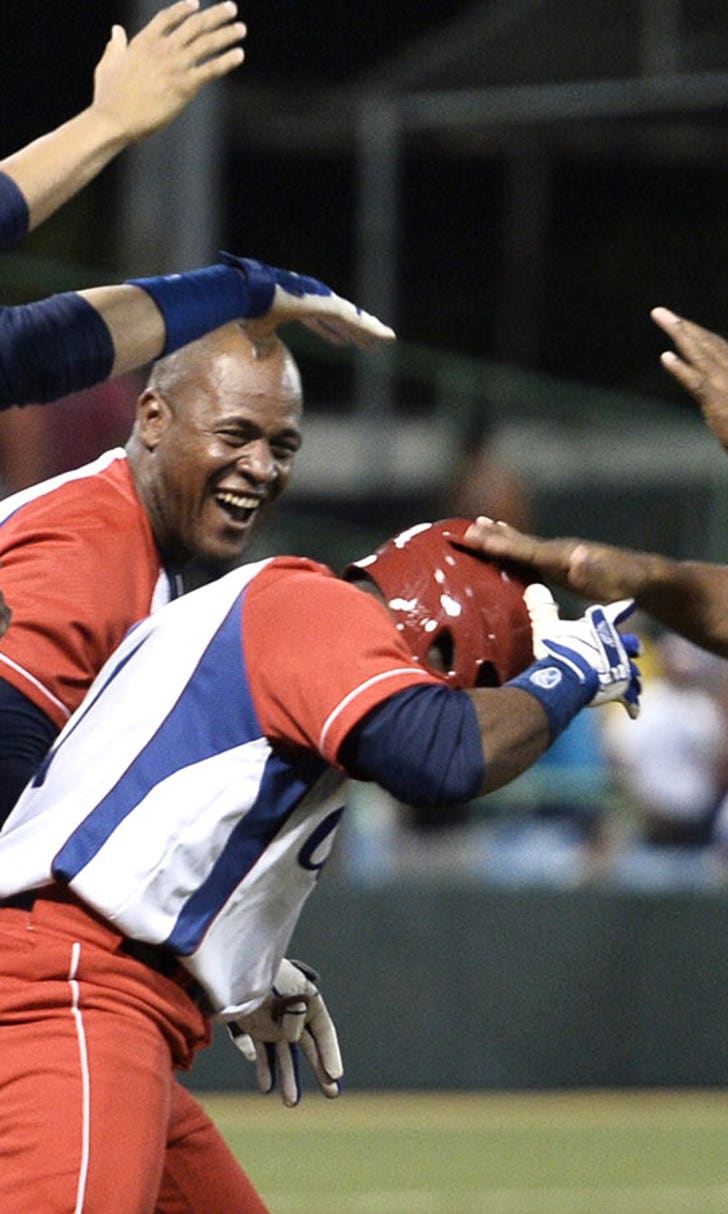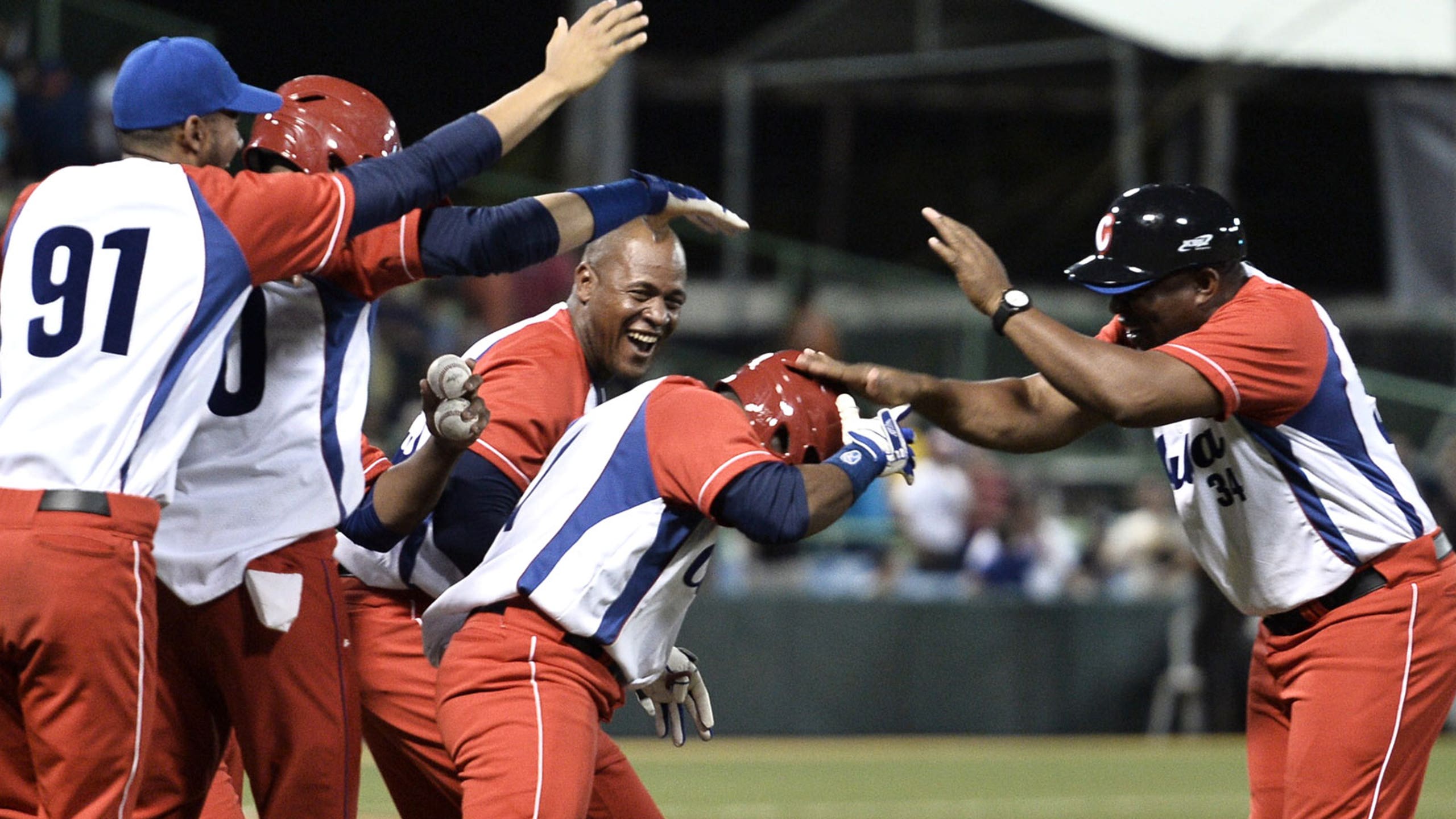 Mendoza-led Cubans defy defections, beat Puerto Rico
BY foxsports • February 5, 2015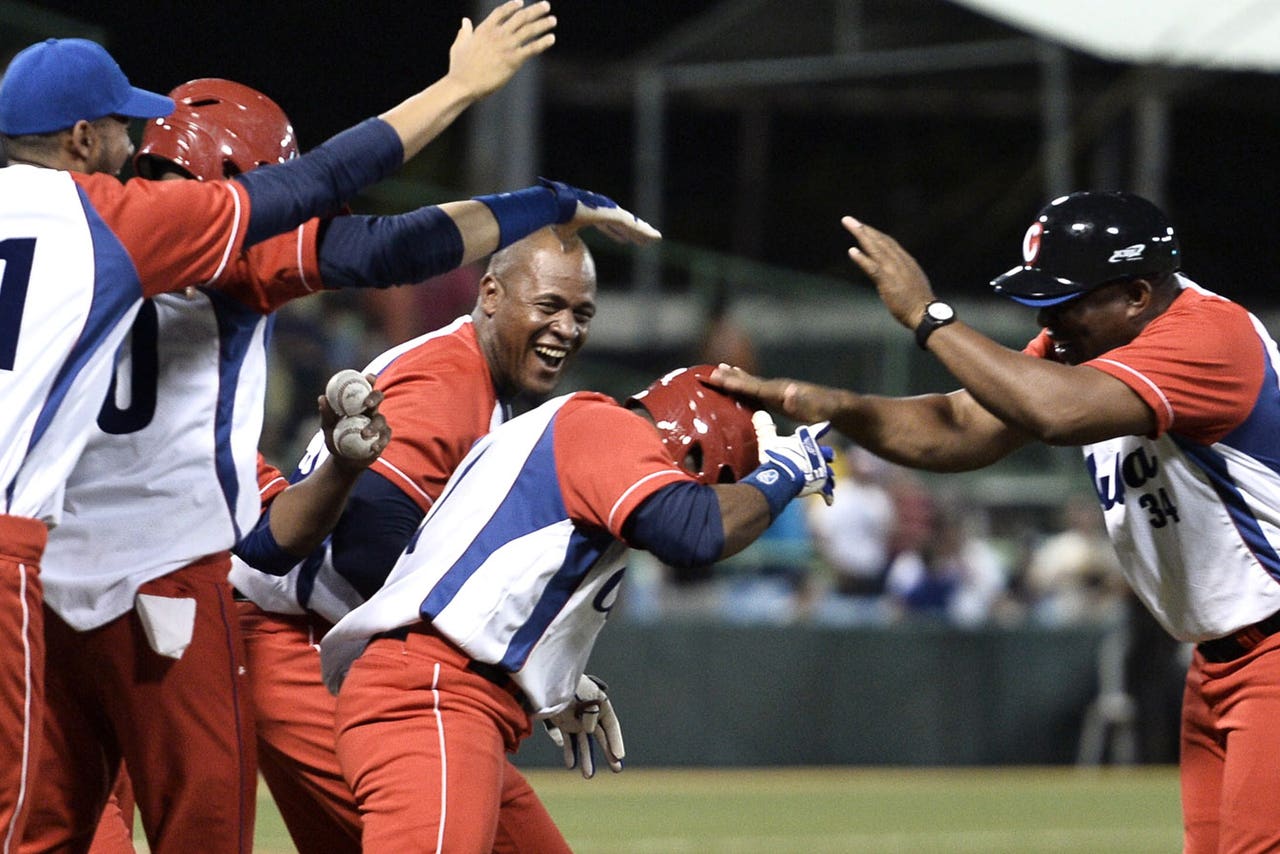 At the recent Central American and Caribbean Games in Mexico, promising pitchers Hector Mendoza and Vladimir Gutierrez helped Cuba win a gold medal. Mendoza is 20. Gutierrez is 19. Both are powerful right-handers with overwhelming repertoires, the kind that make major-league scouts call their bosses and tell them to remember these names.
This week, in a span of 36 hours, Gutierrez defected during the Caribbean Series while Mendoza became his country's latest baseball hero. In a game his team needed desperately --€" for reasons emotional and practical --€" Mendoza delivered 3 2/3 innings of scoreless, steel-nerved relief to earn the victory in Cuba's 3-2 win over Puerto Rico.
Cuban baseball --€" and Cuba itself --€" may be in a period of transition, but Wednesday was ripped straight from the pages of a Cold War anthology: First came the news, reported by USA Today's Jorge Ortiz, that Gutierrez and infielder Dainer Moreira left the Cuban delegation in the hours after Tuesday's loss to the Dominican Republic. The Cuban government responded with a statement from the country's sports ministry, describing the players' actions as a "betrayal to the revolution" and "an exchange of shame for money," according to The Associated Press.
By early afternoon, the Caribbean Professional Baseball Confederation --" which operates the tournament --€" had distributed a media advisory (on paper, the old-fashioned way) in the press box at Hiram Bithorn Stadium, saying the confederation's commissioner had no authority over a private matter for the players.
In short: Cuba is down two players. Tough break. Let's play ball.
Needless to say, "PLAYER DELETED --€" DEFECTION" is not a roster move we're used to seeing in Major League Baseball.
Aside from the obvious sociopolitical considerations, the losses of Moreira and Gutierrez were significant within the context of this particular tournament. Moreira, after all, was Cuba's starting shortstop and leadoff batter as recently as Tuesday afternoon. Before vanishing, Gutierrez was in line for extended relief work, very possibly in Wednesday's game. Cuban manager Alfonso Urquiola had only nine pitchers on his 27-man roster -- a distribution that precisely zero of 30 major-league organizations would endorse, for fear of overtaxed arms.
And very suddenly, Cuba went from nine pitchers to eight.
Moreover, Cuba's recent performance in the Caribbean Series had been dismal, bordering on embarrassing. Cuba was a charter member of the tournament (which features domestic champions of the Caribbean winter leagues) but didn't participate for more than 50 years after Fidel Castro's rise to power. The Cubans returned last year amid considerable fanfare but went only 1-3. Then they lost two games --" and two players --€" over the first two days in San Juan.
Yet, as they stepped off the team bus early Wednesday evening €-- dressed in their distinctive red pants -- the Cuban players appeared remarkably at ease, despite curious onlookers tracking their walk to the third-base dugout. They certainly know the rate of defections has increased in recent years, along with the money their former teammates now earn in Major League Baseball. Second baseman Yulieski Gourriel --" compared to Derek Jeter because of his line-drive swing, late-game savvy and wiry strength --€" is the Cuban team's leader. He didn't take offense when, as he relaxed for a moment in the dugout, I asked about the two players who left. Rather, Gourriel spoke calmly about the need to focus on that night's game and have a better showing in the Caribbean Series -- a Jeterian answer if there ever was one.
One peculiar aspect of Cuba's warmup was that two players from the Venezuelan team --€" which defeated the Dominican Republic in Wednesday's early game --€" remained on the field, equipment bags in tow, and chatted with the Cuban players as they stretched.
The names of those players in Venezuela's white uniforms: Hassan Pena, a pitcher, and Felix Perez, an outfielder. Both were born in Cuba, raised in Cuba, and began their baseball careers in Cuba. Pena left the island 10 years ago, Perez six.
That's right: Hours after the news about Moreira and Gutierrez jolted the Caribbean Series, two other Cuban defectors stood in the midst of the current Cuban team, about 90 minutes before first pitch . . . without visible protest from any Cuban official, coach or player.
"I can't believe we were able to do that," Pena told me afterward. "Every guy on the Cuban coaching staff and the Cuban training staff knew we were there. And they said nothing to us."
I asked Pena if he was afraid that someone from the Cuban delegation was going to force him to leave the field. "I wasn't afraid," he answered firmly, "because I'm a free man."
Pena smiled warmly as he recalled how happy he was to see old friend Frank Camilo Morejon, a catcher on the Cuban team, for the first time in 10 years. He said some of the players told him that Cuba is changing. "Hopefully, it will change 100 percent," Pena added.
For now, the percentage of change in U.S.-Cuba relations appears closer to "0" than "100" --€" at least in a baseball context. Yes, the governments have indicated a willingness to normalize relations. Yes, Major League Baseball has simplified the process for signing Cuban-born free agents --€" such as the highly sought-after Yoan Moncada --€" following a recent policy change by the U.S. Office of Foreign Assets Control. But the most consequential barrier remains in place: Cuban-born players must defect if they wish to play in MLB.
Recently, the Cuban government has started allowing certain stars to play professionally in Japan, as long as those players fulfill their obligations to the national team and domestic clubs, where salaries typically are less than $100 per month. Gourriel has done it. So has Mendoza.
The experience of pitching before raucous crowds with Tokyo's Yomiuri Giants undoubtedly helped Mendoza display uncommon poise Wednesday night. One example: He stepped off the mound to collect his thoughts in baseball's ultimate pressure moment: bases loaded, full count, tie game, ninth inning, with about 18,000 Puerto Rican fans roaring at full throat because they were certain the kid was about to crack.
Instead, the next pitch was strike three, and the old, rollicking stadium fell silent. After Cuba triumphed in the 10th inning, Mendoza smiled his way through television interviews on the field, then walked alongside his manager to the formal press conference. The stocky Urquiola moved deliberately, puffing on what remained of his cigar. Mendoza -- handsome, tall, and broad-shouldered --€" was careful not to walk ahead of him.
As Mendoza sat on the dais, saying all the right things to the Cuban press after the biggest game of his young life, it was easy to wonder where he will be in three years. Or five. Or 10.
Had Mendoza been born in the U.S., he might be a Friday night starter in the SEC, showcasing his 94-mph fastball for a likely first-round selection --€" and multimillion-dollar signing bonus. Instead, he lives in a place where relatively few decisions are his alone to make.
It wasn't until after midnight local time that Mendoza finished shaking hands and posing for pictures. At last, he walked toward the team bus, guided by team officials. The police escort --€" four motorcycles in front, two SUVs --€" was already in place.
And do you know what Cuba's newest baseball star was wearing on his feet? A pair of Nikes.
---
---