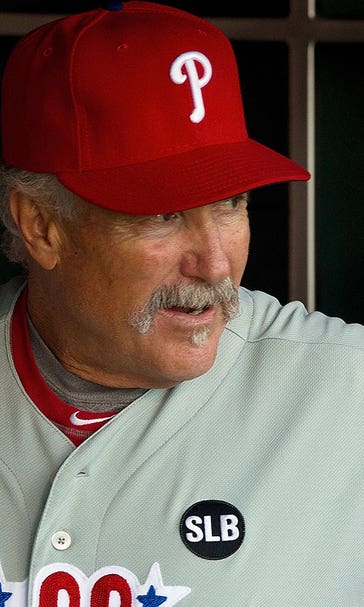 Meet Bob McClure, the Phillies' 'mad scientist'
May 4, 2016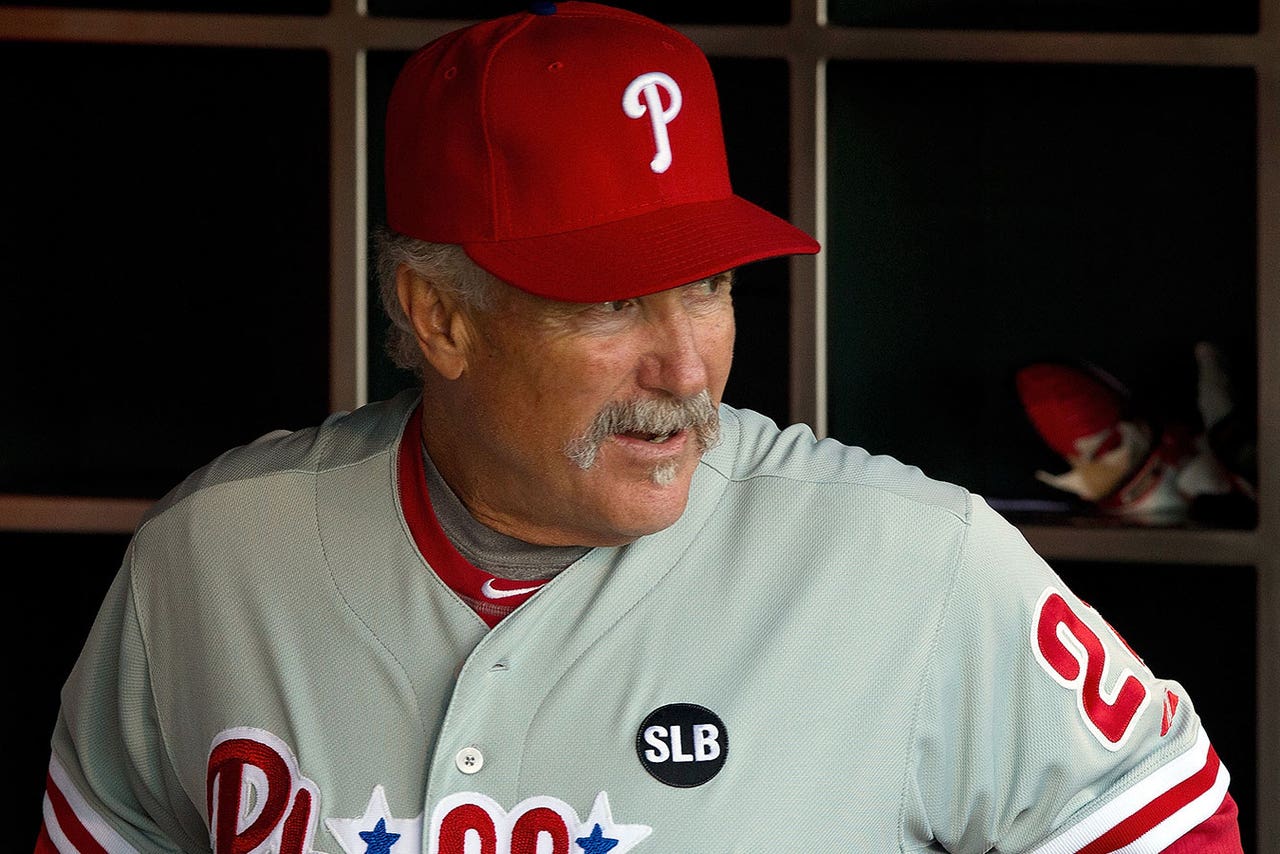 We start with a Zack Greinke story. Greinke stories are always fun, because Greinke is so unusual, but this one reveals as much about our actual subject, Phillies pitching coach Bob McClure, as it does about Greinke himself.
The story is from Greinke's first bullpen session in the spring of 2006. McClure had just become the Royals' pitching coach. Greinke, then 22, threw about 10 pitches, then suddenly stopped, telling McClure in typically blunt fashion that there were three things he needed to know:
"No. 1, I'll never throw a changeup.
"No. 2, I'll never throw a two-seamer.
"And No. 3, I don't listen to pitching coaches."
McClure, now 64, responded without missing a beat.
"The third one is fine," he told Greinke. "But the first two, if you want to be 5-15 again (actually Greinke was 5-17 in 2005), that's what's going to happen. If you just throw fastball-slider, you're going to get cornered."
Greinke being Greinke, he didn't fully commit to the changeup until the spring of '09, the year he won the Cy Young Award.
Former Royals general manager Allard Baird, now a top Red Sox executive, marvels that McClure was not insulted by Greinke's initial remarks.
"That speaks to who Mac is, that he won't take offense to that," Baird said. "Most people would be like, 'You've got to be kidding me.'"
All these years later, McClure remains unflappable. Only now he is with the Phillies, a rebuilding club that ranks a surprising first in the National League in shutouts, first in strikeout rate and fifth in ERA.
Club officials credit both McClure and manager Pete Mackanin with creating a positive environment, coaching instead of dictating, letting players breathe.
Former Phillies general manager Ruben Amaro Jr. hired McClure in Nov. 2013 after reportedly interviewing at least 12 candidates and offering the job to Braves pitching coach Roger McDowell and then-Pirates special assistant Jim Benedict, both of whom declined.
"I knew he was a guy with a great deal of backbone. He wasn't afraid to address things that had to be addressed," said Amaro, who is now the Red Sox's first-base coach.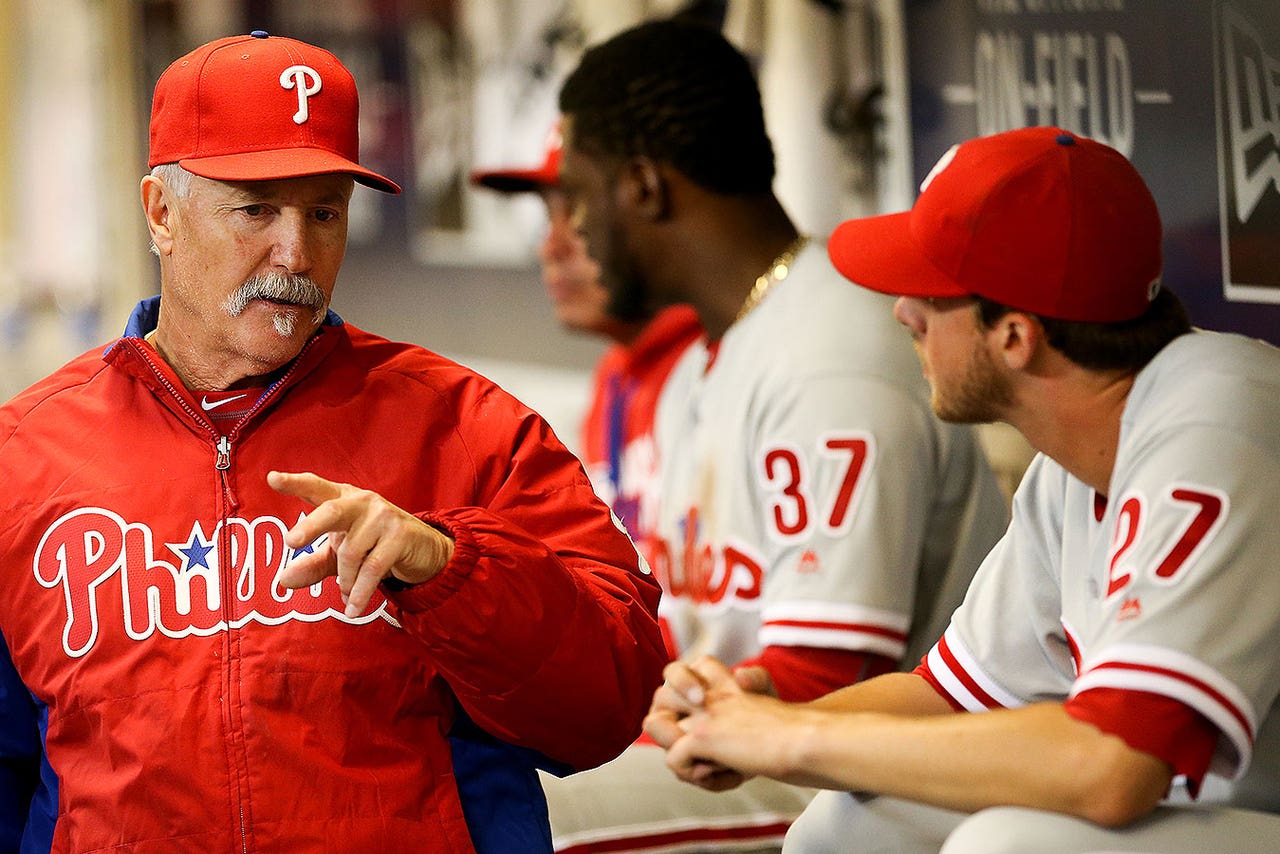 Bob McClure talks with Aaron Nola of the Philadelphia Phillies during a game against the Milwaukee Brewers in April.
"At the same time, he had the ability to nurture some young guys who we were leaning toward as we made the transition. He has an emotional compass when it comes to dealing with young players."
Amaro, before hiring McClure, said he reached out to two of the coach's employers, Baird and then-Red Sox GM Ben Cherington, trying to gain an understanding of "what he was all about."
McClure, a former major-league left-hander, was not exactly an unknown; he had pitched for 19 seasons, and later spent seven years with the Rockies as a minor-league pitching coach and six with the Royals at the major-league level.
Then came his stormy tenure with the Red Sox.
Cherington hired McClure as a special assistant in Nov. 2011, then named him pitching coach under new manager Bobby Valentine about a month later. But almost immediately during spring training, it became clear to Sox officials that Valentine and McClure would not get along.
The strain reached a tipping point after McClure took a leave of absence during the season to attend to an urgent medical situation involving one of his twin sons, Brock, who was then less than 18 months old (McClure did not wish to disclose Brock's condition, saying only that he made a full recovery and is now fine).
Valentine, during an Aug. 1 radio interview, responded to a question about mound visits by saying in part, "When Bob McClure was on his two-week vacation. (Pause). I'm sorry, not vacation, his two weeks away from the team."
McClure, in a telephone interview on Monday, said it had been "a dream come true to get to coach in Boston." He had family in the area, and going to work at Fenway Park, he said, was "like going to a museum."
Valentine portrayed his comment as a slip, according to published reports at the time. McClure did not view it that way.
"That pissed me off," McClure said. "He had no right saying that. I don't know what he was thinking when he said that. That was the final straw for me. That was very unprofessional, very uncalled for."
Less than three weeks later, the Sox fired McClure, reportedly at Valentine's behest. They fired Valentine at the end of season.
The drama did not damage McClure's reputation.
He sat out the following year, then joined the Phillies to work under then-manager Ryne Sandberg in Nov. 2013.
"He creates authentic relationships with everyone so that everyone trusts him," former Rockies GM Dan O'Dowd said. "He is a very deep thinker who is intellectually gifted. He has no ego or agenda -- he is a very humble man who is always open for suggestions."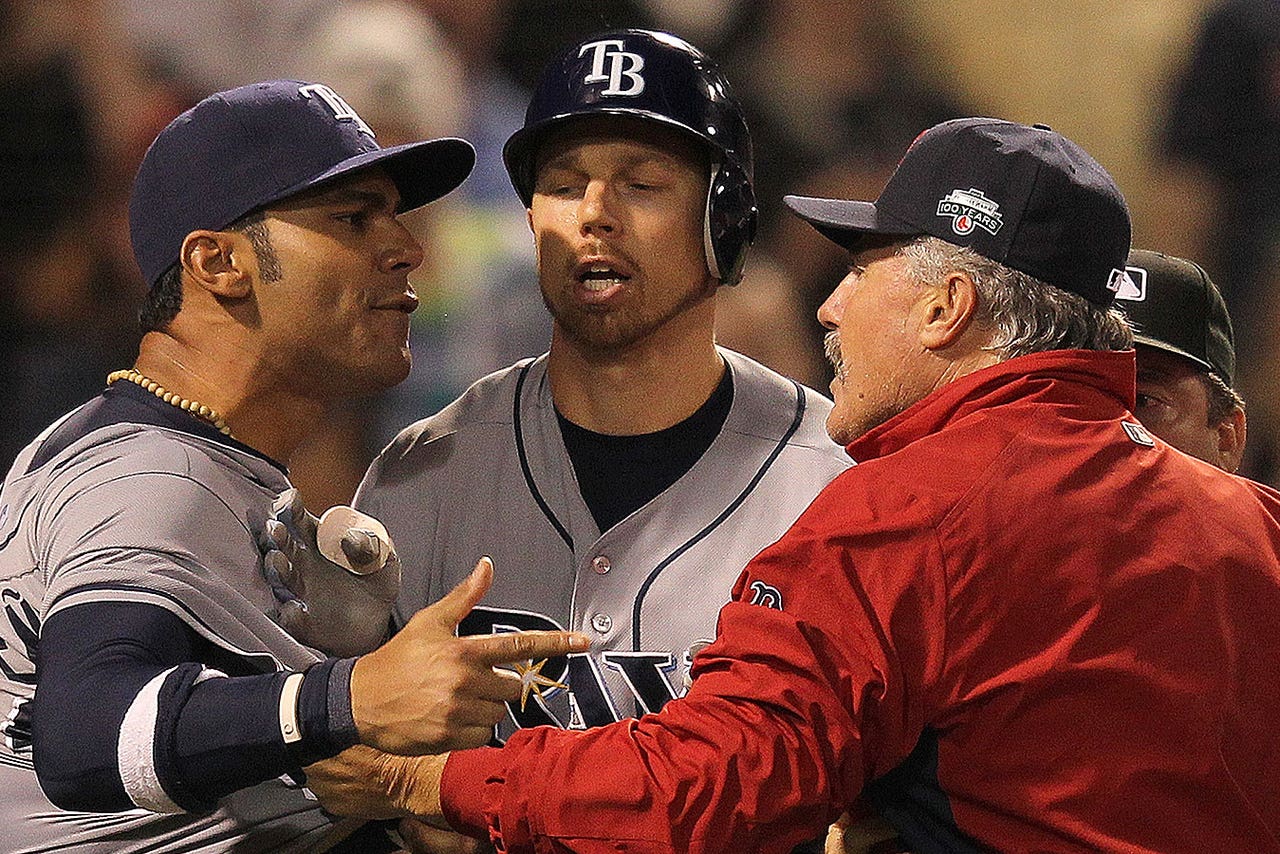 Bob McClure, during his time with the Boston Red Sox.

Baird chuckles, talking about the book that McClure co-authored with his best friend Dave Downing in 1991: "Rotting: The Craze of the 90's."
Rotting?
As the Los Angeles Times wrote in 1989, when McClure was a member of the Angels, "Bob McClure is a couch potato. Not your average flop on the sofa and waste a Saturday in front of the TV variety, but a serious, dedicated one who considers his inactivity an art form."
McClure's book defines rotting as "doing nothing, while looking as if doing nothing, but no longer feeling guilty about it. It is the art, science or sport of getting parallel."
"When you hear that, you kind of think, 'What's this guy all about?'" Baird said. "But in this day and age, it's kind of interesting. He's a hard-working guy, a grinder. But this generation of players coming up to the big leagues, he has a feel for them.
"He's an old-school guy, but he kind of has a, 'Hey dude,' attitude about him."
Evidently, it's working.
The Phillies' current rotation includes four pitchers between the ages of 22 and 26 -- Aaron Nola, Vince Velasquez, Jerad Eickhoff and Adam Morgan -- plus veteran Jeremy Hellickson, who is 29 (Charlie Morton, another veteran, made four starts before suffering a season-ending torn left hamstring).
Yet, the team is 16-11 after recording its sixth shutout of the season Tuesday night, a 1-0 victory over the Cardinals. The Phils' run differential -- minus-22 -- indicates that the good times will not last. Then again, few expected the good times to even start this season.
"It's similar to when I was in Kansas City," said McClure, who was with the Royals from '06 to '11. "The only thing here is that when Kansas City brought up (Eric) Hosmer, (Mike) Moustakas, (Sal) Perez, and then traded Greinke for (Lorenzo) Cain and (Alcides) Escobar, there were more position players and less pitching. We're the opposite."
At least for the moment.
The Phillies already view third baseman Maikel Franco and center fielder Odubel Harrera as long-term keepers, and shortstop J.P. Crawford, catcher Andrew Knapp and outfielders Nick Williams and Roman Quinn all could make their major-league debuts later this season.
Pitching, though, is the foundation of the team's current success, and obviously integral to its future.
One Phillies official refers affectionately to McClure as "a mad scientist," full of creativity, always generating ideas. But McClure's view of pitching actually is quite traditional.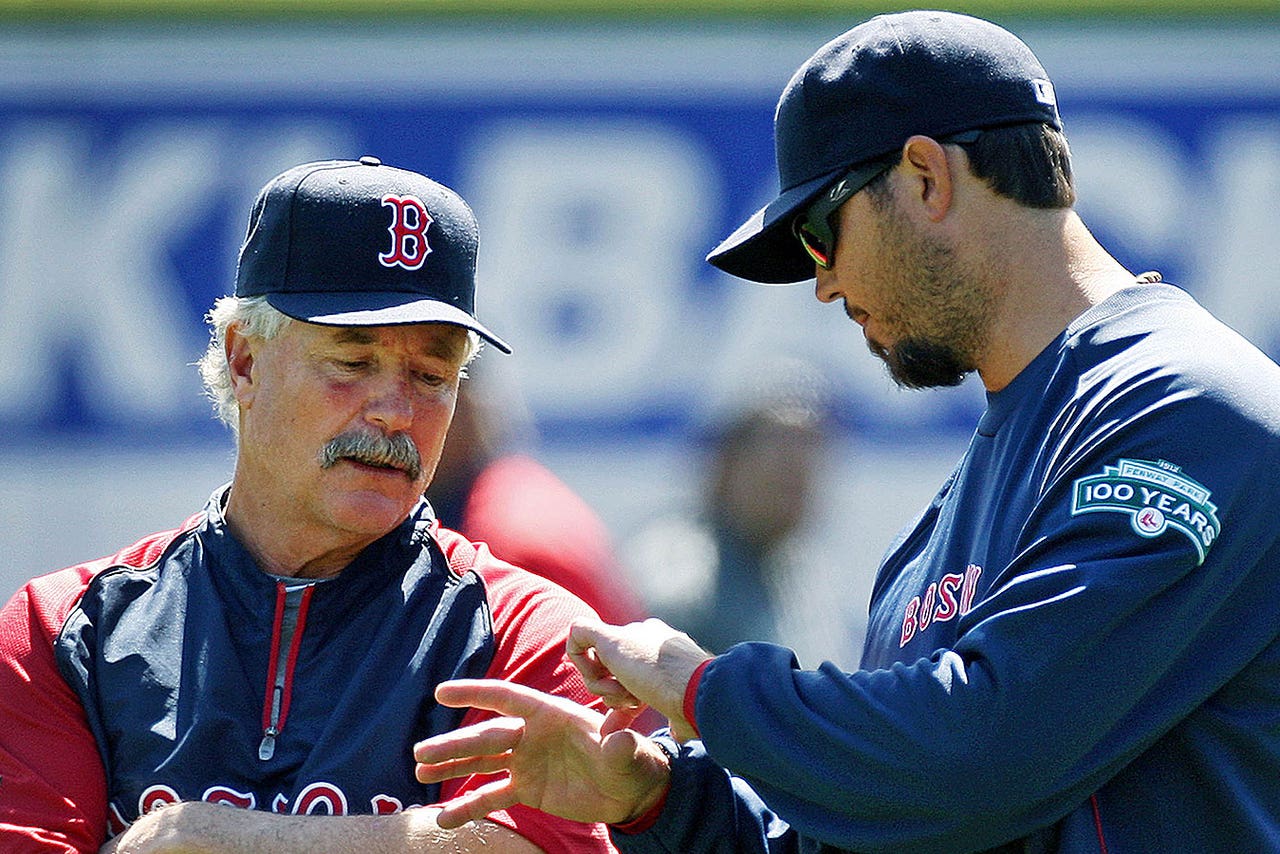 McClure, as Red Sox pitching coach, talks with Josh Beckett.

"I know they talk a lot about us with the curveball," said McClure -- the Phillies entered Tuesday throwing a major-league high 19.8 percent curves, according to Fangraphs; the Mariners were the next highest at 15.7 percent.
"That just happened because Morton, Hellickson, Nola, Eickhoff and Velasquez all had plus curveballs. It was kind of luck of the draw, really. But it doesn't matter what kind of curveball you have if you can't command your fastball."
McClure then invokes the late Cal McLish, a former major-league pitcher who was his pitching coach with the Brewers.
"He always used to say, 'Strikes are in your delivery,'" McClure said. "I firmly believe that in its simplest form. When I was real young, I didn't know what he actually was saying. But the better you can repeat your delivery, the easier it is for you to command a baseball."
Consider Velasquez, the hard-throwing right-hander whom the Phillies acquired from the Astros in the Ken Giles trade last offseason.
Some in the industry view Velasquez, 23, as more of a reliever than a starter. But Velasquez struck out 16 in a three-hit shutout of the Padres on April 14, and his ERA after five starts is 1.44.
"With Velasquez, the only thing we basically worked on was repeating his delivery," McClure said. "That's what separates relievers from starters. It's almost, how easy can you throw hard?"
Sounds simple. Maybe it is simple. Whatever the case, McClure is connecting with his pitchers, getting his message across.
Baird believes that McClure relates well to young players because he not only has 4-year-old twins, but also three children from a previous marriage, the oldest of whom, Jake, is 35 and a minor-league video assistant with the Diamondbacks at Double-A Mobile.
"He's a very calm personality, how he talks with people, how he engages with people," Baird said. "But the one thing that gets covered up a little bit is his intensity, his competitiveness. He does a good of masking that until the moment is needed."
He's a long way from rotting, and a long way from his rotten situation in Boston.
Bet even Greinke would listen to McClure now.
---
---