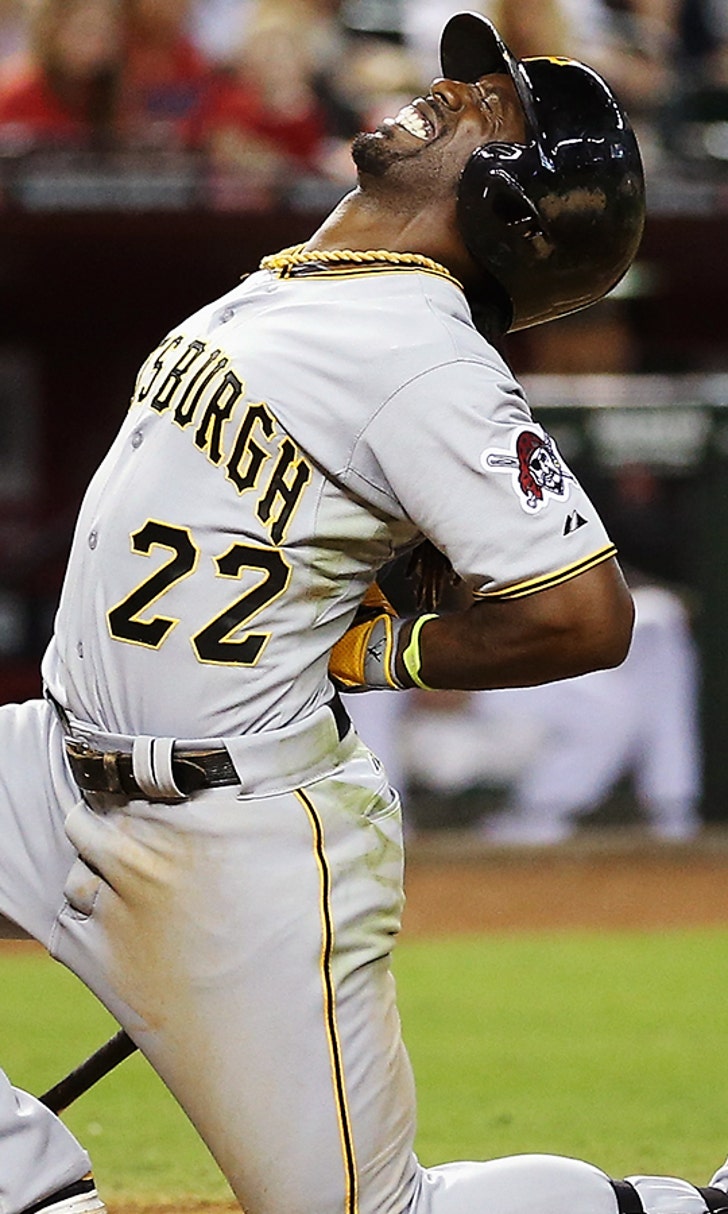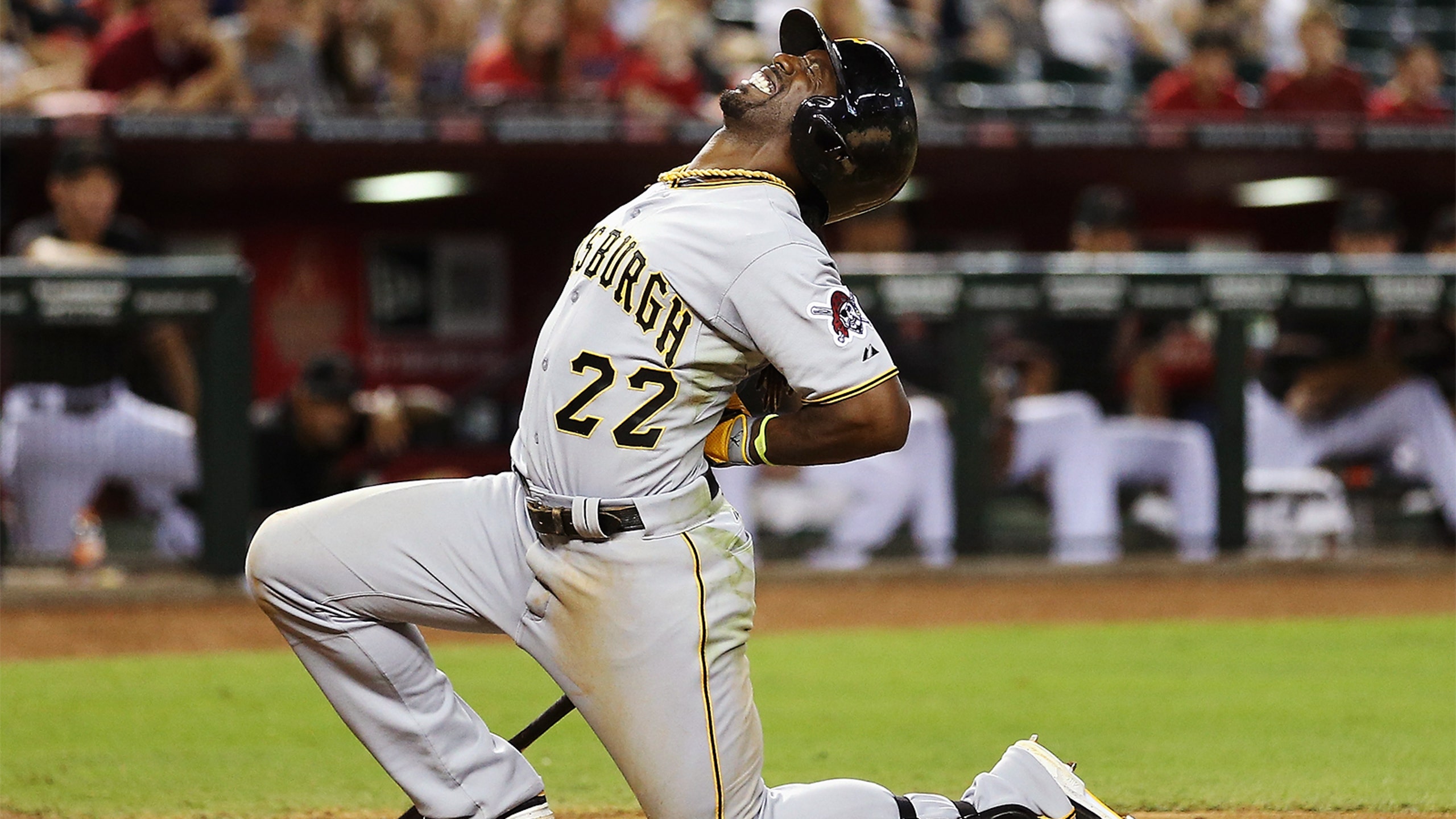 McCutchen gets plunked at end of Pirates win over Diamondbacks
BY foxsports • August 2, 2014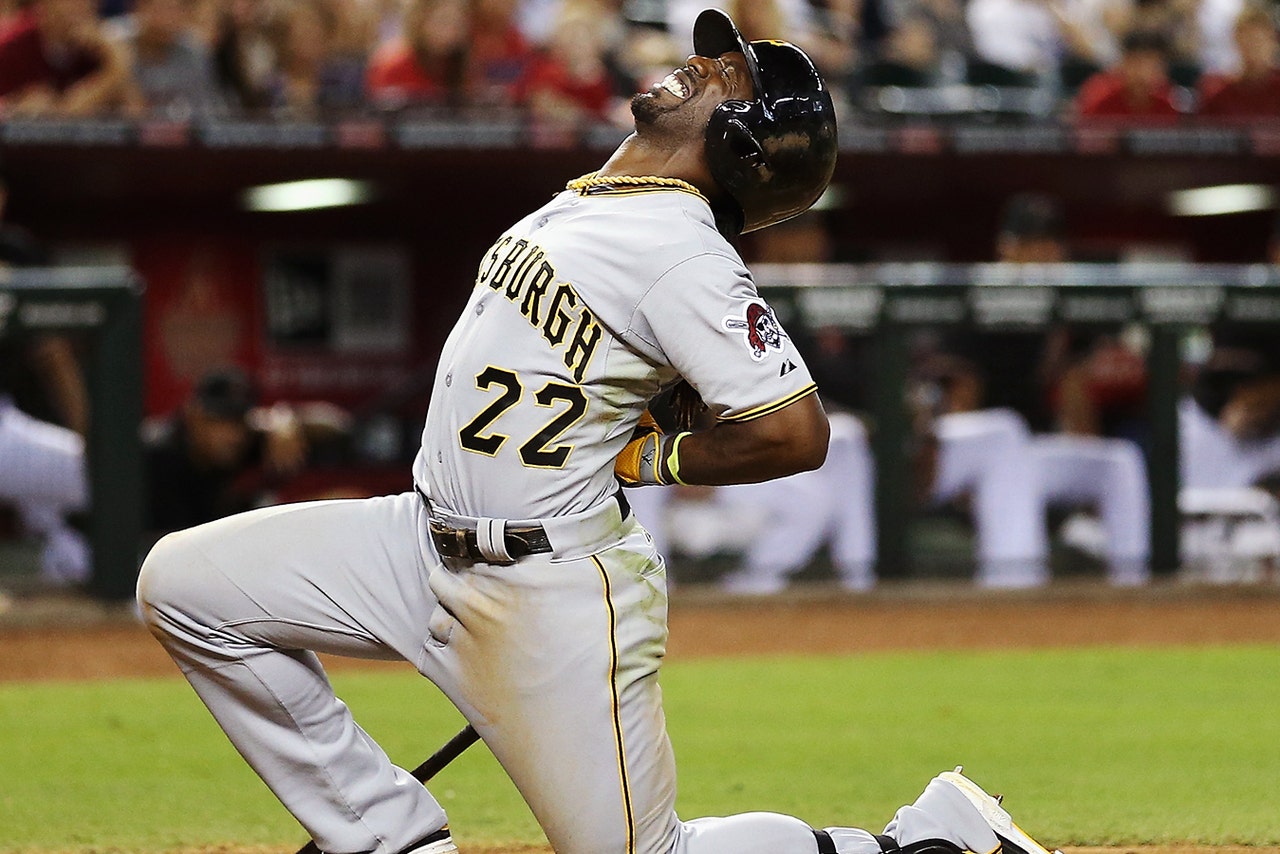 PHOENIX (AP) -- Andrew McCutchen had plenty to say about being hit by a pitch squarely in the lower middle of his back in the ninth inning with his team up by four runs and runners on second and third.
Most of it involved expressing his displeasure about the whole thing and he was wearing a bandage covering the spot where he was hit as he dressed into street clothes after the Pittsburgh Pirates had beaten the Arizona Diamondbacks 8-3 on Saturday night.
In McCutchen's mind, and likely those of many who saw what transpired, he was hit by Arizona reliever Randall Delgado on purpose. The count was 2-0 with one out when it happened, and the Pirates' All-Star outfielder stayed in the game and eventually scored.
The NL MVP was plunked a day after Pirates reliever Ernesto Frieri hit Diamondbacks star Paul Goldschmidt in the left hand, causing a fracture that put him on the disabled list.
''Sure it did,'' McCutchen said with a hint of sarcasm when told that Diamondbacks manager Kirk Gibson said the pitch from Delgado got away from him. ''They had all game to retaliate. They had the first inning to retaliate. They had the first pitch (of the ninth inning at-bat) to retaliate. They missed. You throw a slider on the second pitch and then you throw up and in on the next pitch. Are you trying to hurt me too? That's the question.
''We understand that retaliation is going to happen in this game. But you know, there's a right way to do it,'' McCutchen added. ''If you're going to hit me, hit me. . He hit me square in the spine. If I get hurt, what happens then?''
Asked if he thought it was intentional, Pirates manager Clint Hurdle repeated the words ''The game takes care of itself.''
Delgado looked dejected as he walked off the mound, head down, following his ejection for hitting McCutchen.
''I was trying to work my corners and unfortunately the ball moved. I think maybe I didn't have control,'' he said.
The Pirates broke the game open late, just as they did the previous night. McCutchen drove in the go-ahead run with an infield single off third baseman Andy Marte's glove that keyed a four-run eighth inning to make it 5-1.
It was 1-all when Josh Harrison, who had homered earlier, opened the Pittsburgh eighth with an infield hit and Gregory Polanco reached on catcher's interference. McCutchen's sharp ground ball glanced off Marte's glove and into left field, breaking the tie.
Arizona reliever Brad Ziegler's throwing error later helped the Pirates break away. Brent Morel, inserted into the game at third base in the sixth inning with Pedro Alvarez struggling through an 0-for-3 night, hit an RBI double in the eighth and a two-run single in the ninth.
Harrison is 14 for 31 in his last seven games. Until striking out in the fifth, he had four straight at-bats with an extra-base hit and seven straight hits that went for extra bases.
Starters Vance Worley of the Pirates and Chase Anderson of the Diamondbacks both threw six innings and allowed one run.
Jared Hughes (6-2) got the win with a scoreless seventh. Ziegler (4-2) took the loss.
Frieri came in to pitch the bottom of the ninth, but there were no further incidents. David Peralta hit a two-run homer off Frieri. Peralta went 3 for 5 to raise his average to .319 and he drove in all of the Diamondbacks' runs with a home run and a single. A double he hit in the third inning hit just below the yellow home run line in center field.
A CATCH FOR `CUTCH'
The Pirates turned what could have been a big inning for the Diamondbacks into nothing thanks to two fine catches from left fielder Travis Snider and center fielder McCutchen in the second. Snider robbed Didi Gregorious of a hit by diving to catch a line drive, and McCutchen stole a hit from Marte with a sliding catch in shallow right-center that looked to be a trapped ball. The play was challenged by Gibson but the out call was upheld after a 2-minute, 49-second review.
HOT HARRISON
Harrison is batting .303 after a 3 for 4 night in which he scored three times.
''Trying to have good at-bats and not miss pitches,'' Harrison said of his recent success. ''Getting pitches out over the plate that I can handle and just putting the barrel on it.''
Hurdle has enjoyed it.
''He's had a knack of getting things going,'' he said.
ON DECK
Diamondbacks: Right-hander Trevor Cahill (1-8) starts the finale of the four-game series Sunday. He is 2-1 with a 4.08 ERA in three starts against Pittsburgh.
Pirates: Left-hander Francisco Liriano makes his 19th start of the season. He's 3-7 with a 3.97 ERA. Opponents are batting only .231 against him this season.
TRAINER'S ROOM
Diamondbacks: Infielder Cliff Pennington and outfielder A.J. Pollock are on rehab assignments and last played in a rookie league game on Thursday.
Pirates: Second baseman Neil Walker was a late scratch from Saturday's lineup with back tightness. Harrison, originally Saturday's left fielder, replaced Walker at second base.
Outfielder Starling Marte was scheduled to begin a rehab assignment with Triple-A Indianapolis. He has been on the concussion disabled list since July 23.
---
---