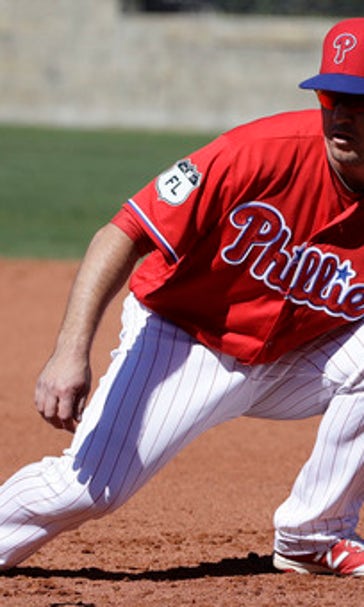 Joseph's power could be crucial for Howard-less Phillies
February 17, 2017

CLEARWATER, Fla. (AP) When Tommy Joseph was traded to Philadelphia back in 2012, the Phillies were just beginning their descent into a lengthy rebuilding period.
The years since then have been challenging for both Joseph and the franchise - but now, there are some signs of progress for both.
Joseph finally made his major league debut last May, a couple months before turning 25, and he went on to have a solid rookie season. He finished with 21 home runs in 315 at-bats, and with Ryan Howard no longer on the roster, Joseph has a chance to be a part of Philadelphia's future at first base.
''I don't think it was so much the power numbers, it was getting to the major leagues and having a healthy season. That was really the most gratifying thing,'' Joseph said Friday before the Phillies' first spring training full-squad workout. ''As a ballplayer, your job is to come in here and give your manager the opportunity for you to play every day.''
Staying healthy has been an issue for Joseph, a top prospect in San Francisco's system before he was traded to Philadelphia in the deal that sent Hunter Pence to the Giants. Joseph was a catcher then and had shown solid power at the Class A level, but his career was nearly derailed by concussions.
From 2013-15, Joseph played only 121 games in the minors. Finally, an impressive start at Triple-A last year earned him a promotion, and after about a month with the Phillies, he'd supplanted the struggling Howard at first base.
Howard hit much better after the All-Star break, and by the end of the season, he'd managed to reach 25 home runs, giving the Phillies two options with power at first base. But Philadelphia let Howard go , and he remains a free agent.
Philadelphia is now led by players such as Maikel Franco, Odubel Herrera and Cesar Hernandez - and if Joseph proves capable of handling more playing time, he's still young enough to fit in with that group.
''Tommy's got some issues he's got to take care of,'' manager Pete Mackanin said. ''It's like any other hitter - the better you learn the strike zone, the more at-bats you don't give away.''
Joseph had 75 strikeouts and 22 walks last season, finishing with a .308 on-base percentage. Even when he was hitting well at Triple-A, he drew only four walks in 27 games, so it's no surprise that his selectivity at the plate remains an issue.
''Young players, when they come to the big leagues, it takes a little while to figure out what type of hitter you are and where your strengths are. He knows he's a very good low ball hitter,'' Phillies hitting coach Matt Stairs said. ''So, just a matter of reminding him, over and over and over, `Hey, listen, you're a low ball hitter, take your walks. You snuck up on some teams last year with the power you had.'''
Joseph's platoon split is also a potential issue. In the majors last year, his OPS was better against left-handed pitchers (.912) than against righties (.774) - and now Howard is no longer around to take up at-bats against right-handers.
Joseph is hopeful that with more experience, he can keep improving.
''I've been hitting against right-handed pitching my entire minor league career. The only way you progress in the major leagues is having the opportunity to face those guys,'' he said. ''Getting an opportunity would be great, and allow me to continue to progress.''
NOTES: Hernandez went 17 for 30 on stolen base attempts last season, and he was 11 of 19 after the All-Star break. He said he'd like to steal at least 30 bases this season. ''He's one of the fastest players in baseball right now, when you get down to it,'' Mackanin said. ''He just needs work on his steal jumps and knows how to read slide steps and knows how to read pitchers better. I think he's capable of doing that.''
---
Follow Noah Trister at www.Twitter.com/noahtrister
---
---