Colorado Rockies
Colorado Rockies
Giants face challenging road series against Rockies (Jun 15, 2017)
Published
Jun. 15, 2017 12:48 a.m. ET

DENVER -- The floundering San Francisco Giants, who tumbled into last place in the National League West with their latest loss, might be making an ill-timed visit to Coors Field when they open a four-game series Thursday against the Colorado Rockies.
The Rockies are 6-1 against the Giants this season. Colorado won three of four from April 3 to April 16 at Coors Field and swept three games from the Giants at At&T Park from April 21 to April 23, outscoring them 26-8 in that series.
The Giants were just swept by the Kansas City Royals in a two-game series at At&T Park and outscored 15-3. At 26-41, the Giants are last in the division for the first time since May 12 after their 11th loss in 15 games.
The Giants are last in the majors in batting average (.236), slugging percentage (.358), home runs (49) and runs scored (242). With so little power, the Giants must hit in the clutch, but that hasn't happened. They're hitting a major-league-worst .202 with two outs and runners in scoring position.
Before the Giants stranded 11 runners and went 2-for-10 with runners in scoring position in Wednesday's loss to the Royals, Giants manager Bruce Bochy told reporters, "Obviously we've got to get on track and get the offense to be a bit more consistent. We'll be playing a very good team. We've dug ourselves a hole, and the only way to get out of it is to play better ball, especially against the teams ahead of us."
Left-hander Matt Moore (2-7. 5.28 ERA) will start for the Giants against Jeff Hoffman (4-0, 2.33). Moore is 1-3 with a 7.92 ERA in five starts against the Rockies. He's 0-2 with a 12.34 ERA in three starts at Coors Field, including one on April 22 when he gave up nine hits and six runs in four innings and lost 12-3.
The Rockies (42-26) just went 18-11 in a 29-game stretch that included 22 road games. They play 14 of their next 23 games at Coors Field, leading to the All-Star break.
Hoffman, who will be making his third straight start in place of Tyler Anderson (left knee inflammation), is 4-0 with a 2.10 ERA in four starts, allowing three walks and 16 hits in 25 2/3 innings with 32 strikeouts.
Slumping right fielder Carlos Gonzalez didn't play Wednesday night in a 5-1 win at Pittsburgh, and manager Bud Black said before the game that he wouldn't be in the lineup Thursday.
Raimel Tapia, who replaced Gonzalez, went 4-for-4 with three runs scored in the victory over the Pirates. Gonzalez has gone hitless in 24 consecutive at-bats, including 0-for-20 with seven strikeouts on the just-concluded road trip. That slide has dropped his average from .241 to .215, the lowest it has been since May 18, when he was hitting .207.
Gonzalez, who has five homers and 19 RBIs, has driven in one run in his past 14 games. He's 8-for-52 (.154) with runners in scoring position and saddled with a .629 OPS.
"CarGo's not going to start today, and he's not going to start tomorrow," Black told reporters before Wednesday's game. "After that, we'll see. But it's tough, because you want him in there because you know what he can do."
Expanding the strike zone has been a problem for Gonzalez, a common fault for a hitter in a prolonged slump.
That's part of what happens in your desire to get hits, and the only way to get hits is to swing the bat," Black said. "That's the hard thing. You want to get hits to get out of it, but then you end up being overly aggressive. But CarGo's going to come out of it."
---
---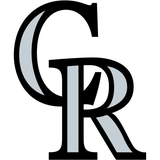 Get more from Colorado Rockies
Follow your favorites to get information about games, news and more
---