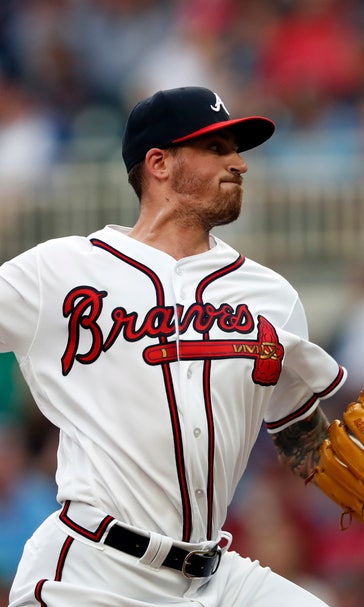 Gausman, Inciarte power Braves past Brewers
August 10, 2018
ATLANTA (AP) — Kevin Gausman loves pitching in a pennant race.
The games have meaning, and the fans are engaged. That was hardly the case before the Atlanta Braves acquired him from Baltimore.
"As a player to come into it, it's exciting," Gausman said. "I could tell from the first day I got here that these guys are the real deal. They want to win, not just now but in the future."
Gausman pitched eight strong innings to win his SunTrust Park debut, Ender Inciarte drove in four runs and the Braves beat the Milwaukee Brewers 10-1 on Friday night.
Nick Markakis added three RBIs and Johan Camargo had two, helping the Braves win for the ninth time in 12 games. Atlanta began the night a game back in the NL East.
Milwaukee, which has dropped four of five to fall three games back in the NL Central, had a runner in scoring position in the first and second against Gausman (6-9). After the threat in the second, he retired the next 12 batters before Mike Moustakas doubled in the sixth and scored on a single.
Gausman, making his first home appearance since getting traded from the major leagues' worst team in Baltimore, allowed six hits and no walks, striking out eight and throwing 71 of 94 pitches for strikes. He pitched the entire game from the stretch, marking the first time he could remember doing so.
"It was something that was working in my bullpen," Gausman said. "(Pitching coach Chuck Hernandez) was like, 'You can pitch out the stretch the whole game if you want to.' I felt like I really didn't miss a beat. It didn't feel weird at all."
The Braves led 3-0 in the first on doubles by Markakis and Camargo and Inciarte's single. They went up 5-0 in the third when Markakis walked and reached third as right fielder Eric Thames appeared to misjudge Camargo's double near the wall. Inciarte's single drove in both runners.
The lead swelled to 7-0 in the fourth on Freddie Freeman's RBI single, which chased Brewers starter Freddy Peralta (5-3), and Markakis' sacrifice fly.
Peralta allowed seven hits and seven runs with five walks and three strikeouts in three-plus innings.
Inciarte drove in four runs in a game for the first time since a March 31 home win over Philadelphia. Camargo went 4 for 5 to lead the attack against Peralta, who allowed three hits and one run in a victory over Atlanta last month.
"We made some adjustments but we didn't try to make too many changes in our approaches specifically," Camargo said through an interpreter. "Just little tweaks here and there. (Markakis) kind of got the charge going early and then it kind of snowballed for the rest of us there."
STILL HOT
Freeman and Houston's Yuli Gurriel are the only players in the majors this year with three double-digit hitting streaks. Freeman had streaks of 16 and 10 games before his current 12-game run began July 29. He's hitting .362 over the recent stretch. ... Markakis, the NL doubles leader, has 35 doubles in each of his last four years. Only Chipper Jones and Hank Aaron, each with five, have more in Braves history.
CHIPPER TIME
Two weeks after he was enshrined in the Hall of Fame, Jones spoke briefly to the crowd before the game and implored the fans to keep showing up in big numbers. The Braves showed video tributes throughout the night with Hall of Famers Bobby Cox, Tom Glavine and John Smoltz joining former Braves stars Andruw Jones, Dale Murphy and others congratulating Jones.
TRAINER'S ROOM
Brewers: RHP Joakim Soria was placed on the 10-day disabled list with a right groin strain. He was injured while giving up a grand slam to Hunter Renfroe in the ninth inning of Thursday's 8-4 home loss to San Diego, leaving the game after facing two batters. Soria has a 1.59 ERA in seven games since Milwaukee acquired him in a trade two weeks ago with the Chicago White Sox. In 40 games overall, he is 0-3 with a 2.44 ERA and 16 saves in 20 chances.
Braves: RHP Anibal Sanchez is hobbled by a bruised left calf from Thursday's no-decision at Washington and might not make his next start in Monday's doubleheader against Miami. If Sanchez can't pitch, Touki Toussaint could come up from Triple-A Gwinnett and make his major league debut. Toussaint is 6-6 with a 2.68 ERA in 21 combined starts for Gwinnett and Double-A Mississippi. The Braves are down three starters with Max Fried, Mike Soroka and Brandon McCarthy on the DL.
UP NEXT
Brewers: LHP Wade Miley (2-1, 2.10 ERA) will make his eighth start of the season and his first in over three years against Atlanta. Miley is coming off a no-decision against Colorado in which he gave up five hits, three runs and three walks in five innings.
Braves: RHP Julio Teheran (8-7, 4.48 ERA) has allowed 15 runs — 13 earned — in his last three starts, a span of 15 innings. A fixture in Atlanta's rotation for the last six years, Teheran has given up 22 homers, second-most in the NL.
---
---