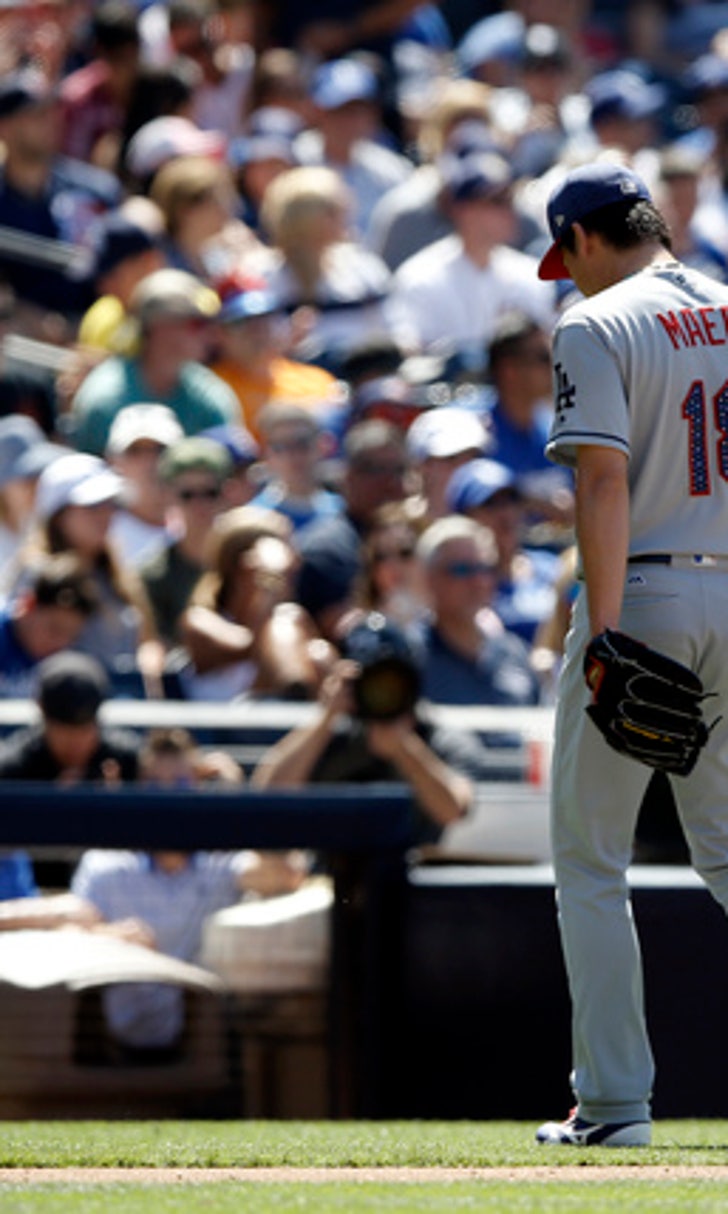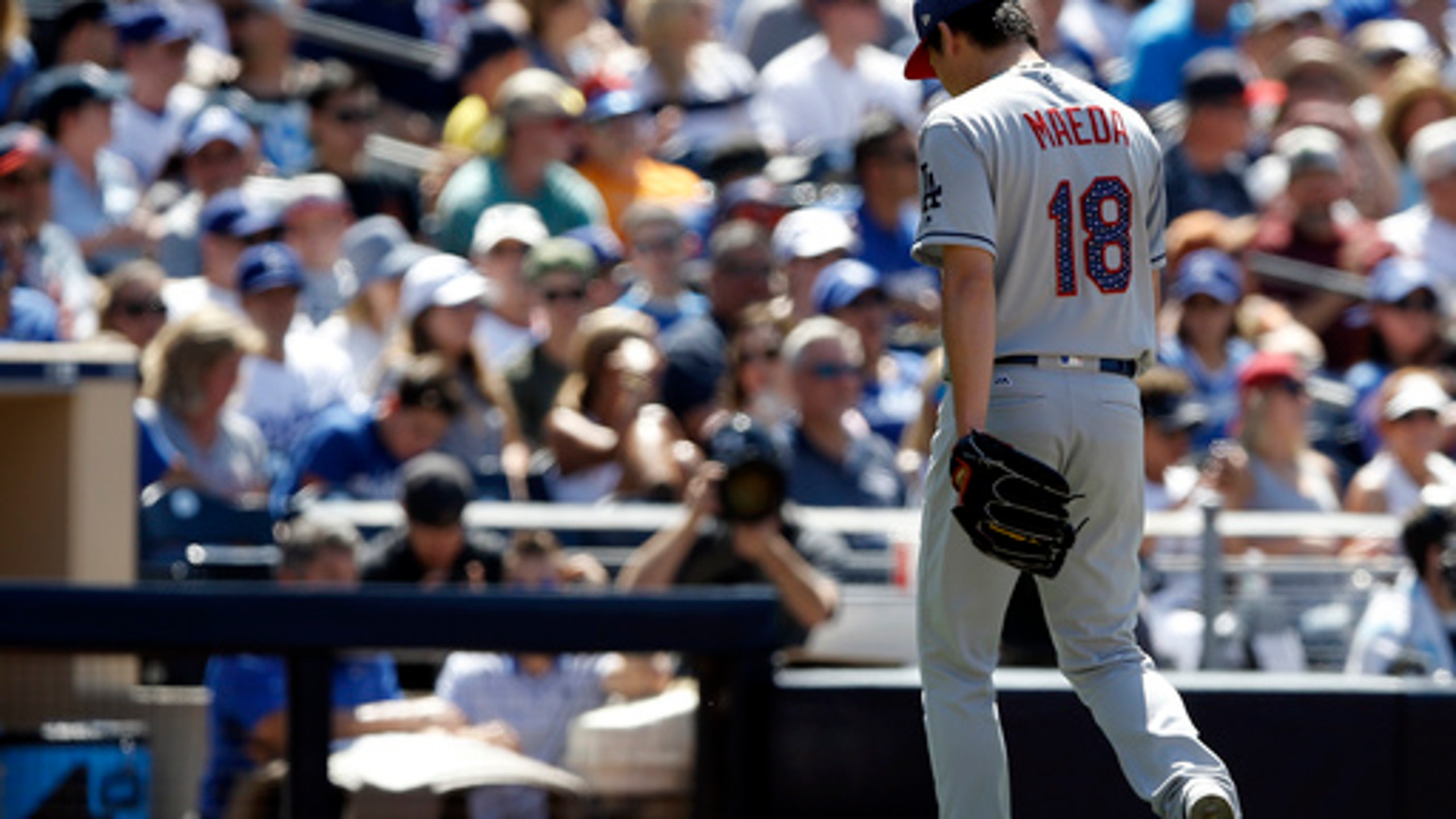 Chacin, Margot lead Padres to 5-3 win over Dodgers (Jul 02, 2017)
BY AP • July 2, 2017
SAN DIEGO (AP) Jhoulys Chacin shook his fist and hollered on the mound. Yes, he was fired up to help the San Diego Padres get a rare win over the Los Angeles Dodgers.
Chacin pitched five scoreless innings, Manuel Margot homered and drove in two runs, and the Padres beat the Dodgers 5-3 Sunday.
San Diego won for just the second time in nine meetings against the Dodgers this season, beating Kenta Maeda for the second time in 13 weeks.
''You're really pumped to win,'' Chacin said.
Chacin (7-7) called it a ''huge win'' because L.A. had won Friday and Saturday by a combined 14 runs and brought in the National League's best record.
''They're a really good-hitting team,'' he said.
San Diego went ahead 5-0 against Maeda (6-4) while Chacin was recording his second scoreless outing in 17 starts this year.
''He worked hard for this one, about as hard as you can for a win,'' Padres manager Andy Green said.
Chacin, who struck out six, retired cleanup hitter Cody Bellinger three times with a man on base, twice on strikes and once on a 2-0 pitch with two runners aboard.
Brandon Mauer got the last three outs for his 16th save after Brad Hand threw a scoreless eighth.
Dodgers shortstop Corey Seager had two defensive gems and three hits, including a two-run double that was reliever Ryan Buchter's second hit allowed in six outings.
Yasmani Grandal's 11th homer, off Buchtler, cut the margin to 5-3 in the seventh.
Margot made it 1-0, homering on Maeda's full-count pitch in the first.
Maeda hit .226-hitting Erick Aybar to open the second and walked .194-hitting rookie Luis Torrens to load the bases, leading to a three-run surge featuring two-out doubles by Jose Pirela and Margot.
Torrens singled and scored on Pirela's two-out single that made it 5-0 in the fourth and chased Maeda.
''Kenta just wasn't sharp,'' Dodgers manager Dave Roberts said.
Maeda allowed eight hits and had one strikeout out of 19 batters faced.
''It's disappointing,'' Maeda said through an interpreter, ''and even though I didn't have my stuff I couldn't battle back, and the result didn't really look too good today. I'm hoping that I'll get back on the right track.''
The Padres beat Maeda on April 4 in their other victory over the Dodgers.
BELLINGER COOLS OFF
Bellinger, a rookie who has 24 home runs in 64 games, was 2 for 15 in the series including an infield single Sunday. He is 4 for 28 with 12 strikeouts over the past two series.
SUSPENSIONS ARE FUN
Dodgers manager Dave Roberts enjoyed the one-game suspension he served Saturday night for shoving Padres manager Andy Green in an altercation Friday.
Roberts said he watched ''every pitch'' of the Dodgers' 8-0 victory with his wife at their home in the San Diego County beach town of Cardiff, saying it was fun to ''watch as a fan.''
Roberts said he also received a lecture from MLB dean of discipline ''Father Joe Torre,'' who phoned him. ''I've got to find my manners,'' Roberts said.
ALL-STAR DODGERS
Roberts said six of his players should be All-Stars as ''no-brainer'' selections: Bellinger, Seager, Justin Turner, Clayton Kershaw, Alex Wood and Kenley Jansen.
Jansen blamed Dodgers fans for not providing Seager and Turner enough votes to be named starters Sunday.
HOME RUN DERBY
Bellinger said he will take part in the Home Run Derby as part of All-Star festivities.
He said expects that his father, former major league outfielder/infielder Clay Bellinger, will be his pitcher if his work schedule allows.
GIVE HIM A HAND
Released by the Miami Marlins in 2016, Hand will return to Miami next week as an All-Star.
''Kind of crazy; full circle,'' Hand said.
The lefty said Sunday that developing a slider with the Padres turned his career around.
TRAINER'S ROOM
Dodgers: RHP Brandon McCartney will throw four innings Monday in a simulated game with Single-A Rancho Cucamonga. LHP Hyun-Jin Ryu will have a bone scan on his foot Monday and miss his next start, Roberts said.
Padres: RHP Trevor Cahill, sidelined since mid-May by a shoulder injury, is expected to start Tuesday against the Cleveland Indians.
UP NEXT
Dodgers: LHP Kershaw (12-2, 2.32) will face second-place Arizona, followed the next two days by lefties Alex Wood and Rich Hill.
Padres: RHP Trevor Cahill (3-2, 3.27) will start in San Diego opposite former Padres prospect Corey Kluber, the 2014 American League Cy Young winner who was 4-1 with a 1.83 ERA in the 2016 postseason.
---
---