Los Angeles Dodgers
Los Angeles Dodgers
Brewers return home to face Kershaw, Dodgers (Jun 02, 2017)
Published
Jun. 2, 2017 1:03 a.m. ET

MILWAUKEE -- The Brewers, sitting atop the National League Central, return home Friday to face Clayton Kershaw and the Los Angeles Dodgers as Milwaukee kicks off a seven-game homestead at Miller Park.
The Brewers held on to the top spot after splitting a four-game series against the Mets in New York, improving their road record to 15-10.
It has been a different story in Milwaukee, as the Brewers are 14-15 at Miller Park.
Getting back to .500 at home won't be easy. Kershaw (7-2, 2.37 ERA) is tied for the National League lead in wins, is second in the NL in ERA and ranks among the top 10 in the league in strikeouts (78) and WHIP (0.95).
"That's how we like it," a grinning Brewers manager Craig Counsell said after his team beat the Mets 2-1 on Thursday afternoon. "You know it's coming, so it's part of it. The Dodgers are on the schedule, (Kershaw) is going to pitch."
Milwaukee will counter with right-hander Jimmy Nelson, who went 2-1 with a 2.28 ERA in five May starts. Nelson (3-3, 3.83 ERA) struck out 10 in his last outing, when he threw seven innings of one-run ball Sunday in a 9-5 victory over the Arizona Diamondbacks.
"His last outing was a very, very good one, where his off-speed stuff I thought really kind of took front and center and he was able to throw it early in the count," Counsell said. "It's the same thing, what it does to the hitter (when) off-speed can be thrown for strikes, it changes at-bats for guys. And I think he's done, certainly, a much better job with that this year."
Nelson is 0-2 with a 1.89 ERA in three career starts against the Dodgers, while Kershaw is 5-4 with a 3.11 ERA in 11 career starts against the Brewers. Kershaw, though, is 4-0 with a 1.41 ERA in five outings at Miller Park.
Kershaw looks to bounce back from a rough outing his last time out when he struggled through 4 1/3 innings -- his shortest start of the season -- while allowing three home runs and a career-high 11 hits against the Chicago Cubs on Sunday.
"Clayton made some good pitches that they were spoiling," Los Angeles manager Dave Roberts said. "The pitch count rose pretty quickly, and they got some big homers. It was getting a little haywire there."
The Dodgers, too, are looking to bounce back after dropping two in a row in St. Louis. However, they have won 11 of their past 15 games to stay tied for second place with Arizona in the NL West, a half-game behind the Colorado Rockies.
Left-hander Alex Wood won't be joining the Dodgers in Milwaukee. Instead, he will return to Los Angeles to undergo an examination on his sore chest.
Los Angeles was optimistic that Wood (6-0, 1.69 ERA) would only miss one start when he went on the 10-day disabled list earlier this week with inflammation in his SC joint, connecting the sternum to the clavicle, but his recovery has "stagnated," according to Roberts.
"We were hoping for a little more improvement, initially," Roberts said. "I think it hit a plateau. To get ahead of it, get him back home, to see the docs and see what's going on."
Hyun-jin Ryu is expected to remain in the Dodgers' rotation with Wood out.
---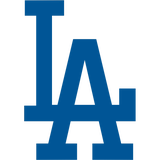 Get more from Los Angeles Dodgers
Follow your favorites to get information about games, news and more
---