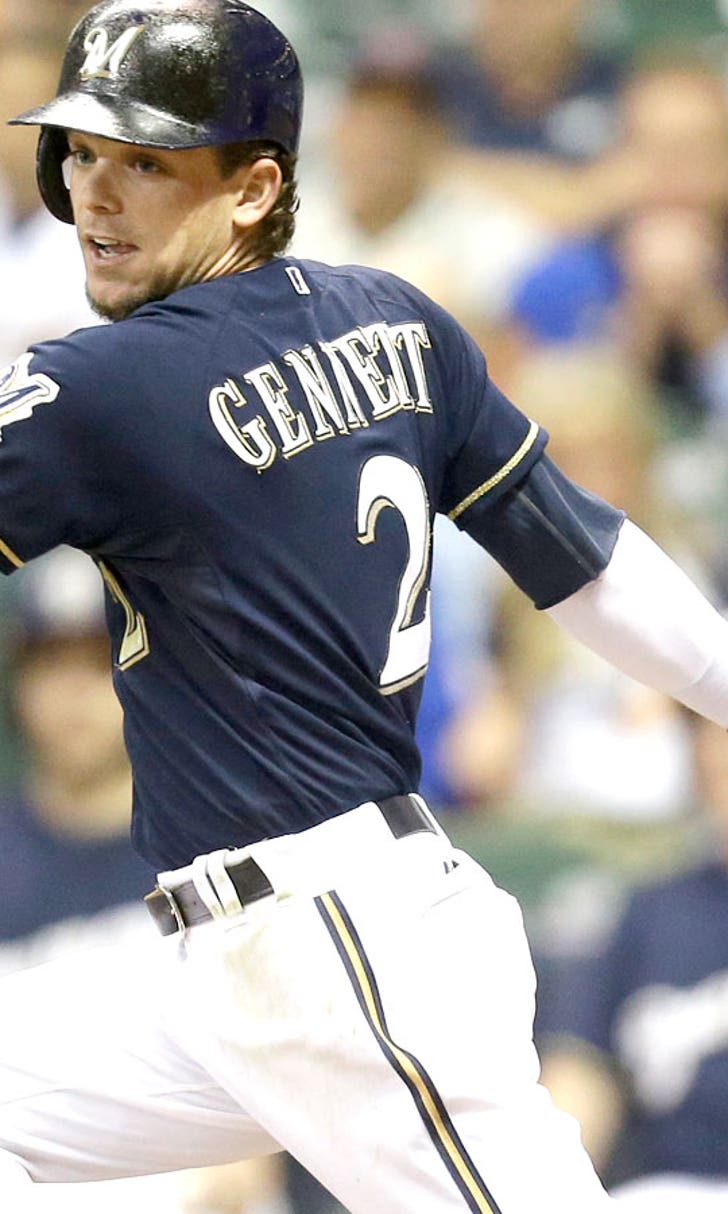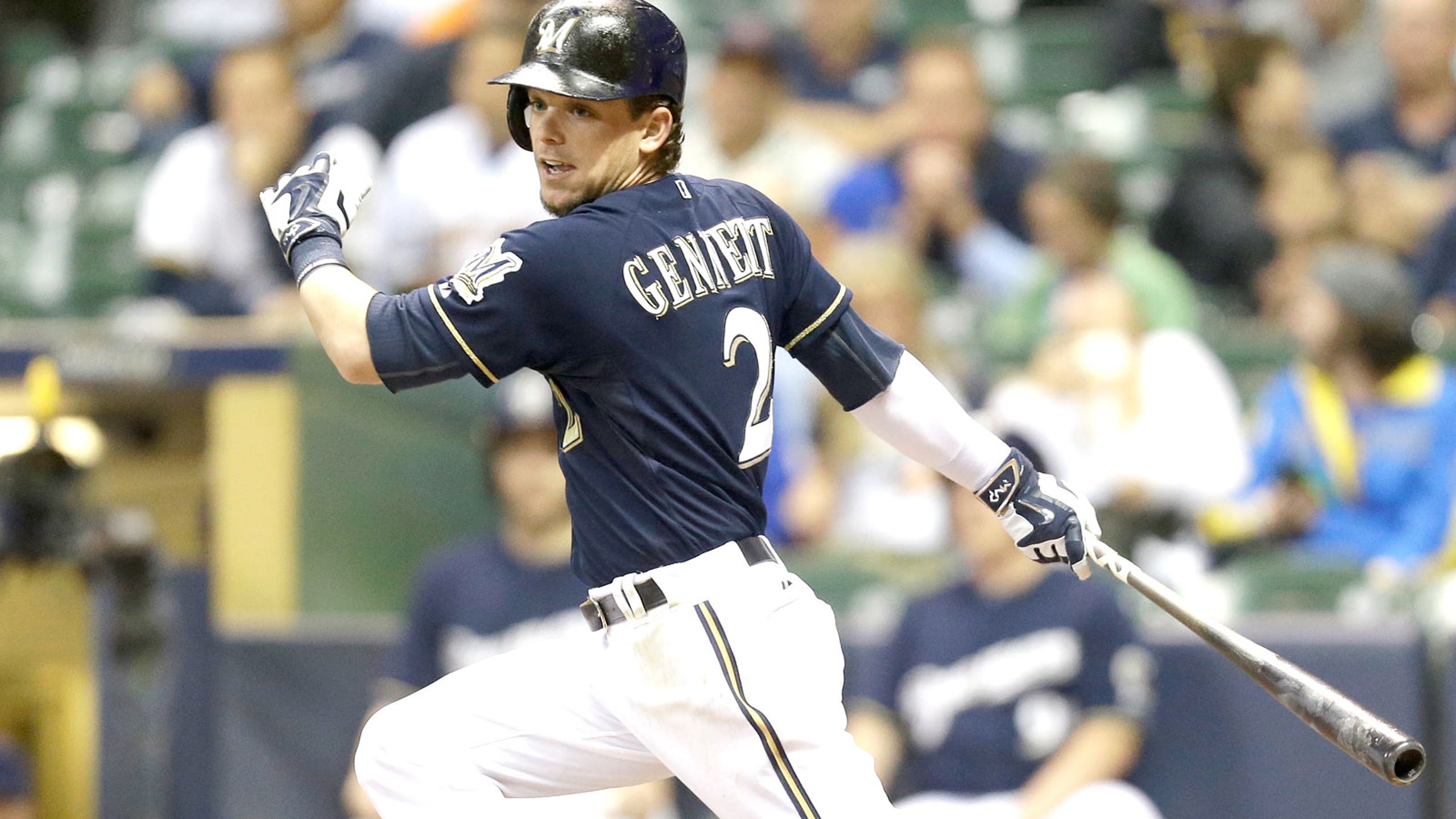 Brewers rally from 4 down to beat Nationals
BY foxsports • June 11, 2015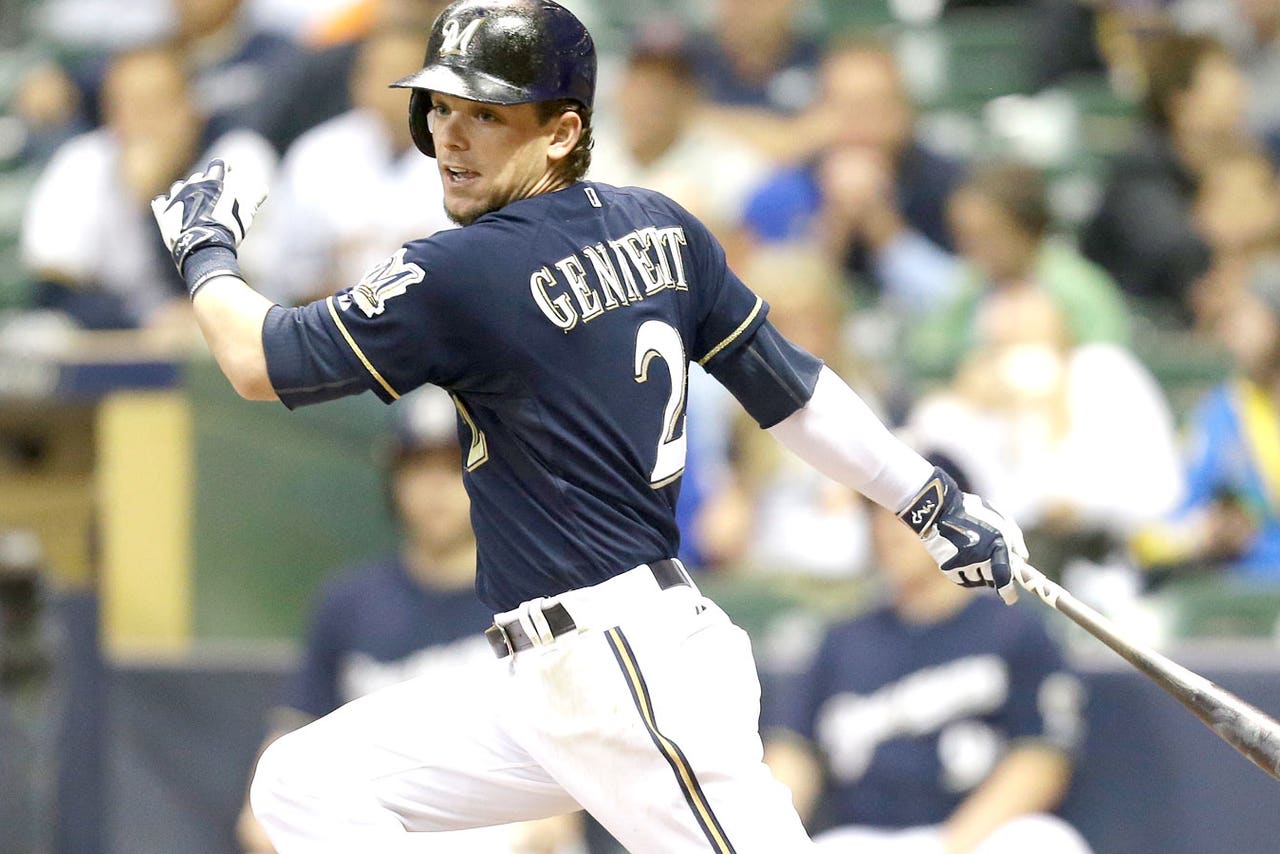 Scooter Gennett grinned sheepishly at first base following an RBI single in his first game back in the major leagues.
While he didn't hit the ball hard in the bottom of the eighth, his bouncer found just the right spot inside the third-base bag to trickle into left field with two outs. Shane Peterson scored the go-ahead run from third, capping the Milwaukee Brewers' rally from a four-run deficit for a 6-5 victory Thursday night over the Washington Nationals.
Welcome back to the majors, Scooter.
"Obviously it wasn't the hardest-hit ball in the world," Gennett said, "but it got the job done."
Gennett spent 17 games at Triple-A Colorado Springs to work on his swing after opening the season hitting .154 to lose the starting second base job. He hit .307 in the minors.
Gennett's night at the plate didn't start out well with a popout and weak bounceout to the mound. But on the third trip, Gennett hit a fly ball to the warning track in center field.
The fourth at-bat in the eighth proved to be the best of them all.
"You need to have a little fortune once in a while. Sometimes, that's what creates confidence," manager Craig Counsell said. "You're first night back, you get the game-winning hit, that's a big deal."
A throwing error by second baseman Anthony Rendon that allowed Peterson to reach two batters earlier proved costly for reliever Aaron Barrett (3-2).
Following Gennett's hit, Barrett ended up leaving during the middle of an at-bat to Hernan Perez. Frustrated manager Matt Williams didn't have detailed information on his reliever.
"He was uncomfortable," Williams said. "We'll see how he is tomorrow."
It didn't look like Milwaukee would pull out a win after a sloppy start Thursday.
Three Washington runs scored on errors, including two in a three-run fourth following an atypical throwing miscue by third baseman Aramis Ramirez on a two-out bouncer by Rendon for a 5-1 lead.
But the Brewers chipped away over the middle innings, and Gerardo Parra tied the game at 5 with a solo homer to deep right-center with one out in the seventh off starter Tanner Roark.
The Brewers are still in last place in the NL Central, but they have been playing much better of late with five victories in their last seven games.
TABLES TURNED
The Nationals got sloppy late in the game.
The eighth started with Ramirez reaching first on a wild pitch despite striking out. The next batter, Peterson, hit what looked like a sure double-play ball to short, but Rendon's relay throw bounced wide of first to allow Peterson to reach second.
Gennett delivered his RBI single two batters later.
"In the late innings, any mistake is magnified," Williams said. "Late in games, that's going to hurt you."
GOOD WILL
Will Smith (2-0) pitched a scoreless top of the eighth -- ending that inning by picking off Bryce Harper -- for the win in his first appearance since returning from a six-game suspension for being caught with foreign substance on his arm.
"What was it, 1-2, or 0-1 count?" Smith recounted. "Guy is probably expecting breaking ball and takes off, and we guessed right."
Francisco Rodriguez tossed a scoreless ninth for his 13th save in as many opportunities.
TRAINER'S ROOM
Nationals: Ryan Zimmerman was placed on the 15-day DL before the game with plantar fasciitis in his left foot, an ailment that affected the first baseman all season. Williams said he thought that Zimmerman would need the minimum time on the DL, though for now he needed "total rest" and to get off his feet for a few days.
Brewers: CF Carlos Gomez (sore legs) missed a second straight game. Counsell said he hoped to get Gomez back on Friday or Saturday. ... RF Ryan Braun had two hits and an RBI triple on Thursday, a day after leaving Wednesday's 2-0 loss to Pittsburgh because of dizziness stemming from a left ear ailment.
UP NEXT
Nationals: Jordan Zimmermann (5-3) is slated to start Friday back in his home state. The right-hander is 2-0 with a 1.50 ERA in three starts against Milwaukee at Miller Park, which is about 180 miles southeast of Zimmermann's hometown of Auburndale.
Brewers: After a tough start to the season, Mike Fiers (2-6) has been effective over his last six starts. He is 1-2 with a 2.78 ERA in that span.
---
---