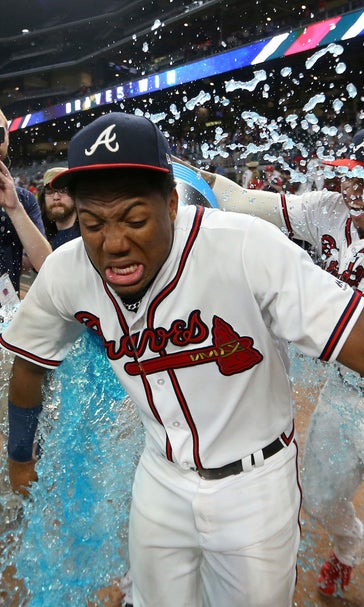 Acuna hits another leadoff homer, Braves beat Marlins 10-6
August 15, 2018
ATLANTA (AP) — Ronald Acuna Jr. became the youngest player in major league history to homer in five straight games, hitting a leadoff shot on the first pitch and later adding a three-run drive to help the surging Atlanta Braves beat the Miami Marlins 10-6 on Tuesday night.
The 20-year-old Acuna homered on Miami's first pitch for the second straight night and became the first player to hit a leadoff homer in three consecutive games since Baltimore's Brady Anderson went deep in four straight in 1996. On Monday, he became the fourth player in major league history to hit leadoff homers in both games of a doubleheader.
Acuna connected in the first off Trevor Richards and homered to right-center, his 19th of the year, off Adam Conley (3-3) to give the Braves a 10-6 lead in the seventh.
Freddie Freeman hit his 20th homer to tie it in the sixth, and Dansby Swanson had a tiebreaking RBI single in the seventh as the NL East-leading Braves won for the 13th time in 17 games.
Acuna, who has homered in seven of his last eight games, and Charlie Culberson homered on Richards' first two pitches. Jesse Biddle (4-1) won in relief.
GIANTS 2, DODGERS 1
LOS ANGELES (AP) — Yasiel Puig took a swing at Giants catcher Nick Hundley during a benches-clearing scrap in the seventh inning, then Alen Hanson hit an RBI single in the ninth to lift San Francisco over the Los Angeles Dodgers.
The fracas starter when Puig swatted his bat in frustration after fouling off a pitch from Tony Watson, and Hundley said something to the mercurial slugger while still in his crouch. Puig turned around and walked toward Hundley, the catcher stood up, and they stood face to face and argued for a moment before Puig shoved Hundley twice.
That brought players out of the benches and bullpens. Puig and Hundley were momentarily separated, but Puig ducked around teammates, coaches and manager Dave Roberts before reaching back to hit Hundley. He smacked Hundley with an open hand across the front of his catcher's mask. Both players were ejected.
Hansen's single in the ninth came off Kenta Maeda (7-8), making his first relief appearance of the season, and gave the Dodgers their fifth consecutive loss, all against the bullpen. The Dodgers had a play at the plate, but catcher Yasmani Grandal dropped the throw home.
The Dodgers tied it with two outs in the eighth on Justin Turner's third double and Manny Machado's base hit off Sam Dyson (3-2). It was Machado's first RBI this month. Will Smith threw a scoreless ninth to earn his 10th save.
ANGELS 7, PADRES 3
SAN DIEGO (AP) — Justin Upton had three hits, including a home run for the second straight night, and drove in three runs to lead the Los Angeles Angels over San Diego.
Eric Young Jr. tripled and had two RBIs, and rookie Taylor Ward had two hits, including an RBI double in his first major league at-bat.
Freddy Galvis homered in the third straight game for the Padres.
Jaime Barria (8-7) won for the third time in four starts after losing six in a row. Brett Kennedy (0-2) gave up five runs over five innings in his second major league start.
ATHLETICS 3, MARINERS 2
OAKLAND, Calif. (AP) — Jed Lowrie hit his 100th career homer long after his line drive knocked Mariners ace James Paxton out of the game, and the Oakland Athletics moved within one game of the slumping Houston Astros for the AL West lead.
Felix Hernandez (8-11) replaced Paxton in the first relief appearance of his career after 398 starts. The former Cy Young Award winner, who has struggled all year and was demoted to the bullpen last week, allowed two runs in 5 2/3 innings.
Paxton suffered a bruise on his left forearm after Lowrie's line drive popped him in the first inning, and X-rays taken later were negative.
Mike Fiers (8-6) gave up two runs on six hits in his second start since being acquired in a trade from Detroit. Oakland won its fourth straight and improved to 17-6 since the All-Star break.
Robinson Cano returned to Seattle's lineup after serving an 80-game suspension for using a diuretic that can mask performance-enhancing drugs. The eight-time All-Star batted second and played first base, going 1 for 4.
Four Oakland relievers combined to pitch three scoreless innings. Blake Treinen worked the ninth for his 32nd save in 36 opportunities.
DETROIT (AP) — Ryan LaMarre hit his first major league home run, a drive that bounced off the top of the bullpen shelter in left field and into the hands of his uncle, as Chicago beat Detroit.
LaMarre was born 10 miles north of Comerica Park and played college baseball at Michigan.
Chicago won for the second time in eight games, improving to 2-9 against Detroit this season.
Lucas Giolito (8-9) allowed three runs in six innings. Xavier Cedeno got his first save since Aug. 11, 2015.
Blaine Hardy (4-5) gave up four runs in four innings.
ROCKIES 5, ASTROS 1
HOUSTON (AP) — Nolan Arenado and Trevor Story each went deep, German Marquez pitched well in a matchup with Justin Verlander, and Colorado beat slumping Houston.
The Astros have matched a season high with five straight losses and extended their home skid to nine games.
Colorado trailed 1-0 and Verlander (11-8) had retired 13 of 14 when DJ LeMahieu singled with two outs in the sixth inning. Arenado then hit a 96-mph fastball into the third row in right field for his 30th homer.
Marquez (10-9) allowed just three hits and a run while fanning seven in seven innings.
Verlander was denied his 200th win again as he dropped his second straight despite striking out 11 in six innings, allowing six hits and two runs.
ST. LOUIS (AP) — John Gant homered for his first major league hit and pitched one-run ball into the sixth inning, helping St. Louis to its season-high seventh consecutive victory.
Kolten Wong had three hits and three RBIs as St. Louis (65-55) pulled within four games of the NL Central-leading Cubs and moved within one game of the Phillies for the second NL wild card. The Cardinals also improved to 18-9 since Mike Shildt became interim manager on July 13, the most wins for a manager through his first 27 games in franchise history.
The Nationals (60-60) have dropped six of eight to fall eight games behind Atlanta in the NL East.
Gant (5-4) permitted four hits in 5 1/3 innings. He was 0 for 30 for his career when he drove a 1-1 pitch from Gio Gonzalez (7-9) over the wall in left in the second.
Jordan Hicks got three outs for his fourth save in eight chances.
PHILADELPHIA (AP) — Pinch-hitter Brock Holt hit a tiebreaking solo homer, Rick Porcello threw seven impressive innings and the major league-leading Red Sox won again.
Sandy Leon also went deep for Boston, which improved to 86-35. The Red Sox increased their total to 168 homers, matching their number from last year when they hit an AL-low 168.
Porcello (15-5) gave up one run and two hits, striking out 10. Craig Kimbrel worked the ninth for his 36th save.
Rhys Hoskins homered, but the Phillies wasted a solid outing from Nick Pivetta. He allowed one run and three hits in six innings.
Holt hit the first pitch he saw from Tommy Hunter (3-2) in the eighth off the video screen on the facing of the second deck in right field.
CINCINNATI (AP) — Jose Ramirez hit his 36th home run and Cleveland ace Corey Kluber extended his dominance over Cincinnati.
The Indians have won the first two games of the series by a combined 18-4 despite a rough week with outfielder Leonys Martin hospitalized with a serious bacterial infection and right-hander Trevor Bauer on the DL with a fractured right leg.
Kluber (15-6) allowed one run and five hits and struck out seven in seven innings. In his past four starts against the Reds, he is 4-0 with a 1.80 ERA.
Sal Romano (7-10) left after allowing six runs and seven hits in 1 2/3 innings, the shortest start of his career.
CHICAGO (AP) — Ryan Braun hit two of Milwaukee's four homers, Jhoulys Chacin struck out 10 in seven innings and the Brewers cut into the Cubs NL Central lead.
Lorenzo Cain homered on Jose Quintana's second pitch. Braun hit a two-run drive in the first and third. Erik Kratz added a solo homer in the sixth and an RBI double in the eighth.
Chacin (12-4) allowed three hits and walked two. The Brewers pulled within two games of the Cubs after dropping eight of 11 against them.
Quintana (10-9) got tagged for five runs and six hits in five innings after dominating the Brewers over seven previous starts.
YANKEES 4, RAYS 1
NEW YORK (AP) — J.A. Happ allowed one soft single in seven shutout innings to win his third consecutive start since being traded from Toronto to the New York Yankees.
Happ (13-6) struck out four and walked four, throwing 71 of 106 pitches for strikes. The only Tampa Bay hit he permitted was a flyball by C.J. Cron that fell in front of left fielder Brett Gardner in the fourth.
Dellin Betances and Aroldis Chapman completed a crisp three-hitter that took just 2 hours, 32 minutes. Shaking off some recent struggles, Chapman worked a one-hit ninth for his 31st save in 33 chances.
Hunter Wood (0-1) got the loss.
DIAMONDBACKS 6, RANGERS 4
ARLINGTON, Texas (AP) — Paul Goldschmidt hit his 27th homer to put Arizona ahead to stay, and All-Star lefty Patrick Corbin worked seven innings for his 10th victory.
Corbin (10-4) struck out seven without a walk while allowing three runs and throwing 66 of 96 pitches for strikes. He has made 10 consecutive starts without allowing a homer, the longest span for the Diamondbacks in 15 years and matching Boston's Chris Sale for the longest active streak in the majors.
Goldschmidt went deep to left in the first with a solo shot off Yovani Gallardo (7-2). Arizona led 4-0 in the fourth after Daniel Descalso had an RBI double and scored on a wild pitch. Descalso earlier had an RBI groundout.
Brad Boxberger worked the ninth for his 27th save in 32 chances.
MINNEAPOLIS (AP) — Jorge Polanco got two hits, scored twice and drove in two runs and Miguel Sano hit a two-run homer, leading Minnesota over Pittsburgh.
Jake Odorizzi (5-7) won for the first time in six starts, striking out nine in 5 2/3 innings. Trevor Hildenberger, the Twins' fourth reliever, pitched a scoreless ninth for his second save since the trade of closer Fernando Rodney.
Jameson Taillon (9-9) finished six innings and allowed three earned runs, the 14th straight time he's taken the mound and surrendered no more than that.
KANSAS CITY, Mo. (AP) — Kevin Pillar hit a two-run homer with two outs in the eighth inning to lift Toronto over Kansas.
Blaine Boyer (2-1) retired his first two batters before walking Aledmys Diaz and backing Pillar into an 0-2 count. Pillar hit the next pitch over the wall down the left field line.
Ken Giles worked a perfect ninth for his 14th save and second with the Blue Jays since being acquired from Houston on July 30.
Salvador Perez and Jorge Bonifacio hit back-to-back doubles in the seventh off Jake Petricka (2-1) to give the Royals a short-lived 5-4 lead.
BALTIMORE (AP) — Chris Davis, Adam Jones and Tim Beckham each homered to back a strong performance by starter Andrew Cashner, and Baltimore snapped a five-game skid.
Baltimore won both games against the Mets at Citi Field on June 5-6 and can complete the season sweep Wednesday.
Cashner (4-10) retired 10 consecutive batters before Jeff McNeil singled on a ground ball that caromed off first base in the fourth inning. Cashner allowed two runs and five hits with three strikeouts and three walks over seven innings.
Davis broke a 2-2 tie with a towering shot in the seventh off Bobby Wahl (0-1). Renato Nunez added an RBI single later that inning off Paul Sewald.
---
---