Texas freshman RB on future of the Horns: 'You know we'll be back'
Published
Dec. 1, 2015 2:12 p.m. ET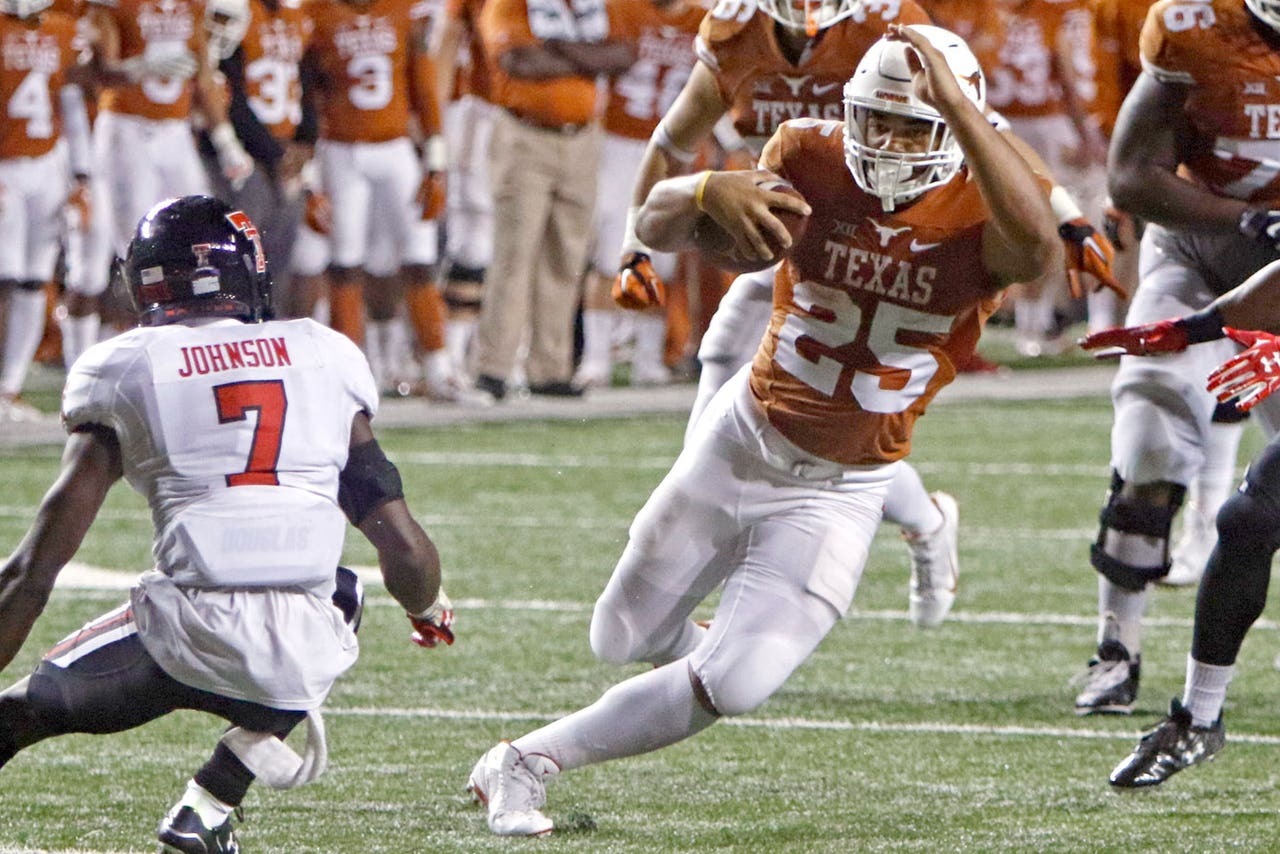 Chris Warren had his choice of schools. He didn't have to go to Texas, a program in decline and in transition. But he did.
And on Thanksgiving, after a season's worth of almost anonymously standing on the sideline, Warren introduced himself to the masses by kicking down the door. With senior Johnathan Gray and sophomore D'Onta Foreman dinged, Warren took center stage and crushed for a freshman Texas rushing record of 276 yards. His 91-yard touchdown run was the longest ever by a Texas freshman and the fourth-longest in Longhorns history.
A glimpse of the future for Texas? Or just another tease?
That's on Texas coach Charlie Strong now. He's expected to revamp his offensive staff, the goal being to bring in some innovation, to catch up to TCU and Baylor and Oklahoma and Oklahoma State. It'll likely be Strong's last chance to stay on at Texas. Make or break. Warren, just 19, gets it.
"College football needs Texas," Warren told reporters Monday during the team's weekly press conference. "Just like how they need Ohio State, they need Michigan, they need Alabama, they need those places. College football needs Texas. The Big 12 needs Texas. Right now they have TCU and Baylor and all them right now but when the competition gets more stiff again, when Texas comes back, it's going to be good. It's going to be fun to watch."
Entering the Thanksgiving game, a 48-45 loss to Texas Tech that dropped Texas to 4-7 (3-5 in Big 12) and assured it of a second consecutive losing season under Strong, Warren had just 18 carries. 
He is part of an acclaimed freshman class, the first full class under Strong, and Warren believes the combination of his head coach, the 2015 class and the incoming 2016 class, which includes quarterback Shane Buechele, will bring Texas back.
"I know that Coach Strong is going to strive for that," Warren said. "I also know that the people that are here currently have the attitude for that. It's a combination of everything. The combination makes to where you know we'll be back. Not just the fact that we'll be back because it's Texas."
---
---