Arkansas Razorbacks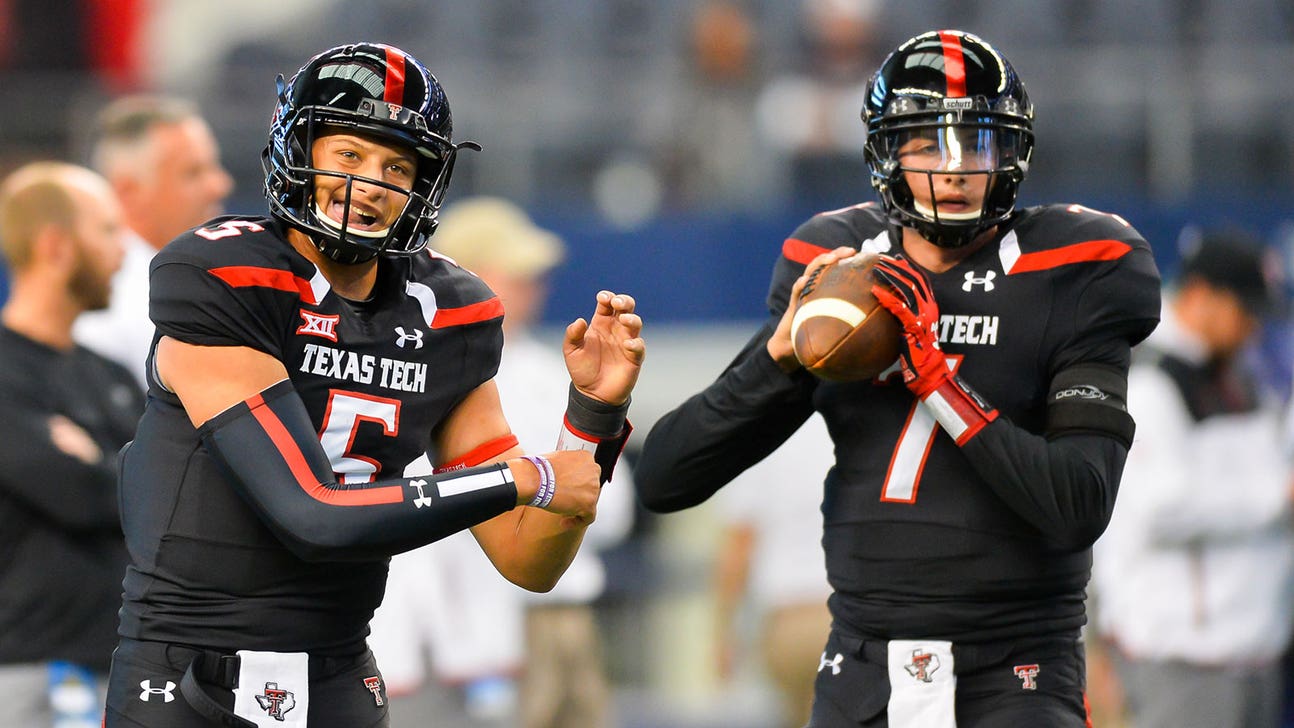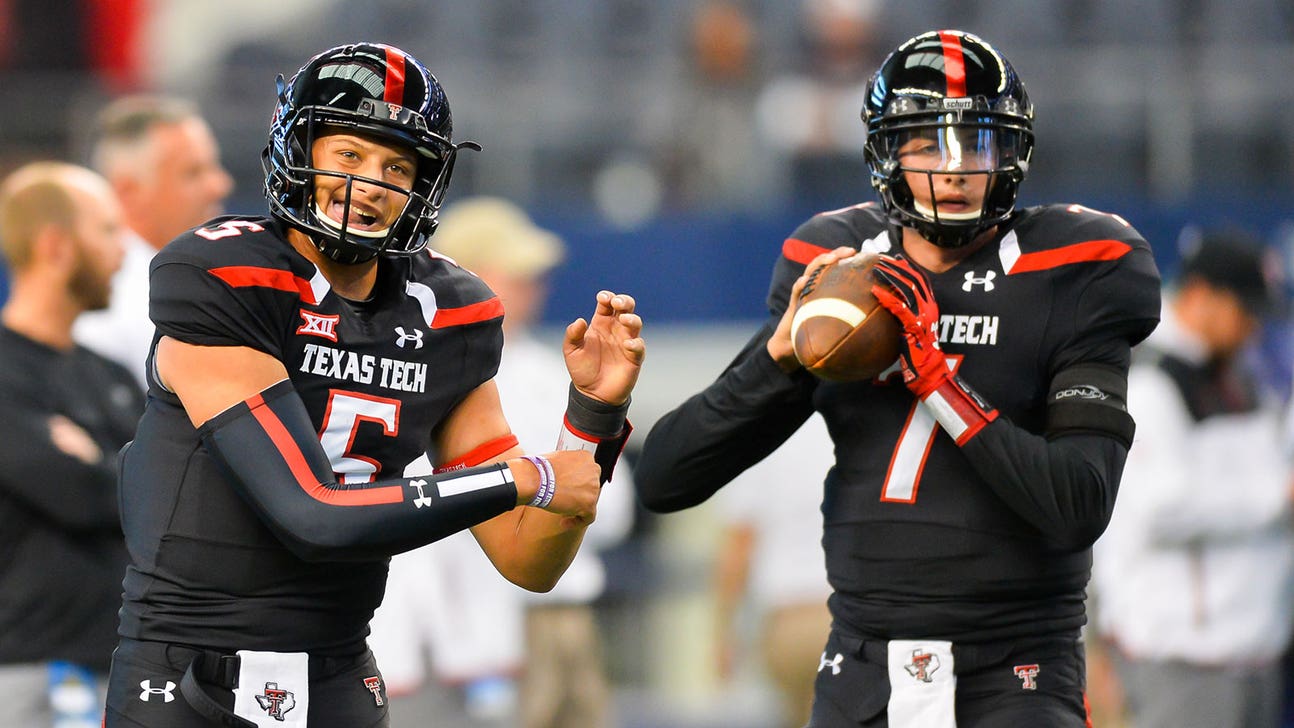 Arkansas Razorbacks
Mandel's Mailbag: Why Texas Tech fans can hope, but Boise State fans may mope
Published
Aug. 13, 2015 4:00 p.m. ET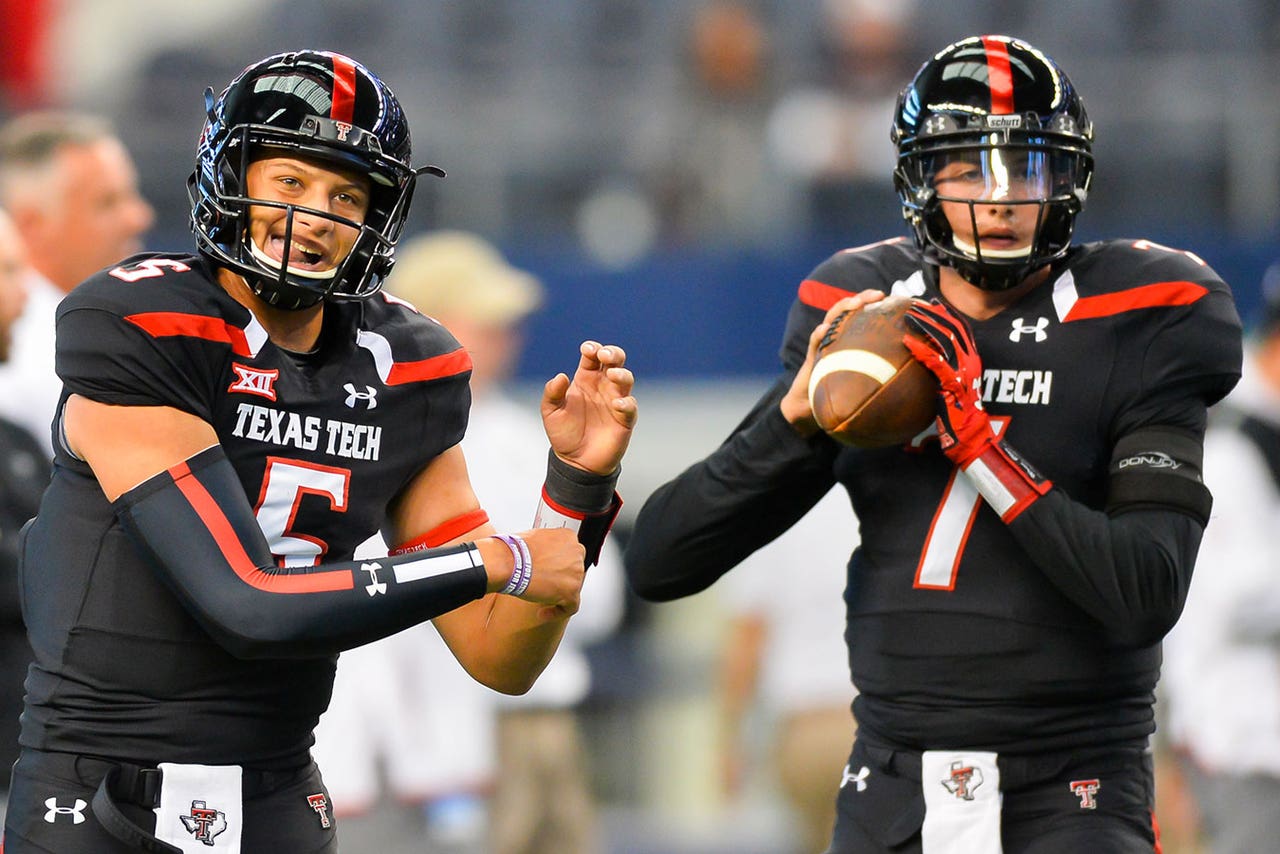 I find myself really enjoying our ongoing conference predictions week, particularly seeing the collective reactions (bewilderment?) to my contrarian SEC (Texas A&M) and ACC (Virginia Tech) champion picks. I've been reticent to do that sort of thing in the past for fear of looking stupid, but I decided, hey, that usually happens anyway. So why not take a stab at this year's inevitable surprises.
What I have not yet had the courage to do, however, is make as audacious a prediction as the type this reader is seeking.
Mr. Mandel. Which team do you think is likely to go from four wins to 10-plus like TCU last year?
--Robert Powell, El Paso, Texas
First of all, no team seems likely to jump from four to 10 wins. If it were you'd see more of us predicting it. And yet, it IS likely that someone will make that jump, because it happens every year. Here are just a few recent examples:
2014: TCU improved from 4-8 to 12-1
2013: Auburn improved from 3-9 to 12-2
2012: Ohio State improved from 6-7 to 12-0; Oregon State improved from 3-9 to 9-4
2011: Cincinnati improved from 4-8 to 10-3
2010: Maryland improved from 2-10 to 9-4
Looking at that list, I see two common threads. One, they're all programs that had been relatively consistent but experienced an uncharacteristic dip the year before. Most had also undergone either recent coaching changes or significant coordinator changes that brought with them a substantial change in offensive or defensive philosophy. (Oregon State and Maryland were admittedly outliers in that department.)
Looking at the 10 Power 5 schools that won four or fewer games last year, I see only one that fits this mold: Texas Tech.
The Red Raiders won at least eight games in all but one season from 2002-13 — including 8-5 in coach Kliff Kingsbury's first season — before stumbling to a disastrous 4-8 campaign last fall. The offense committed more turnovers (28) than all but eight teams nationally, and the defense was absolutely atrocious, ranking in the 100s in every major metric. Remember when they gave up 82 points to TCU?
But Tech did offer some hope in its last three games — a 42-30 loss to Oklahoma, a 34-31 win at Iowa State and, most notably, a tight 48-46 loss to Big 12 co-champ Baylor. Then-freshman quarterback Patrick Mahomes, who took over as starter for an injured Davis Webb in Week 9, threw 10 touchdowns against two picks in those three games. Whichever QB wins the job this month will helm a very experienced offense. Meanwhile, respected new DC David Gibbs comes over from Houston, where his aggressive defenses thrived at forcing turnovers. He inherits some decent talent up front and in the secondary, as well as touted Ohio State transfer linebacker Mike Mitchell.
I feel confident saying last year was an aberration and Tech will at least go bowling in 2015. Could it get to 10 wins? I wouldn't say it's likely, but somebody's got to do it. And it's not going to be Syracuse.
Hi Stewart, What's your methodology for picking each teams' record in your conference predictions?
--Nick S., Seattle
Good question. Obviously I go into it with a general sense of how good or bad I think each team will be, but this year in particular I put a lot of emphasis on teams' schedules. (I even went to the length of creating Excel spreadsheets — and I barely know how to use Excel.) A lot of people just skim through a team's schedule and say, "Well, they're better than that team, so that's a W, and they're worse than that team, so that's an L." As you know, inexplicable upsets occur every week in college football. A week after beating eventual Big 12 co-champ TCU last year, Baylor suffered its one loss of the regular season at a West Virginia team that finished 7-6. Arizona State, which finished 10-3, beat then-7-1 Notre Dame 55-31 one week, then lost at 4-5 Oregon State the next.
Obviously it's impossible to forecast any or all of those, but I at least like to line up everybody's schedules next to each other and identify the possible slip-up games. For example, in the SEC, Alabama will likely be better than Texas A&M, but it plays in College Station a week after it faces physical Arkansas, while the Aggies have a bye beforehand. Georgia may well be better than Missouri, but it hosts the Tigers after back-to-back huge games against Alabama and at Tennessee. Those are red flags. I'm not saying that's exactly how the season will play out, but my general confidence level in a team is reflected in how many of those red-flag games I see them losing.
Interestingly, I often go into the exercise assuming I'll pick a team to finish much better or worse than I actually do. For example, I thought for sure I'd have Arizona winning nine or 10 games, but I don't like that the Wildcats go 12 straight weeks without a bye and play just six home games. Conversely, I did not expect to be so high on Louisville (7-1 in conference play), but I like that the Cardinals get Clemson on a Thursday night early in the year, play Florida State after a bye week (while the 'Noles play rival Miami the week before) and don't see Georgia Tech or Virginia Tech from the other division.
So that's my method. But you could make a compelling case that it's still mostly madness.
Dear Mr. Mandel. Boise State should go undefeated this year. The Broncos have a soft schedule, with only a Week 2 road game at Provo in the way. While BYU can be pesky, Boise should win, and then it's all downhill for them from there. The question is, should Boise State go undefeated do they get passed over for the playoff for a one-loss brand name with more ranked opponents?
--Christopher Torre, Smithfield, Va.
Here we have a perfect example of the false assumption I just described in my last answer. The Broncos will likely be favored against every team on their schedule, but that doesn't mean they'll go undefeated. BYU is a bit less daunting now that it's without standout running back Jamaal Williams for the season, but even if Boise wins that game, is it really inconceivable it could lose at Virginia two weeks later? Or to a Colorado State team that won 10 games last year? Or to Chuckie Keeton-led Utah State on the road?
But let's suppose the Broncos do run the table. They'd certainly gain a lot of advocates, but as I've said many times before, I think it will be nearly impossible for any Group of 5 team to make the playoff with a committee picking instead of voters. Their resume will lag far behind any one-loss, and even some two-loss power conference champs. The Mountain West has some good teams, but it has a lot of really bad ones, too, and it's possible by season's end that half the teams on Boise's schedule will finish with losing records. Its best hope is that Washington, BYU and at least one MWC foe finish in the Top 25, and at least one of those in the Top 10. Because the other playoff contenders will all likely have at least one marquee win and several others against ranked foes.
Hey Stewart. My best friend just informed me that he and his wife are expecting their first child! While this is great news, there's a catch. He is an enormous Ohio State fan and as such is super hyped about this upcoming season. But the baby is due in early January, and he is already having nightmares about the baby being born the night of the semifinals (if early) or even worse, the night of the title game. Do you have any advice or guidance for him?
--Kevin Connors, Chesterfield, Va.
Yes I do. Adopt a different team this season that has no shot of playing in the semifinals. Because he's sure as heck not watching those games.
Why do people want conference champions to be automatically eligible for a future eight-team playoff? It seems to me people forget there have been plenty of instances where a three-, four- or even five-loss team has pulled an upset and won the conference championship game. Wouldn't it make more sense to have the eight best teams participate with an emphasis on conference championships?
--Matt, Louisiana
Personally, I'd prefer not to have an eight-team playoff at all, but I've conceded that it's inevitable. And when that day comes (five years from now, as I've long predicted), it will almost certainly guarantee spots for the five major champions. It's not just that people disregard the possibility of champions like 2005 Florida State (8-4) and 2012 Wisconsin (8-5) reaching the playoff; it's that they're fine with it.
The No. 1 complaint many fans have about college football's postseason is the subjectivity. They'd rather have a straightforward qualification system -- even if it means a team nowhere near the Top 8 gets in -- than for voters or a committee to pick the teams themselves. (Of course, someone would still have to pick the other three teams.) And we know this because no one seems to have a problem when a 7-9 division champion makes the NFL playoffs while a 10-6 wild card does not.
But it's no longer just the fans expressing this sentiment. Now that the playoff's here, you're hearing more coaches complain about college football's lack of uniformity and point to the NFL's more boring ... er, symmetrical structure as a desired model. And all that's after what was probably the least controversial four-team field that anyone could have imagined in Year 1. Go ahead and brace yourself now for the backlash when two power conferences get left out this fall.
Stewart, while I find your Texas A&M pick interesting, I'm more interested in discussing your SEC East picks. Tennessee looks like it has potential, but I'd like to see a little more proof. Missouri, on the other hand, has shown us plenty of proof over the past two seasons. I've been looking at Georgia to win the East until recently, but after more thoughts I'm inclined to agree with what Dennis Dodd said a few weeks ago: Why would the Tigers' SEC East dominance stop now? What are you seeing about Missouri (and Tennessee) that I'm not?
--Jarod Daily, Little Rock, Ark.
You're right, it's probably not wise to keep doubting Mizzou. At the same time, not to take anything away from the phenomenal job Gary Pinkel's done the past two seasons, but if there's such a thing as a "soft" 7-1 league record, his team has managed to achieve it. Four SEC teams besides Mizzou finished in the Top 25 last season; the Tigers didn't beat any of them. In fact, they lost 34-0 to Georgia and 42-13 to Alabama. (They also lost to Indiana.) The year before, five other SEC teams finished ranked, of which Missouri beat one (9-4 Texas A&M). To the Tigers' credit, they took care of business against everyone else, unlike South Carolina in 2013 and Georgia in '14, and thus won the division. I just don't think they'll catch those kind of breaks again this year, especially having already lost two of their best returning defensive linemen (Marcus Loud and Harold Brantley) for the season.
To me it came down to Georgia and Tennessee. The Dawgs are a more proven commodity, but they've struggled in recent years to play consistently from week to week, and there's a lot of uncertainty about their quarterback situation. Tennessee, on the other hand, has its guy in Josh Dobbs and has a whole lot of young talent across the board, especially at the skill positions. My hunch is the Vols will break through this year, but I still retained enough skepticism to pick them to lose to Oklahoma.
Mr. Mandel: What sort of condiments and side dishes would you like with the crow you'll be consuming after Tennessee romps over Oklahoma in Knoxville? The game's only a month or so away now, so I'll start plucking the bird.
--Steve Hatley, Spring, Texas
Boy, you Tennessee fans sure are getting cocky already. You do remember losing 34-10 in Norman last year? What bird got plucked after that one?
Stewart. We are already seeing the impact that a strong (or weak) strength of schedule has on a team seeking a playoff spot. Given the Big Ten's commitment to scrap games against FCS teams, do you see the trend going even further with the five major conferences eventually only playing each other?
--Brian, Cranford, NJ
Nick Saban would like to see that (as he's said many times), but simple supply and demand preclude it from happening. Most power conference teams play at least seven home games, each bringing in several million dollars in gate/concession/merchandise receipts (not to mention the boon for local businesses.) If everyone only played each other then everyone would have to play an equal number of home-and-aways. And there's only a finite amount of teams with the draw to garner invites to the big-payday neutral-site games (which effectively replace a home game). Even with half the Big Ten playing five conference home games starting next year, they're still going to need at least one, if not two, MAC or Sun Belt foes to get to seven.
It will be interesting to see the economic ramifications of the Big Ten's scheduling model. Group of 5 schools already garner in the $1 million range for guarantee games at big stadiums. Now those schools are going to be even more in demand, which will cut into the home teams' paydays. But that's still better than the small handouts they get for playing on the road.
It seems a lot of people are overlooking TCU vs. Minnesota in Week 1. Do you see Minnesota possibly sneaking up on TCU? Does Minnesota have the offensive and defensive firepower to stop Trevone Boykin and company?
--Jeff Hostetler, Gainesville, Fla.
People are probably overlooking it because A) It's on opposite Michigan-Utah, B) TCU annihilated the Gophers 30-7 last year in Fort Worth and C) Minnesota just generally doesn't garner a whole lot of respect even after it spent some time in the Top 25 this year.
Jerry Kill's team was up-and-down defensively last season, but it's expected to be better. There are some good core guys like senior cornerbacks Eric Murray and Briean Boddy-Calhoun. It's possible they could slow down Boykin for part of the game. The problem is, Minnesota is so limited offensively that I just don't see them putting up big points against the Horned Frogs — which you're going to have to do to beat them. TCU averaged 46.5 points last season and returns 10 starters. Minnesota isn't holding them to 17.
Ultimately I could see it being the kind of game where the road team shows some rust early and allows the home team to hang around, but eventually TCU will run away with it. A moral victory for Minnesota would be to keep the margin below double-digits.
Stewart, I just read Chris Hall's diatribe calling you an idiot, and I couldn't disagree more. You (and most of your colleagues) always have reasoned and well-researched reasons for your predictions. I would say that sportswriters are every bit as competent and accurate as meteorologists.
--Allan Hill, Savannah, Ga.
I'm just going to assume you have the world's most accurate meteorologists in Savannah and take that as a compliment. That's how you meant it, right?
---
---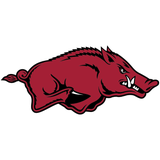 Get more from Arkansas Razorbacks
Follow your favorites to get information about games, news and more
---