5 NFL quarterbacks who will break out in 2016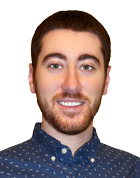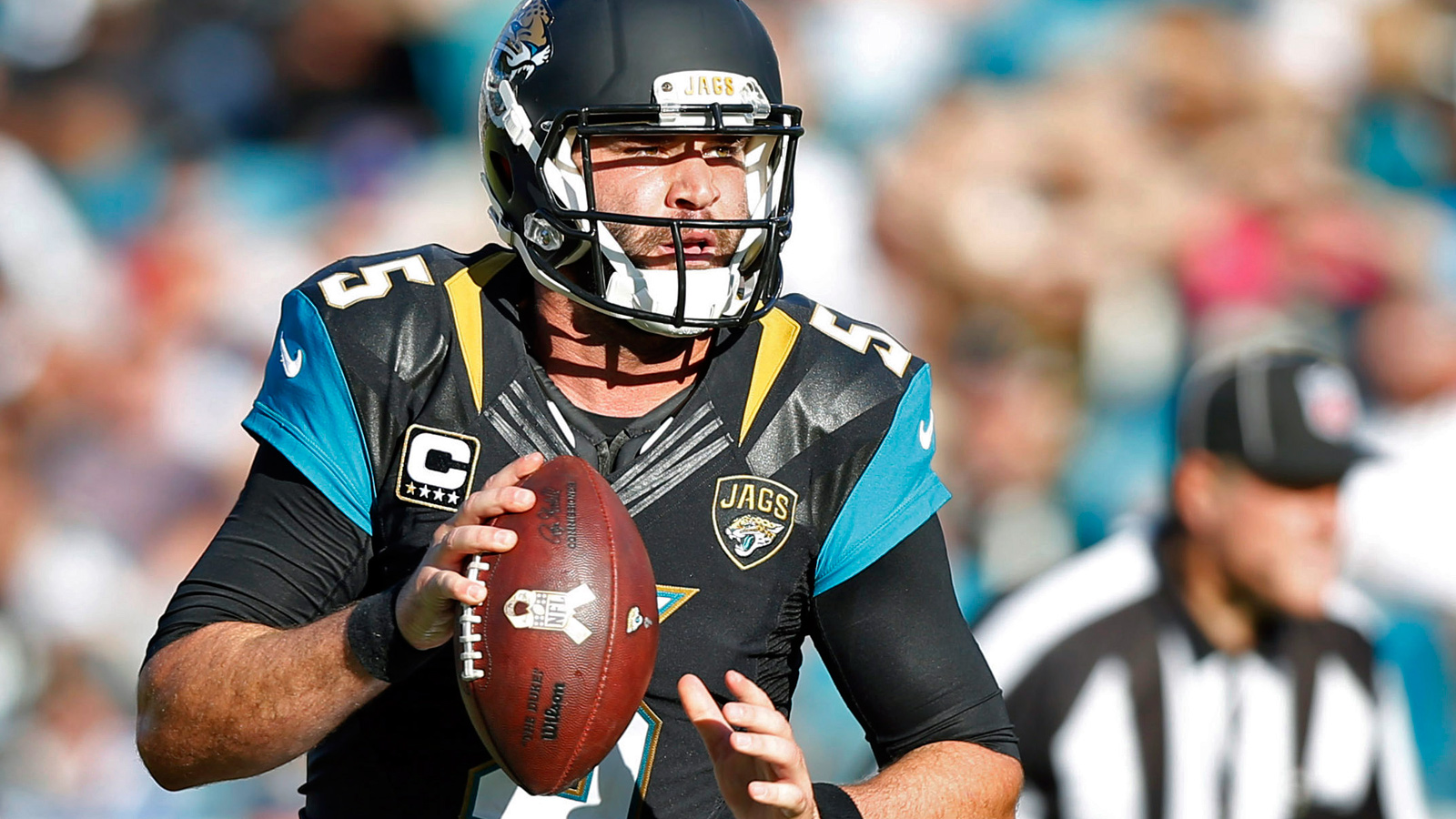 When it comes to quarterback play in the NFL, the likes of Tom Brady, Drew Brees, Ben Roethlisberger and Aaron Rodgers reign supreme. They've been the best in the game for years, and that's not going to change until they hang 'em up and call it quits. That's not to say others can't join their company, however.
There are a handful of quarterbacks knocking on the door just waiting to break out and put their names in the conversation as some of the best in the league. That group of breakout candidates is led by Blake Bortles, who's joined by a few players on the verge of becoming perennial Pro Bowlers.
The Jaguars won five games last season, which was an improvement over their three wins in 2014. A big part of that was the drastic improvement from Blake Bortles in his second year. After tossing 11 touchdowns and 17 interceptions in 2014, Bortles threw 35 touchdowns and racked up 4,428 yards a year ago. It was obviously a huge jump statistically, but he still has yet to make the leap into the conversation as a top-15 quarterback. His statistics were eye-popping, but his interception numbers didn't exactly improve. He still threw 18 picks in 16 games, which is far too many. With another year under his belt and the opportunity to learn from his mistakes, there is good reason to believe he'll cut down on that number.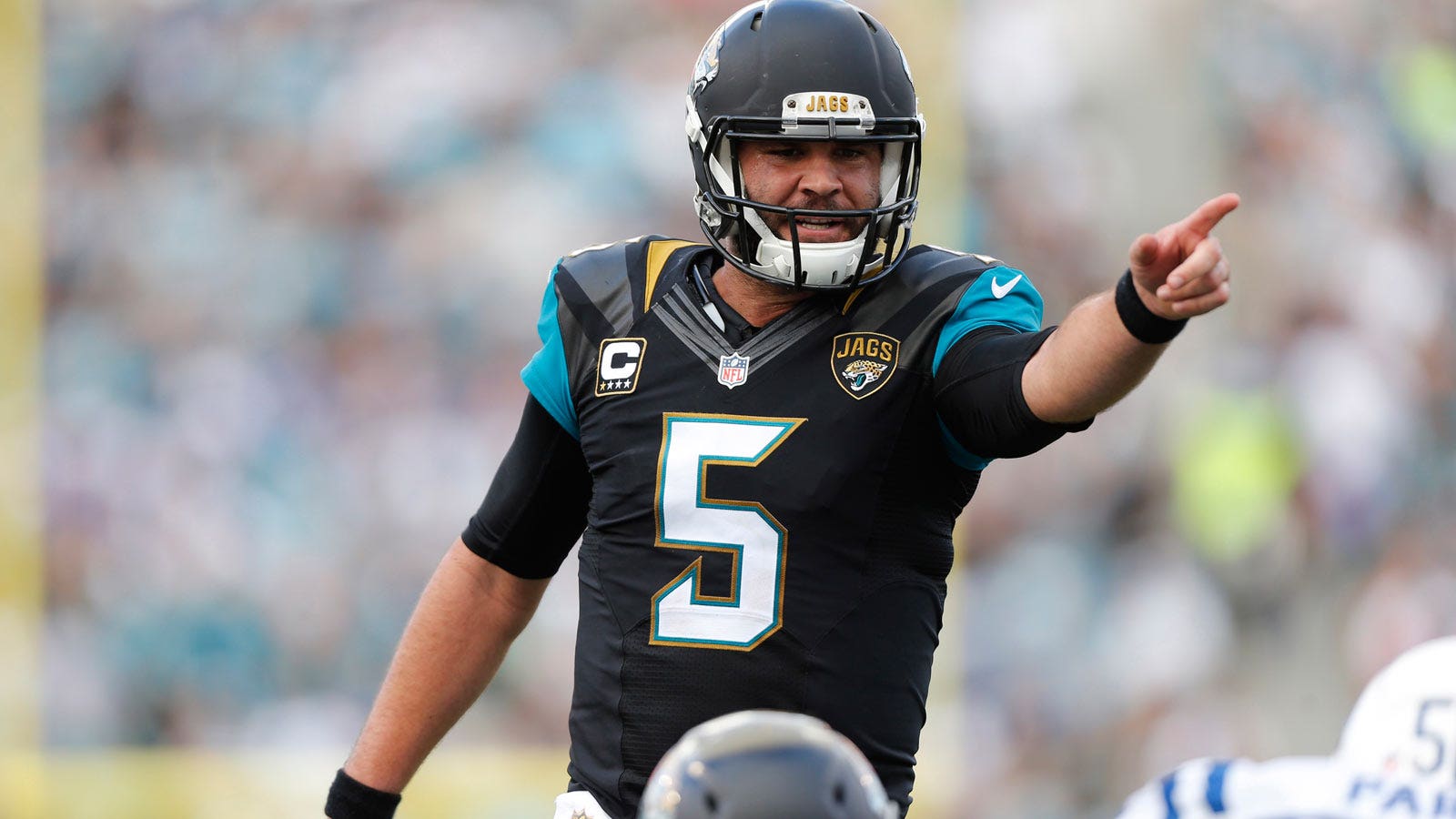 It wouldn't be surprising to see Bortles post a breakout campaign in 2016 because of the talent he has around him. Allen Hurns and Allen Robinson are two of the best young wideouts in the game today and can score from anywhere on the field. And with the addition of Chris Ivory in the backfield, Bortles will finally have a workhorse back to hand the ball to 20-plus times a game. Not to mention, T.J. Yeldon is there, too, allowing Jacksonville to keep its running backs fresh. Bortles will have a huge season with 30-plus touchdowns and fewer than 12 interceptions in 2016.
Some would argue that Derek Carr already had his breakout season in 2015. He threw 32 touchdowns and 13 interceptions to go along with 3,987 yards. It was a huge improvement over his 21-touchdown rookie season, but there is still plenty of room for growth. Carr has a big arm and isn't afraid to make the tough throws, which are two of his best (and sometimes worst) assets. His receivers, Amari Cooper and Michael Crabtree, are reliable, but the former of which dealt with his fair share of drops. Cooper should get better in that aspect and another offseason working with Carr will improve their chemistry, which further indicates a breakout campaign for the 25-year-old quarterback.
Additionally, a player's third season is typically the one where he makes the biggest jump. For example, Andrew Luck increased his touchdown total from 23 touchdowns to 40 from year one to year two. Philip Rivers also upped his passer rating from 82.4 to 105.5 in his third year as a starter. Carr has all of the tools to be an elite quarterback, he just needs to put it all together and cut down on the mistakes.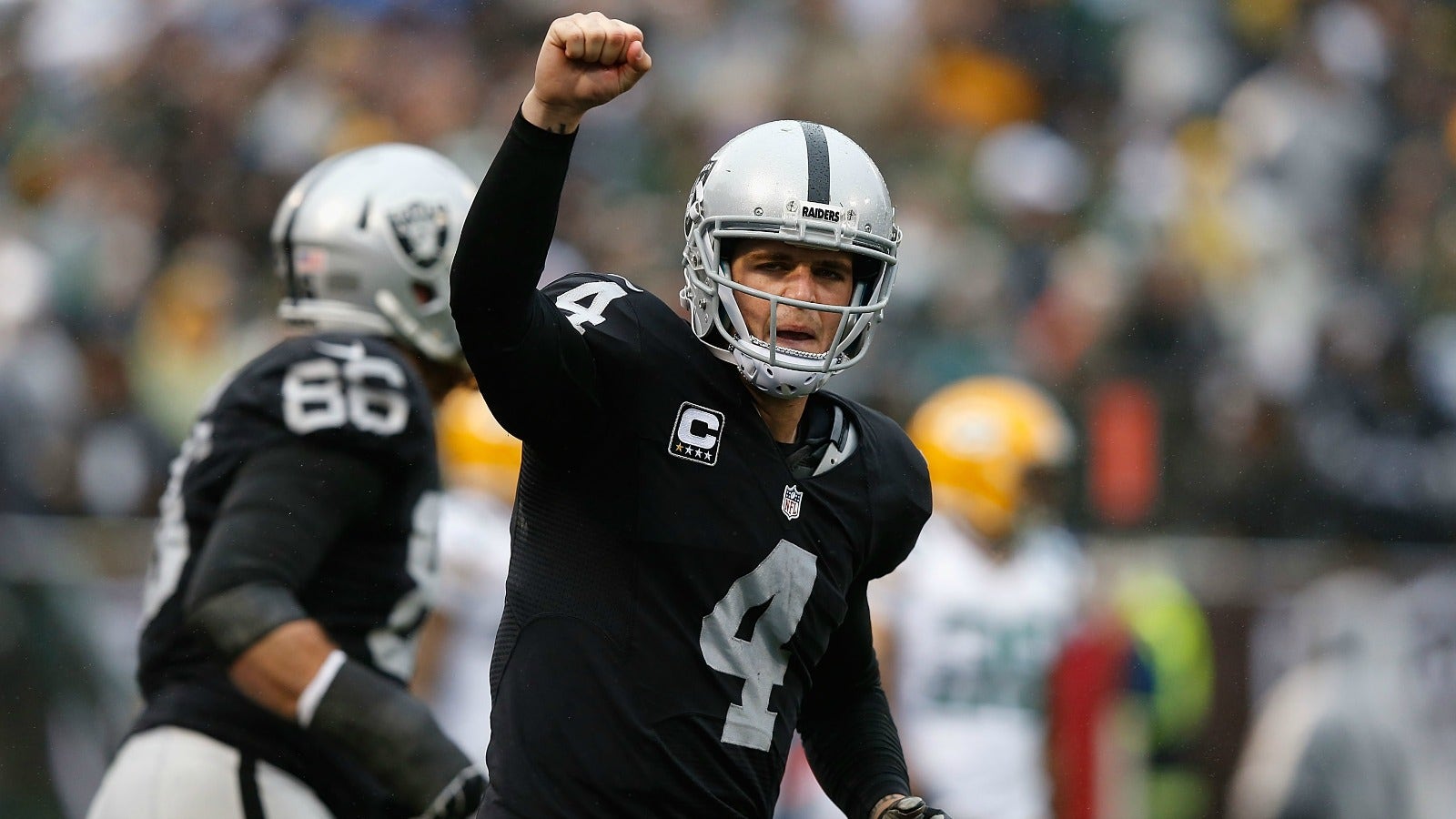 The Tennessee Titans were the worst team in football last season. They couldn't run the ball or stop anyone on defense, and Marcus Mariota had very little help around him on offense. Despite being tossed into a horrendous situation with poor line play and no receivers to throw to, Mariota had a decent rookie season. In 11 full games, he had 19 touchdowns and 10 interceptions, while completing 62.2 percent of his passes. Granted, a lot of his passes were thrown close to the line of scrimmage, but he showed the great accuracy he had at Oregon. A knee injury limited Mariota's production, but he certainly showed why he was deserving of the No. 2 overall pick in 2015. The Titans will be a much better squad this season thanks to the additions of DeMarco Murray, Derrick Henry and Jack Conklin, all of whom should make immediate impacts on offense. Mariota will no longer have to do everything himself, and because of that, his interceptions should hover around 10 while his total touchdowns will eclipse 25.
It seems like every offseason, we talk about the potential of Ryan Tannehill and peg him as a breakout player for the upcoming year. This season is no different. Tannehill has thrown at least 24 touchdowns in each of the last three seasons but he has still underwhelmed since being a first-round pick in 2012. Some of that is due to the fact that he's gone through a bevy of coaching changes, which have seemingly ended with the hiring of Adam Gase. Now that there is some stability on the coaching staff, Tannehill should thrive in Gase's quarterback-friendly system. He groomed Brock Osweiler and worked with Peyton Manning throughout his career, even helping Jay Cutler elevate his game. Gase hopes to do the same with Tannehill, and there is reason to believe he will.
The Dolphins have a talented group of receivers led by Jarvis Landry, who's complimented by DeVante Parker on the outside. With a security blanket like Landry and a big-play threat in Parker, Tannehill now has the best receiving corps he's seen in the NFL. He could easily toss 30-plus touchdowns, rush for a few more, and keep his interceptions under 12. He'll be a close call for the 2017 Pro Bowl.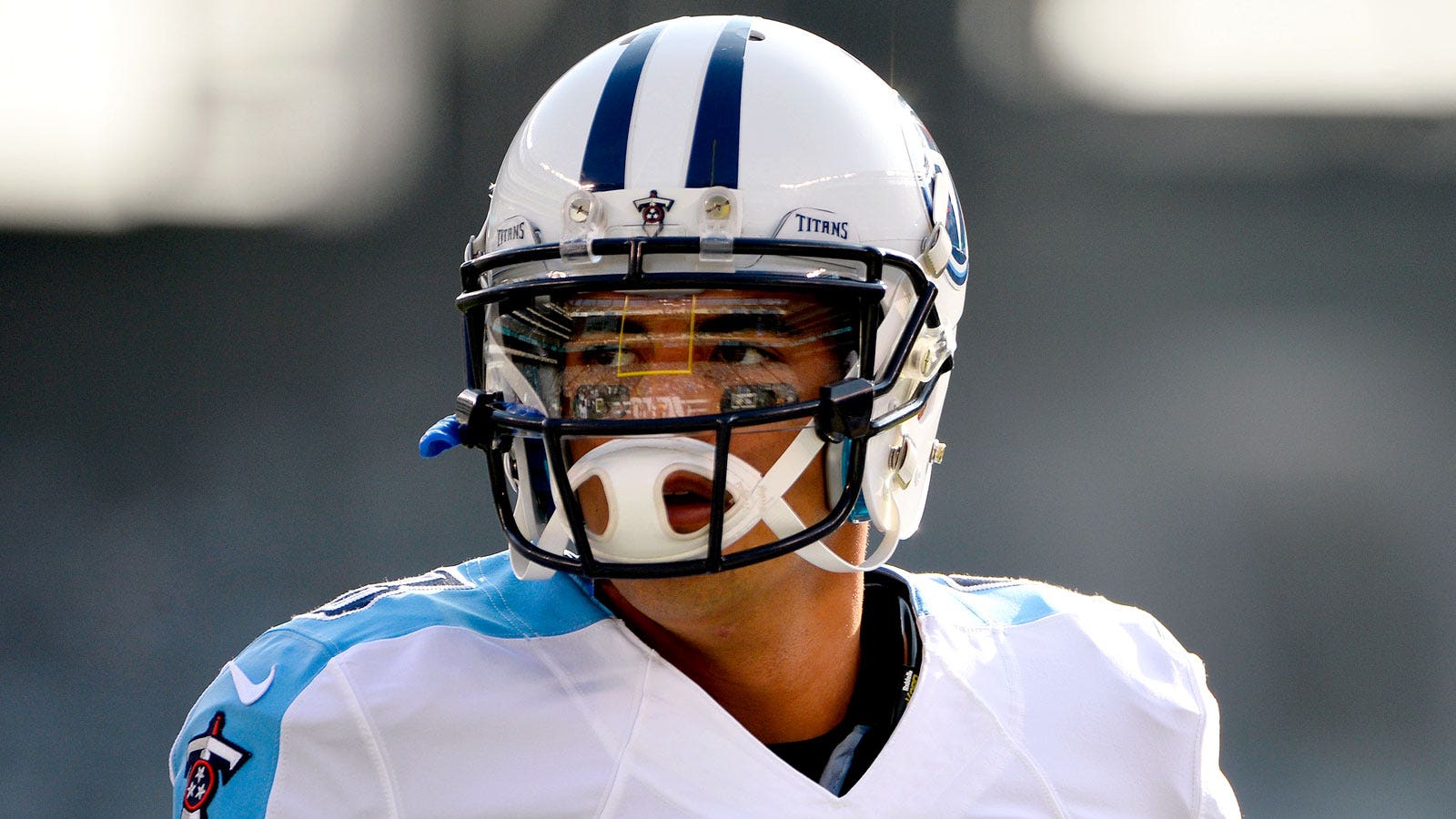 Like Mariota, Jameis Winston had himself a solid rookie campaign. He was the Rookie of the Year and made the Pro Bowl thanks to 22 touchdowns, 15 interceptions and a whopping 4,024 yards. He became the youngest quarterback in NFL history to throw for 4,000-plus yards, which is both a testament to his talent and his age. Regarding his age, Winston has seemingly cleaned up his act and matured on the field, and off it. He's far from a polished product despite coming from a pro-style offense at Florida State as he takes far too many chances on low-percentage throws. His leadership qualities are certainly there, though.
In 2016, Winston is expected to make a big leap forward. Mike Evans and Vincent Jackson give him a massive pair of receivers to target on the outside despite struggling with drops in 2015. Winston isn't going to throw for 5,000 yards or 40 touchdowns next season and he'll still have a good amount of interceptions, but his numbers will improve drastically from a year ago. With Evans and Jackson healthy, the Buccaneers will be nearly impossible to stop in the red zone, which means a boatload of touchdowns for Winston. He'll have at least 30 in 2016 to go along with 4,200-plus yards and a second consecutive Pro Bowl bid.