USC vs Utah Report Card 2016: Grading the Trojan Offense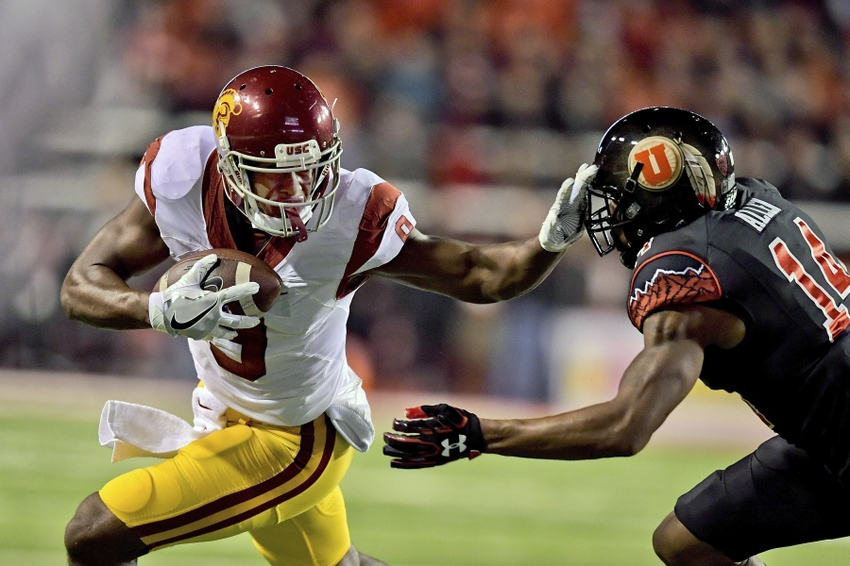 The brightest offensive performance of the season for the Trojans was also rife with monumental mistakes as USC vs Utah became defined by turnovers and missed opportunities.
By nearly every metric, USC's offense put in their best performance of 2016 against Utah on Friday night.
Unfortunately for the Trojans, a series of turnovers and late miscues saw the offense generate a disappointing 20 points on the night.
Here's how each offensive unit graded out against the Utes:
Quarterback
Standout,
Sam Darnold
B
In his first career start on a rainy night at hostile Rice-Eccles Stadium, Sam Darnold was a vision.
The redshirt sophomore threw for 253 yards and rushed for an additional 41 with a touchdown as he led the Trojan offense with authority. He zipped passes to receivers with gusto. He dropped in long attempts with exceptional touch. And he kept the offense moving with his legs.
It was everything USC's coaches could have asked for on a debut.
Still, it wasn't perfect. Darnold's fumble was a key mistake while he was lucky not to throw an interception on a rushed throw in the red zone.
Running Back
Standout,
Justin Davis
B
One fumble is too many for any running back unit. Two is unacceptable.
Those critical mistakes from Justin Davis and Ronald Jones II are the only reason the Trojan backs didn't grade out with top marks.
Davis, in particular, was outstanding on the night in perhaps his best performance at USC. He was patient, hitting the hole with purpose while making it difficult for defenders to bring him down with strong downhil running. With 126 yards and a touchdown, the senior eclipsed 2,000 career rushing yards.
Aca'Cedric Ware averaged four yards per carry, though Jones had an off night with just 18 yards on eight carries.
Receiver
Standout,
JuJu Smith-Schuster
B
After three games of playing "Where's JuJu?" the junior receiver emerged as the target USC had become accustomed to over the last two seasons. Smith-Schuster led all receivers with eight catches, totaling 98 yards on the day.
Across the board, USC's receivers were able to get separation from Utah's secondary, an improvement over the first three games of the season.
Darreus Rogers pitched in five catches for 58 yards, Steven Mitchell had two receptions for 45, while tight ends Taylor McNamara and Tyler Petite also contributed key plays of 20+ yards.
Offensive Line
Standout,
Damien Mama
A
The biggest disappointment of the year so far, USC's offensive line finally came to life with a largely consistent, mostly mistake-free outing against a tough Utah front.
The line cleared the way for 221 rushing yards and kept Darnold's jersey clean — with one exception on a blindside hit knocked the ball loose but was ruled an incomplete pass.
Notably, none of the three Trojan false starts were attributed to the offensive line. Unfortunately it wasn't a completely penalty-free game. Damien Mama's ineligible man downfield penalty on a long Rogers catch in the fourth quarter set USC back on their final full offensive drive of the game.
Coaching
Standout,
Tee Martin
C
The decision to make a quarterback change paid off with Darnold's style clearly suiting the offense USC has been trying to run all season. With Darnold at the helm, play-calling universally panned to start the year looked and felt more coherent, more effective.
There were still questionable calls from the coaching staff.
Glaringly, the Trojan coaches declined to ride their most effective running back, giving Davis just ten carries — none in the fourth quarter.
Most concerning of all? Clay Helton opted to punt the ball on fourth and short at the Utah 37 late in the fourth quarter, trusting his defense instead of giving the offense the opportunity to put the game away.
On another night, that might have been an acceptable decision. However, the defense had given up long touchdown drives on two consecutive possessions while the offense was averaging 7.9 yards per play. It was a mistake.
This article originally appeared on