USC Football: Down The Stretch The Trojans Come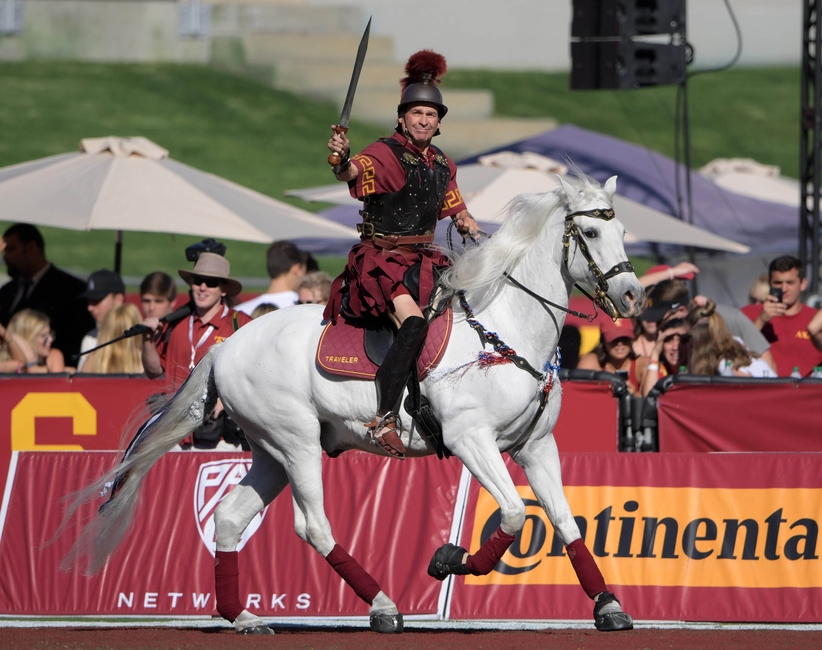 USC football stumbled out of the blocks, but Saturday's contest with Washington is a chance to show they have the legs to win the race in 2016.
USC football's 2016 season feels like the proverbial horse race. Yes, there was a big stumble right out of the blocks, but now after five-straight wins, USC is sprinting to the wire in the inside position.
All that is required is a Chicago Cubs-like finish by winning the next three games, two of which are on the road. Simply put: just win out, baby.
In order to win this horse race, the surging Trojans will have to leave the comforts of home and then beat a very good football team in a hostile environment. Underdog USC has momentum and we have all seen how important that is in other epic races this week.
And It has certainly been a come-from-behind November for underdogs in a couple rather big contests.
This Husky team has cruised through the Pac-12 without a blemish on their record. They play very good defense, are very well-coached and feature an explosive offense. It is sort of like looking in a mirror.
However, they are not the best team USC has faced this year, with all due respect. That distinction belongs to that semi-pro team down in Alabama. The Trojans will have learned from that experience.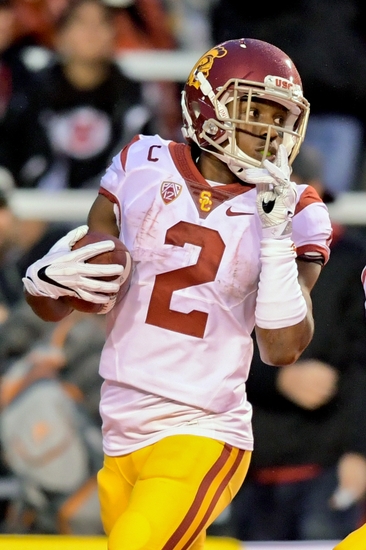 One thing is for certain, USC better check the Washington wide out John Ross III on every play, or else.
Next, and a close second to that, is that Washington head coach Chris Peterson will call a  trick play or two.  So the USC defense must be disciplined and yet still maintain the aggressive play which has contributed to this surge. The defensive effort that held the Ducks to under 100 yards rushing must have an encore performance this coming Saturday in Seattle.
Adoree' Jackson is about the best defense you could ever ask for against the Huskies' speed and deep ball threat, but he is just one player.  USC's safeties have to step up in this game especially in deep coverage or it will be a long night.
Likewise, defensive coordinator Clancy Pendergast must pressure Jake Browning with his exotic blitz schemes. It is a gamble but a necessary one.
Special teams have to make something happen when they are on the field. The Huskies don't have many weaknesses, but returns are often a chaotic equalizer. That is a strength for this USC team with the all-time leader, No. 2 fielding kicks.  Jackson will have a significant impact on this showdown game whenever he's on the field.  Advantage USC.
The Trojan offensive line has been controlling the line of scrimmage recently, allowing Ronald Jones II to put up some huge numbers. When you can run the ball effectively, it's not hard for Sam Darnold to pick most defenses apart.
The Huskies have not yet faced an offense with this many weapons period.  But it all starts will who controls the line of scrimmage.  If Jones and Justin Davis can combine for close to 200 ayrds then there is a good chance you will see a Trojan victory.
The game will be super-hyped with ESPN's College Gameday in Seattle and the Huskies in the College Football playoff hunt.
USC's keys to success? Keep it close early on and avoid the huge mistake.  Ball security, trick plays and deep coverages will be very important in the first quarter especially.  Once the initial game time jitters are over then just settle in and play some USC football.
What a tremendous opportunity to showcase just how much this year's team has improved since early September.
Imagine it…Darnold squeezing the rock and converting on a tough third and three, maybe even a couple fourth and inches.  JuJu Smith-Schuster muscling his way for a key first down. And Clay Helton convincing all his players, his team, to leave it all on the field, giving him his signature USC victory.
Just imagine it.
This article originally appeared on