UCLA Football: What Kind of Foundation is Being Set For 2017?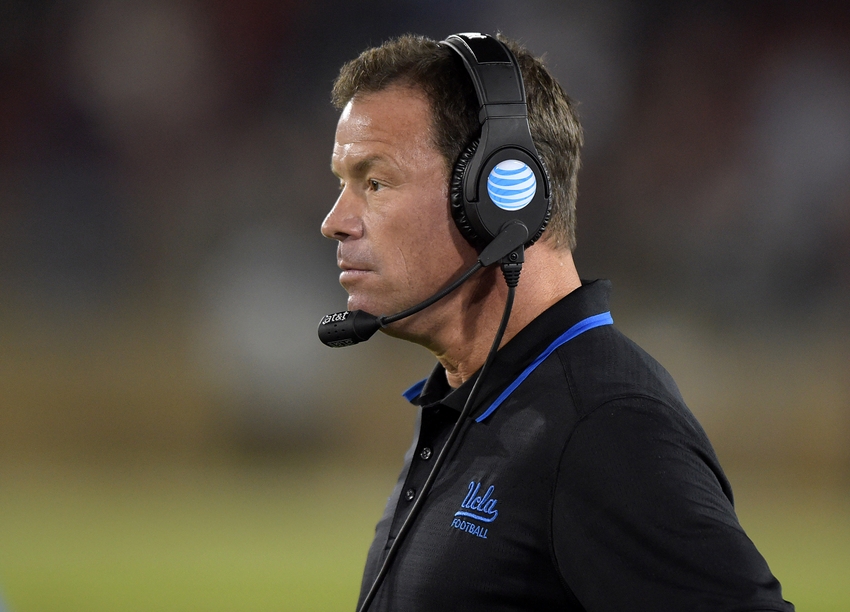 Looking very far into the future, the UCLA Football team could be on shaky ground if recruiting and coaching do not improve heading into 2017.
There has been a Bruin De-evolution. The UCLA Football team is having their worst season under Jim Mora and there are still three games remaining in the season.
If UCLA wins all three, it will still be the lowest win total in the Jim Mora era with 6 (7 if they get a bowl invite and the win). Even being optimistic about the possibility of it happending, the reality is that it does not seem likely.
UCLA needs to win all three to become bowl eligible, so one loss and their post-season aspirations are done. So goes 2016, but what does that mean heading into 2017?
Well let us look at what is going wrong for the Bruins.
The offensive line is spotty, needs personnel and needs talent. The Bruins were very thin this season and the loss of Kolton Miller at the right tackle spot really hurt the Bruins. Currently, UCLA has 18 offensive linemen on their roster, with two of them graduating after the season. Of the remaining 16, only seven have game experience, and not exactly as starters.
As for recruiting, the Bruins have 3 3-star OL recruits committed. Though that is good for depth, there is a lot of youth, and their development will be in question.
And then there are the receivers. They need to dramatically improve their development and the coaches need to stop putting in receivers that cannot receive. This could be a coaching issue which could be addressed in the offseason. Either way, the Bruins have talent, it just does not seem that that talent is being harnessed. If UCLA continues to have dropped balls next season, in Josh Rosen's (most likely) final year, then the offense will continue to sputter.
The running game has to be figured out. First start with the offensive line, and then the Running Backs Coach turned Offensive Coordinator Kennedy Polamalu needs to find a way to get his backs moving forward.
As for the offense as a whole, I would like to give Polamalu another year to prove himself as Defenisve Coordinator Tom Bradley did this season, and right now there's not a lot of confidence in the fact that he can recruit enough players for depth and develop the talent he has for next year.
Jim Mora is done, he's had it pic.twitter.com/Fevq9pIoNG

— CJ Fogler (@cjzero) November 4, 2016
Defense seems to be doing well, so Bradley should focus on recruiting and developing his players for next season. Here is the thing, Linebackers Coach Scott White, who has done a decent job with his defensive crew, is also the special teams coach and special teams has not been very good. In fact, they have regressed. This is also a big concern going forward.
Though the Bruins have freshman at each of their key ST positions, they should improve by next season, but by how much?
With all of these questions and concerns up in the air, the foundation for 2017 does not appear to be that stable. Hopefully Mora realizes this and does what he needs to prevent another season like this one.
This article originally appeared on