Top 5 Coaches to Likely Replace Charlie Strong at Texas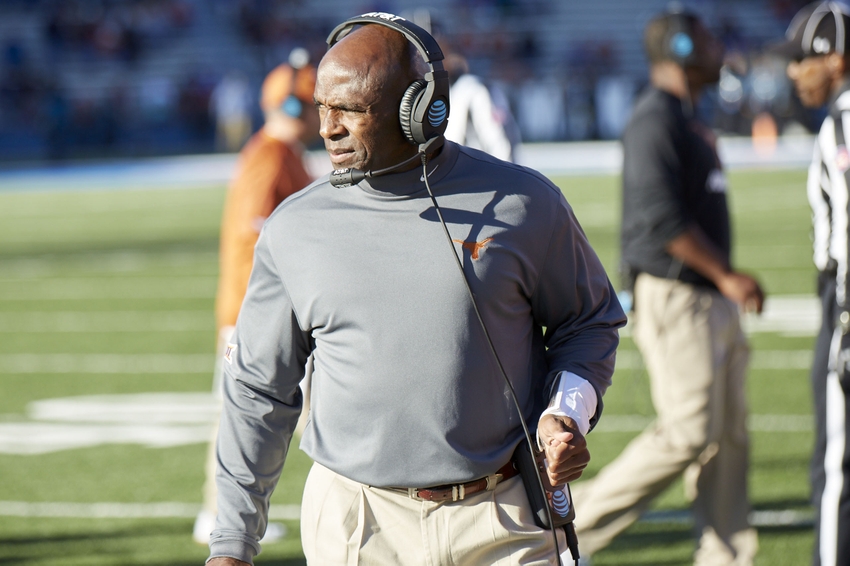 The Charlie Strong era at Texas will reportedly come to a merciful end. Here are the top five coaches likely to replace him as head coach.
It is being reported by the Austin American Statesman, via CBS Sports, that the University of Texas is ready to move on from Charlie Strong as their head coach. It would seem the loss to Kansas – something that hasn't happened since 1938 – was the killshot for Strong's tenure in Austin.
While a timetable for when Strong will be shown the door hasn't been made clear yet by the University, there will certainly begin a coaching search to replace the embattled 3rd year man leading the Longhorns.
This was a move that seemed inevitable as the 2016 season progressed, and was probably cemented by the 24-21 overtime loss to the Kansas Jayhawks over the weekend.
Strong is 16-20 in three seasons with the Longhorns, and should Texas lose in the season finale to TCU, he will become the first to coach three consecutive losing seasons at Texas since 1936-38. .
With Strong likely on his way out, the next obvious question will be who will replace him, and will Texas have to borrow money from the Federal Reserve to get the man they want.
Here are five likely replacements for Strong at Texas, based on rumors, history and how this program will need to be rebuilt.
And no..Nick Saban will NOT appear on this list, so let's just get that out of the way now.
No. 5: Les Miles
Most Recent Position: Head Coach, LSU, 2005-2016
Overall Coaching Record: 141-55
National Titles: 2007 (LSU)
You have to mention Les Miles name because his name is going to come up in the conversation for every coaching vacancy this year, regardless of how realistic it may be.
Why He'd Be a Good Choice:
Miles has a track record of winning, and has a national title and multiple conference championships to his credit. He's also a coach who players love and remain loyal to in the long haul.
One of the best recruiters in the game, he's someone who could definitely keep much of the in-state talent coming to Austin and would be able to grapple with SEC coaches trying to sway recruits their way.
Why He'd Be a Poor Choice:
With a lot of great defenses to his credit, but a record of spotty offenses, Miles may not be the ideal coach to come to the Big 12, particularly to Texas. He's shown that he has problems developing quarterbacks, and he has little innovation when it comes to offense – even when surrounded by talented staff.
This would almost seem like a PR hire if Texas were to grab Miles, who is probably headed to Purdue anyway.
No. 4: Major Applewhite
Most Recent Position: Offensive Coordinator/QBs Coach, Houston, 2015-Present
Overall Coaching Record: N/A
National Titles: None
Major Applewhite would be another longshot at this job, but definitely someone Texas should, and probably will, consider for the job.
Get the Saturday Blitz App
Why He'd Be a Good Choice:
Appplewhite is a Texas alum, and coached under Mack Brown as co-offensive coordinator and various position coaches from 2008-2013. He has a great mind for modern football offenses and is one of the big reasons Tom Herman has been so successful at Houston.
With a young and talented quarterback like Shane Buechele on the roster, Applewhite could do miracles with this Texas offense.
Why He'd Be a Poor Choice:
A job like head coach at Texas is a tough one even for a seasoned coach. It would be murderous for a first-year head coach. Applewhite still has some growth to do as a coach, and throwing him to the wolves in a rebuilding project like what will be going on at Texas wouldn't be a true test of his abilities.
Applewhite simply isn't ready for this job yet, as tempting as it may be to bring a familiar face back into the fold.
No. 3: Lane Kiffin
Most Recent Position: Offensive Coordinator/QBs Coach, Alabama, 2014-Present
Overall Coaching Record: 35-21
National Titles: None
The name Lane Kiffin exerts groans from many fans when mentioned as a head coach candidate, but he's a name you absolutely have to consider.
Why He'd Be a Good Choice:
It's only a matter of time before Lane Kiffin gets another shot at as a head coach, and and opening like Texas is exactly the kind of candy he likes to chase after.
Kiffin is known as one of the brightest young coaching minds in the nation, and he's helped Nick Saban to open up the offensive playbook at Alabama. He seems to have grown a lot under Saban's tutelage, and could be ready to step out from his shadow next season.
Why He'd Be a Poor Choice:
There's always a question of character surrounding Kiffin, and rumors seems to incessantly follow him around. While he's been kept mostly under wraps while at Alabama, if he is handed his own program again he may return to some of his old bad habits.
The other question is loyalty. Does Kiffin only chase the money and would he remain loyal to the program when and if other offers were presented. He's also not the most beloved figure in the nation, and hiring him could rub fans and alumni the wrong way.
No. 2: Tom Herman
Most Recent Position: Head Coach, Houston, 2015-Present
Overall Coaching Record: 22-3
National Titles: None
Tom Herman is the coach many see stepping in at Texas, and the one the most rumors are flying about right now. The only reason he's not number one on this list is we simply don't see it happening.
Why He'd Be a Good Choice:
Obviously Herman has a ton of upside. He's a quality coach, he has a great rapport with players and their families, and he's a masterful recruiter. He's also a coach of impeccable character, something overlooked in many coaching searches.
The way he's brought the Houston program to national prominence in just two short seasons is nothing short of miraculous, and every program with a vacancy in the nation is gunning for him as their head coach whether they admit it or not.
Why He'd Be a Poor Choice:
It's hard to point to any downside to hiring Tom Herman other than his lack of experience. While his body of work with Houston is impressive, it's also short – and done against much lesser competition than he would face in the Big 12.
Herman has stated he's very happy at Houston and athletic director Hunter Yurachek has publicly stated he's willing to do whatever is necessary to keep Herman happy and coaching at Houston. It would really take an unbeatable offer from Texas to pull him away from his current post.
No. 1: Art Briles
Most Recent Position: Head Coach, Baylor, 2008-2015
Overall Coaching Record: 99-65
National Titles: None
We know what you're thinking, so let us simply explain. This is a coach who will get a second chance regardless of public perception, and Texas could very well be first in line to make that happen.
Why He'd Be a Good Choice:
Looking beyond the issues at Baylor and Briles' involvement in them, the simple fact is that he raised that football program from doormat to champion when nobody thought it possible.
Briles has a keen football mind, and is (was) an incredible recruiter (although that trait may now be tainted). There are few unemployed coaches out there right now who could make an immediate impact on a program, and Briles is one of those few.
Why He'd Be a Poor Choice:
The public backlash has to be reason one for Texas not hiring Briles. Every media outlet and parent of a daughter would protest the fact that he would even be interviewed less yet hired for the job. That doesn't mean it won't happen.
The NCAA has recently stated that there will be no broad sanctions levied against Baylor, which meas that losing his job there will probably be the extent of any punishment Briles receives. That opens the door for him to freely interview without fear of being banned or suspended after being hired somewhere.
Want your voice heard? Join the Hook'em Headlines team!
Still, you can't help but cringe when you think about a guy who has been blasted from every angle becoming your next head coach.
More from Hook'em Headlines
This article originally appeared on