SEC Football: Takeaways from SEC Championship Weekend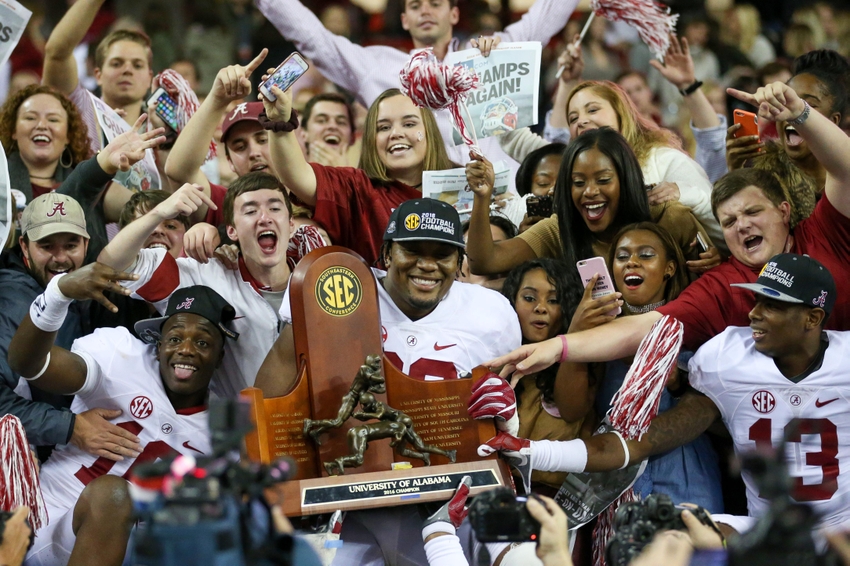 The 2016 SEC football season has come and gone, and we take a final look at the beginning of the postseason with the SEC Football Championship Game.
Before bowls could be arranged and the College Football Playoff could be announced, SEC football had one more matter to handle. Although it was the formality we anticipated it to be, Alabama still had to rock Florida.
It briefly looked like the Gators had a chance, as an opening TD drive will do that for a team. Instead, though, Alabama dominated on defense and special teams.
We'll got more to that in a moment, however.
Each week we take a look back at the SEC football teams that were in action that weekend.
Although 12 teams sat at home wishing they were in Atlanta, we've still got some reactions to get out.
Before we move any further, though. I just wanted to remind everyone that Jalen Hurts is a freshman.
Bama fans rejoice. As for the rest of SEC Football?
Welp. On to the reactions for Florida and Alabama.
Florida Gators
SEC Championship:
Florida 16-Alabama 54
Teams are not supposed to get beat by 38 in a conference championship. Alabama and Florida are familiar foes, as they have met many times in the SEC Football Championship Game. Although this is not the first blowout, it is certainly the ugliest.
It wasn't Alabama's offense, defense or special teams that led to such an ugly final score, either. Florida's inability to get out of it's own way was the deciding factor. The Crimson Tide had 16 points on the board, while managing minus-seven yards on offense.
This was an embarrassment of an SEC Football Championship Game, and Florida thoroughly embarrassed itself.
Impact Moving Forward
-Nothing major
Florida had a chance. Early in the 3rd quarter and after a defensive stop, Florida had four plays inside the five yard line down 33-16. Any score there makes it a two-score game moving forward. The Gators could do nothing, though, and turned the ball over downs. A then-heartless Gator squad was whipped up and down the field for the remainder of the game.
Here's the thing. Jim McElwain has guided Florida football to two straight SEC Eastern Division Championships. This comes on the heels of Muschamp era, so he'll get a pass for now for the back-to-back stompings his teams received from Alabama. That patience will not last long, however.
Even Will Muschamp could guide the Gators to double digit win seasons and a Sugar Bowl with a healthy roster. At this point, McElwain's teams still look a lot like Will Muschamp's. Sure, winning is nice. But McElwain was brought it to rejuvenate the offense and win SEC Football Championships.
The clock really starts ticking now.
Alabama Crimson Tide
SEC Championship:
Alabama 54-Florida 16
Alabama football put up 54 points. There's the obvious. What if I told you, though, that they did it with a quarterback that didn't even throw for 150 yards?
You're not impressed, eh? Because of the almighty Alabama rushing attack, right? What if I told you Alabama didn't have a single rusher go for 100 yards? Now I have your attention.
Sure Alabama rushed for 234 yards as a team, but that isn't what the deciding factor was in this game. Not even close.
Alabama had an interception, punt return and a blocked field goal returned for a touchdown. Alabama's defense and special teams could have defeated Florida's offense if that was the matchup for the entire 60 minutes.
Impact Moving Forward
-Sustained momentum
Fair or not, Alabama's season started Saturday. At least that is the perception of Alabama football fans. While the SEC Football Championship is nice, the season will still be considered a failure if another national championship is not brought back to Tuscaloosa.
Such are the expectations that have been created by Nick Saban. Saturday's win helps sustain the momentum of the season, but it doesn't make a drastic bump in the season. Alabama gets the easiest opponent out of the three potential, but that isn't always a good thing.
Alabama under Saban has typically lost in big post season games when they were the no doubt favorite. I'm not making any bold predictions, but it should be a fun game to watch. Especially if Alabama starts slow.
This article originally appeared on