Penn State Football Recruiting Roundup: November 9, 2016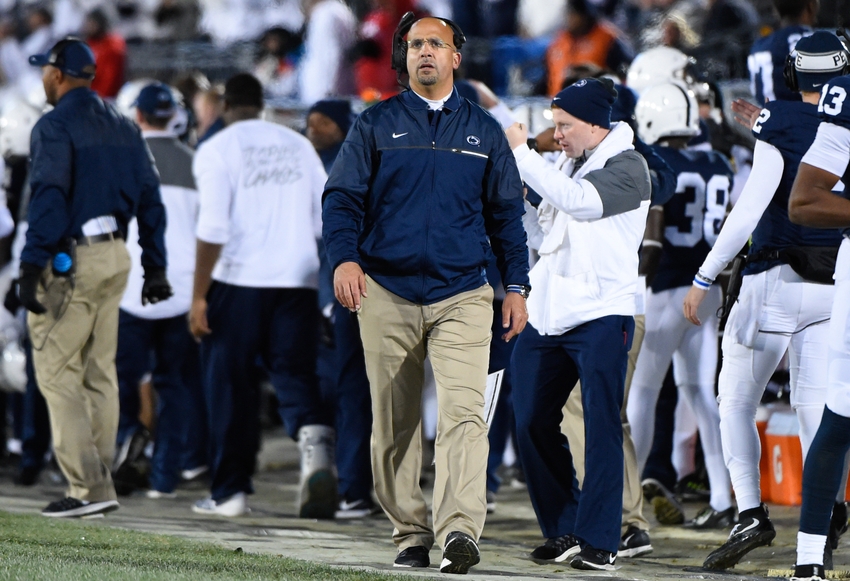 After another impressive home victory in front of a big group of recruits, the Nittany Lions are continuing to trend upward in the world of recruiting.
Welcome back everyone to my weekly look at all things Penn State football recruiting. This is Victory Bell Rings' weekly Penn State Football recruiting roundup.
There are few teams in college football playing better than the Penn State Nittany Lions are right now. Due to this, the Nittany Lions are gaining a lot of momentum on the recruiting trail. Sooner rather than later I expect this to start to translate into more commitments for the Nittany Lions.
Here is this week's recruiting roundup.
Ben Hutch Sets Announcement Date
Monday night on Twitter, defensive tackle Ben Hutch announced his commitment date.
• Commitment Date • pic.twitter.com/SwDDrUztfT

— #BeGreatBen (@bh57era) November 8, 2016
The three-star Tennessee native will announce his college decision on December 6. Ben Hutch will decide between Louisville, Penn State, and Texas A&M.
Hutch took an official visit to Penn State on October 7. He also visited once over the summer. Despite these visits, in my opinion, Penn State is running third for Hutch. If he chooses Penn State, it will come as a pleasant surprise.
Visitors Last Weekend
This past Saturday night Penn State  annihilated Iowa at home. This dominant victory came in front of a lot of important recruits. And it made a great impression with these recruits.
More from Victory Bell Rings
Over the weekend the Nittany Lions hosted four official visitors. One of these official visitors was class of 2017 offensive line commit Michael Miranda. Miranda has attended every home game this season and will enroll early in January.
The other three official visitors were un-committed class of 2017 recruits. These three players were defensive tackle Corey Bolds, defensive tackle Elijah Conliffe, and cornerback Lamont Wade. The Nittany Lions made a big impression with all three over the weekend.
This was the first visit for Bolds, a New Jersey native, to Penn State in over a year. While Bolds is not at the top of Penn State's defensive tackle board, he is still a player worth keeping an eye on. Bolds had a great visit and his mom is on board with the Nittany Lions. If Penn State misses out on some other top targets at defensive tackle, I could see Bolds in their 2017 class.
One of the defensive tackles ahead of Bolds on Penn State's board in Elijah Conliffe. The Hampton, Virginia native had previously visited Penn State for their Junior Day back in February. After this visit he nearly committed to Penn State, but his recruitment has changed greatly since then.
Following this visit Conliffe told Michael Clark of Scout.com that Penn State now has a 'big edge' over his other top schools. However, Conliffe has always been a very impressionable recruit who tends to favor the school he most recently visited. Due to this, I would encourage you to temper the optimism here.
Over the summer Conliffe named a new leader of Alabama. He visited the Crimson Tide last weekend, and will officially visit them for their Iron Bowl game against Auburn at the end of the month. Ultimately, I still expect him to pick Alabama but Penn State is definitely in the thick of this.
The biggest name among the official visitors was Lamont Wade. The Clairton, PA, native is the 50th-best player in the country according to 247 Sports. This was the second game that Wade attended this season.
For a few months not I have expected Penn State to land Wade, who is an early enrollee, when he announces his commitment on December 17. After how well his official visit went this past weekend, I feel stronger than ever about this.
Other important and notable visitors included class of 2017 defensive tackle Fred Hansard, who is a Florida commit, and class of 2017 defensive end commit Damion Barber. Additionally, class of 2018 quarterback Justin Fields and tight end Kyle Pitts were there. Right now, I believe Penn State leads for Fields and Pitts. Class of 2018 commits Justin Shorter and Chris Bleich were also on hand.
That will do it for this week. The Nittany Lions have just one remaining home game to host recruits. That will be on November 26 against Michigan State. Between now and then, I look for the coaches to be out of the road visiting recruits.
This article originally appeared on