Penn State Football: Nittany Lions Struggle, Survive at Indiana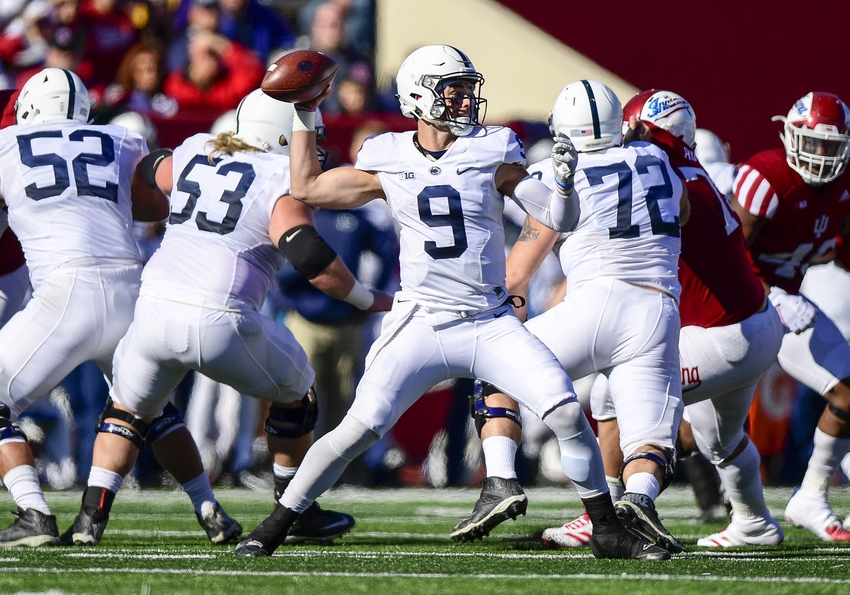 Penn State struggled Saturday at Indiana, but was able to survive and continue what is not a six-game winning streak. 
It wasn't pretty, but the Penn State Nittany Lions were able to take care of business and continue their winning streak. Big Ten road games are never easier, and the Nittany Lions found that out Saturday. Indiana brought it's A-game, but Penn State was able to prevail by the score of 45-31.
It was a sluggish game for the Nittany Lions on offense.
More from Victory Bell Rings
Running back Saquon Barkley, despite rushing for two scores, was really never able to get going. He finished the game with just 60 yards on 33 carries. He did add two receptions for 34 yards. The Hoosiers were clearly keyed in on the star running back the entire game and made things difficult on the ground.
Left tackle Paris Palmer left early in the game with an injury, causing head coach James Franklin and offensive line coach Matt Limegrover to mix things up on the offensive line. The unit never really looked comfortable and allowed Indiana to spend a lot of time in the backfield.
As a team, the Nittany Lions rushed for just 79 total yards.
Quarterback Trace McSorley struggled with his accuracy and threw two interceptions, his first since the loss to Michigan on September 24. Still, he was able to amass 332 yards and two touchdowns.
Down three points in the fourth quarter, the Nittany Lions were able to finish the game strong, scoring 24 points in the final frame. Tied 14-14 at halftime, Penn State outscored Indiana 31-17 in the second half.
The defense played solid, despite allowing the Hoosiers to rack up 454 yards on offense. Quarterback Richard Lagow threw for 292 yards and two touchdowns. Running back Devine Redding rushed for 108 yards and two scores.
Penn State was led on defense by safety Marcus Allen, who finished with 10 total tackles. Linebackers Jason Cabinda and Brandon Bell each recorded nine tackles.
With the victory, the Nittany Lions have a six-game win streak and will look to continue it next week at Rutgers.
This article originally appeared on