Michigan State Football: 5 bold predictions vs. Maryland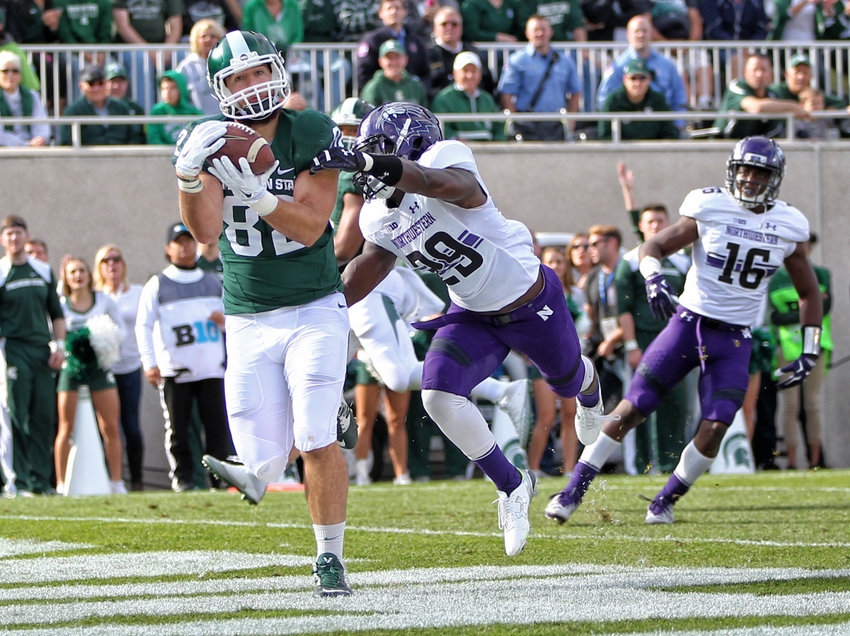 Michigan State football takes on Maryland on Saturday night and here are the five bold predictions.
Michigan State football faces one of its biggest games of the season on Saturday night in College Park. Before the season, people may have overlooked this game as more of a 'sure-win' and now it's a 'must-win' contest.
There's no way around it, the 2-4 Spartans need to come out on top Saturday and if they don't, chances are they'll be sitting at home in a couple of months, watching bowl season from their couches. The fall from grace this season has been major, but there is still time to turn things around and make a run at a bowl.
Maryland hosts the Spartans and the 4-2 Terrapins have had a nice turnaround season. In fact, they hired former Michigan defensive coordinator D.J. Durkin in the offseason and he has already led them to one more win through six games than they had all of last season.
Mark Dantonio and the Spartans desperately need a win and the Terrapins are standing in the way. Let's take a look at our five bold predictions for the matchup.
5. Josiah Price has career game
It's not hard to see that Josiah Price is having a nice comeback season after a down year in 2015, under his standards. He's currently fourth on the team in receiving with 18 catches for 202 yards and three touchdowns and he's on pace to break previous career-bests.
The reason he's listed as an 'OR' on the depth chart with Jamal Lyles each week is because his blocking and decision making needs to be more consistent. Far too often the senior tight end has been flagged for holding or personal fouls, and he needs to clean up his blocking.
Other than that, he's been great. Coming off his second-best game of the season, I believe Price is going to have a career performance against Maryland. The Terrapins might be too focused on slowing down Donnie Corley and R.J. Shelton that they overlook a guy like Price.
Josiah is going to have his best game as a Spartan, approaching 100 receiving yards and a touchdown on six catches.
4. Struggles to stop the run continue
Through the first four games of the year, Michigan State has no issues stopping the run and it wasn't like it was facing no-name running backs. The Spartans held guys like Josh Adams, Corey Clement and Devine Redding to under 100 yards and they were considered a top-15 rushing defense in the country.
Since then, Michigan State has been gashed. Northwestern's Justin Jackson rushed for 188 yards against the Spartans and the Wildcats finished with 209 rushing yards as a team last week. The game before, BYU's Jamaal Williams recorded 163 rushing yards and the Cougars, as a team, racked up 260 total.
That's about 235 rushing yards per game over the past two weeks, and those struggles are going to continue against Maryland this week. Although I believe the secondary will step up and shut down the Terrapins' lackluster passing attack, the front-seven will have a tough time with the run game yet again.
Senior Trey Edmunds went down with a broken foot a couple of weeks ago for the Terrapins, but they have a freshman, Lorenzo Harrison, and sophomore, Ty Johnson, who each average over 8.3 yards per carry.
Expect those two to have big games against the Spartans this week and near 200 yards once more.
3. Spartans combine for over 200 rushing yards
An area of attack in which the Spartans should key on is the run game. Although Michigan State is averaging just under 140 yards per game on the ground, it doesn't mean that the talent in the backfield just isn't there, it's because the Spartans are constantly trying to play catch-up through the air.
LJ Scott happens to be one of the best running backs the Big Ten has to offer. He has just 336 yards and two touchdowns on the year, but I expect that number to grow to about 450 and four touchdowns after this one. Facing one of the worst rushing defenses in the conference, the Spartans should attack Maryland's weakness.
Unfortunately, the Terrapins have been solid against the pass this season, but again, they haven't faced many great passing offenses. Even last week against Minnesota which has Mitch Leidner, the Golden Gophers had to rely on a backup who had never started before since the senior was out. That goes to show the kind of luck this defense has had with opposing QBs.
Getting gashed for about 180 yards per game on the ground, ranking 82nd in the country, Maryland should be weary of a strong backfield with Scott, Gerald Holmes and Madre London. Add in a starting quarterback that can run and the Terrapins have a major problem on their hands.
Michigan State is going to rack up over 200 rushing yards for the first time since playing Notre Dame.
2. Defensive line records three sacks
This is one of those predictions I seem to stick to on a weekly basis because I think it's just a matter of time before Michigan State's defensive line gets back its mojo. The Spartans recorded their first sack in three week against Northwestern and they'll try to tack on against one of the worst offensive lines in the conference.
How bad has Maryland's offensive line been? Well, on average, the Terrapins all 3.17 sacks per game which ranks them 115th in the country.
Looking at Maryland's schedule, it hasn't necessarily played against a team with an elite pass rush just yet. The only team the Terrapins have played that has ranked in the top-50 in terms of team sacks was Penn State (37th).
That definitely bodes well for Michigan State who has just six sacks on the season and is hoping to add a few to the total in order to average more than one per contest. The Spartans have talent on the defensive line, and you're about to see it in action.
Malik McDowell will finish with 1.5 sacks, Raequan Williams will record one and Demetrius Cooper will add a half-sack.
1. Brian Lewerke stars, leads Spartans to victory
There should be no other option at quarterback to start this week other than Brian Lewerke, but you better believe the coaching staff is going to give Tyler O'Connor serious consideration. After the second half that O'Connor had against Northwestern, he played himself into the discussion once again — as if he had ever truly left.
Must Read: MSU Football: 5 breakout candidates vs. Maryland
Through the first quarter of play against Northwestern, people were clamoring for the continuation of the Lewerke era. He was looking solid and threw a beautiful touch pass to Josiah Price in the end zone for his first career touchdown pass.
However, a brutal safety on a missed block by Miguel Machado seemed to rattle the redshirt freshman and the offense stalled for the remainder of the half and the first few minutes of the third quarter. Northwestern built a 33-17 lead and then O'Connor came in to give the offense a spark.
Michigan State rallied and came with two points, but the Wildcats scored on the ensuing kickoff and never looked back.
Lewerke still played well and completed 12-of-19 passes for 99 yards and a touchdown, rushing for a team-high 30 yards. He will start this one, or at least he should, and will lead Michigan State to a much-needed victory.
Let the Lewerke era begin.
This article originally appeared on