Michigan Football vs Colorado: 3 Predictions for the Wolverines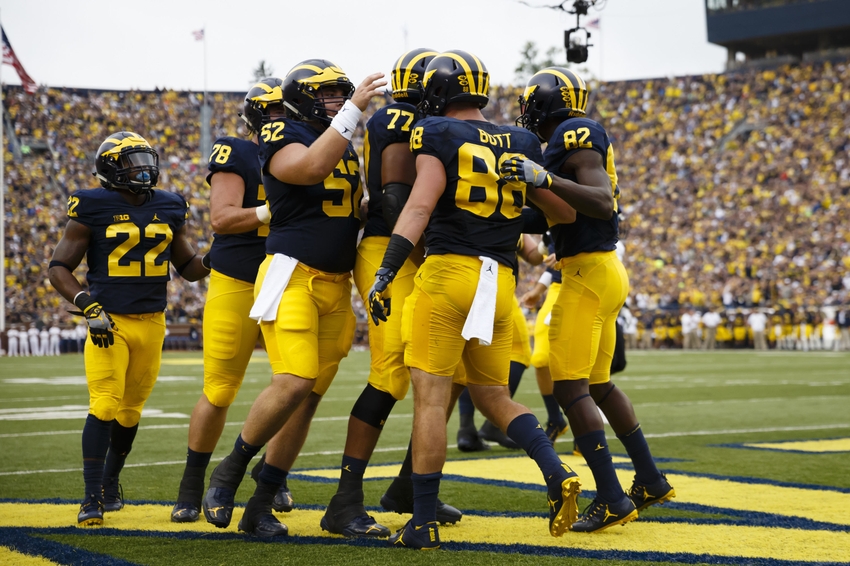 It's been 22 since years since Colorado shocked Michigan football with a Hail Mary pass. Saturday, the Buffaloes will try to shock the Wolverines again, here are three predictions for the game.
Ever since Kordell Stewart threw that touchdown to beat Michigan football in 1994, it's always interesting when the Wolverines and Buffaloes get together.
This Saturday, at 2:30 p.m., CST, the two teams will renew their series as Michigan football will host Colorado inside the Big House in its final non-conference game of 2016.
After rolling their first two opponents will little to no resistance, the Wolverines will face a Colorado team that is unproven, but is 2-0. The Buffaloes smashed both Colorado State and Idaho State and looked impressive doing so.
Many people have asked… So as we continue to prep for Colorado, here's the cover photo for this week. #GoBlue pic.twitter.com/6WLPgBA18R

— Michigan Football (@UMichFootball) September 14, 2016
Colorado has a talented defense and a quarterback in Sefo Liufau, who is equally dangerous as both a runner and thrower. The Buffaloes also have a tremendous pass defense and will provide a true test for the skills of new Wolverines' quarterback Wilton Speight.
With Big-Ten play starting next week (Penn State), Michigan needed a test; not necessarily a test on the scoreboard, but just to play someone that will closely resemble what the Wolverines will see in conference.
The Buffaloes may not be a powerhouse, but they aren't to be taken lightly either. Leading up to Saturday's game, here are three predictions for the Wolverines.
Running game will bounce back
One of the big talking points coming out of Michigan's 51-14 win over Central Florida last week, was the Wolverines' inability run the football.
On 41 carries, the Wolverines managed just 119 yards and averaged a meager 2.9 yards per carry. In the end, it didn't matter because Wilton Speight and the passing game carried the offense. But down the road, in the Big Ten, running the football will matter.
That's why I have a feeling that the running game will bounce back this week.
One Michigan player certainly agrees and in fact, offensive line Kyle Kalis took it one step further, calling on fans to relax about the run game.
"They've got to relax. They've got to relax," Kalis said with a laugh. "We'll be fine. … Some fans don't really understand the game of football to the level that people who play it do. When they stack the box like that and they're (crowding) the run game, you don't get mad as an o-lineman. You pass the ball.

"Scheme-wise, that's what you have and that's what we did. They can relax. Everything's fine."
We're all about constant improvement. Catch @CoachJim4UM's Monday presser.

WATCH » https://t.co/fPjSGZuVdb pic.twitter.com/9SFLTWkOL6

— Michigan Football (@UMichFootball) September 13, 2016
As coach Harbaugh said earlier this week, there is still plenty of things his team to improve on and this week, one of those improvements will be the running game. Less than 200 yards on the ground for the Wolverines would be a surprise.
Sefo Liufau will cause problems for Michigan's defense
Through two games, Liufau has been stellar at quarterback for Colorado. He's been an efficient passer, completing more than 71 percent of his pass attempts, while also averaging better than 250 yards per game.
Yet, the Buffaloes signal caller can get it done in more ways than one. He may not look like the most mobile quarterback, but he knows how to use his feet. Thus far this season, he is Colorado's second leading rusher with 120 yards and we all know Michigan football tends to struggle with running QB's.
The other issue is that Michigan is a little thin in the secondary and with their best cover corner in Jourdan Lewis not expected to play, Liufau is more than capable of doing damage with his arm, as well as his feet.
Now, Michigan obviously has one of the elite defenses in college football, especially along the defensive line. So Liufau may have some success, but it's still hard to see Colorado scoring more than a few times.
Wilton Speight and Michigan football will roll
Speight really came into his own in last week's win over UCF. All day, the young quarterback faced 8-man boxes and made the Knights pay.
With Jake Butt, Jehu Chesson and Amara Darboh, Speight doesn't have to be spectacular, just good enough to give those guys a chance to make a play, because more often than not, they will.
Wilton Speight (312 yards, 4 TDs) is your B1G Offensive Player of the Week! #GoBlue » https://t.co/fRFyi1hqHt pic.twitter.com/4A1Dvbp8p8

— Michigan Football (@UMichFootball) September 12, 2016
Colorado has a good secondary and is stingy, but expect Speight to have a solid game. He's accurate and makes good decisions and while he may not have another 300-yard game, 200-some yards and a couple TD's sounds about right.
With all that said, even though Colorado will offer more of a challenge, the Wolverines should roll.
It should be a competitive game, more competitive than the first two, but in the end, the Wolverines should run away with it.
This article originally appeared on