In praise of Daniel Cage, Notre Dame's not-really breakout star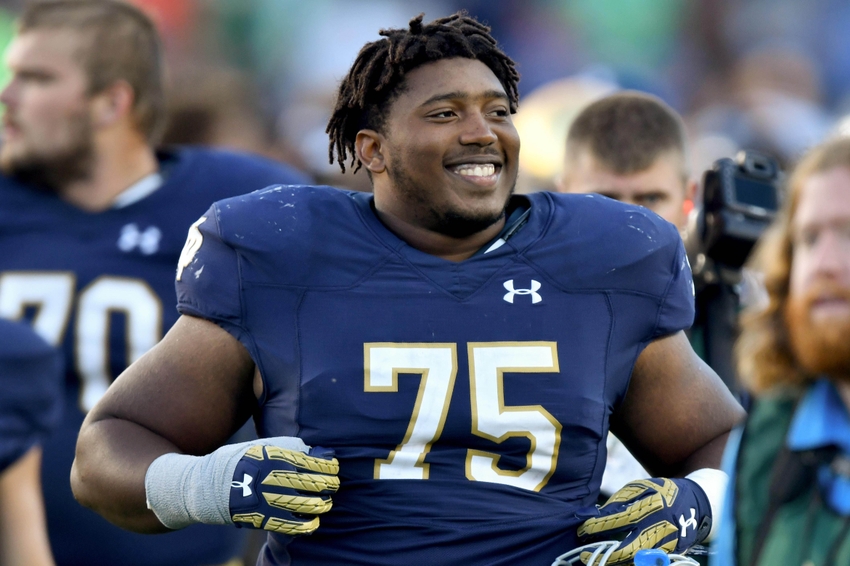 Through two games in 2016, one of the most pleasant surprises for Notre Dame has been the play of defensive lineman Daniel Cage. Haven't you noticed?
Daniel Cage has just two tackles this season, one each against Texas and Nevada. The junior has been splitting time with Jarron Jones at nose tackle and hasn't had an interception to make waves like Jones did against the Wolf Pack.
But to those paying attention, Cage might be one of the best, most consistent players on Notre Dame's defense. Stats alone don't capture the impact he has had, but make no mistake, Brian Kelly has taken note.
After the game against Nevada, Kelly had this to say about Cage: "This was the best game he's played since he's been at Notre Dame. Back-to-back weeks is usually the first level of finding that kind of player that is elevating …  "
Cage came to Notre Dame as a four-star recruit from Cincinnati, a 6-foot-1, 275 pound monster in the middle of the defensive line. But despite his physical gifts and high ranking, he failed to garner much interest from most of the bluebloods in college football: Michigan, Alabama, Georgia, Penn State, Wisconsin and, most notably, his home state school, Ohio State.
Notre Dame and Michigan State were the two main contenders for his services, and Kelly recalled earlier this week how the Irish were one of the few to see potential in him from early on.
"In the recruitment process, there were mitigating factors there," Kelly said. "He had to really push late to elevate himself and his profile in other areas and he did a very good job, and I was quite familiar with him being from Winton Woods High School. But we wanted him, and he did some things late that helped out his candidacy."
Fast forward two years, and Cage was elevated to the starting position at the beginning of 2015 when Jones tore his MCL in August. With the limelight of Showtime's "A Season With" following the team around constantly, Cage could've been a breakout star, the big sophomore stepping in on a veteran line full of big personalities.
Instead, freshman Jerry Tillery became that guy. The cameras loved Tillery, and Tillery loved the cameras. Pretty soon, all the fans knew "Terry Jillery" and all the other antics Sheldon Day and Tillery got up to. Cage, meanwhile, faded into the background.
And that's why no one seemed to notice that it was Cage, not Tillery, who started most games at nose tackle last season. He had 18 tackles, hardly an overwhelming amount, but four of them were for a loss, tied with Joe Schmidt for seventh on the team.
Tillery was recognized as the defensive newcomer of the year at the awards banquet, but Cage put himself into the discussion to compete for snaps with Jones once he finally did return.
Which leads to this season. Against Texas, Notre Dame's front seven was torched for 237 rushing yards and five touchdowns by the Longhorns. It was, all in all, a humiliating performance. But Cage was one of the lone bright spots, earning Pro Football Focus's highest grade among all Notre Dame defenders.
And he kept that momentum going against Nevada, especially on the Wolf Pack's first drive, when they were marching down the field and went for it on fourth-and-1 in the Irish red zone, only for Cage to blow up the run play in the middle of the line and give the ball back to the offense.
Afterwards, captain James Onwualu pointed to that play as a turning point for the Irish, an immensely important stop that prevented any post-Texas hangover from extending too far against Nevada.
But Cage wasn't done. In the second quarter, with Nevada pinned deep in its own territory, Cage burst through the line once more and hit the Nevada QB right as he threw. The play was initially ruled a fumble and the Wolf Pack recovered it near their own goal line, but it was eventually ruled an incompletion, the first pass deflection of Cage's career.
Afterwards, here's what Brian Kelly said about his play: "He's had two really good weeks, and again this week he was outstanding."
Kelly went on to say that Cage has battled through some unusual health problems related to sleep apnea, which led him to not get enough rest in 2015, depleting his production. Now though, Kelly said, he's 100 percent healthy and playing the kind of football the coaching staff believed he could play since they recruited him.
Two tackles doesn't tell Cage's full story. And even if you haven't noticed, the right people have: Daniel Cage is breaking out.
This article originally appeared on