Houston Football: Major Applewhite Right Head Coach Choice for Growing Program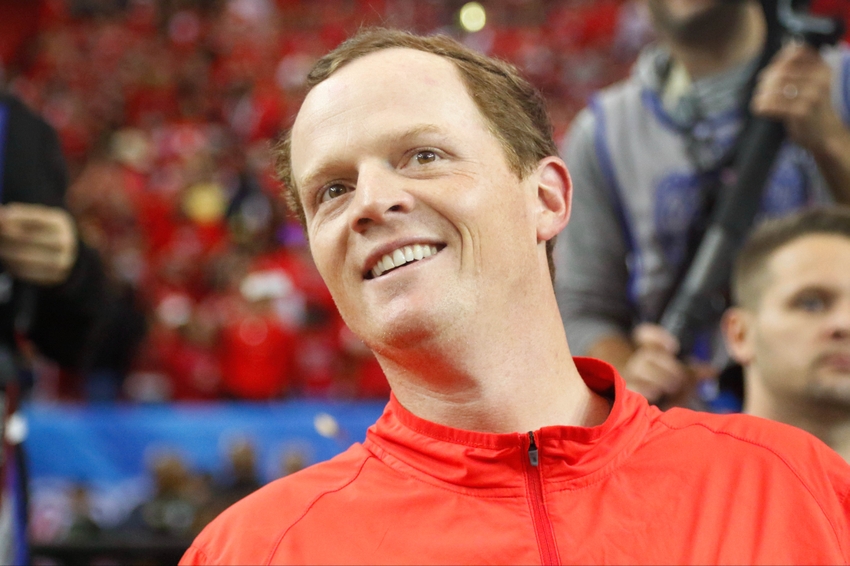 The Houston football program has a new head coach, as the school announced that offensive coordinator Major Applewhite has been promoted effective immediately.
It's certain that Houston Cougars football fans felt a bit of a sting when former head coach Tom Herman decided to take the job at Texas. Herman had taken the Cougars to the threshold of being a playoff team, and after only two years he was gone.
Some of the pain from losing Herman was alleviated today when the school announced that offensive coordinator Major Applewhite (another Texas product) was being promoted to head coach, and would be on the sidelines leading the Cougars against San Diego State in the Dec. 17 Las Vegas Bowl.
The 38-year-old former Longhorns quarterback has made fast rise up the coaching ranks, and with good reason. He's has an intuitive and creative offensive mind and knows how to help develop quarterbacks.
It's certain that Herman will miss having Applewhite to run the offense in his new Austin digs.
This was absolutely the right choice for an up-and-coming program who was in need of some stability. Bringing in one of the many outside candidates being considered – Oklahoma offensive coordinator Lincoln Riley, Alabama offensive coordinator Lane Kiffin, and former LSU head coach Les Miles – would have caused some unneeded upheaval.
This will be Applewhite's first head coach position, and it couldn't come at a better time. Houston is primed to continue growing, and the cupboard is stocked with plenty of talent for the new head coach to utilize.
The Cougars were known for innovative and explosive offense under Herman, and little will change under Applewhite's direction. If he can convince defensive coordinator Todd Orlando to stay on, then the Houston defense which finished 27th nationally in scoring defense last season will keep the Cougars in a lot of games.
From Sports Illustrated, Applewhite was quoted as saying:
"My family and I are excited and honored to have the opportunity to lead such a tradition rich program and continue our lives in one of the greatest cities is the nation, a city we love. The student-athletes truly are the backbone of every great program and as they've demonstrated over the past few years, we have an exceptional group of young men in our program, and we'll continue to add men with great character and a competitive drive in our recruiting."
In truth, the Cougars probably dodged a bullet with the Lane Kiffin deal dying on the vine. It's certain that Kiffin would have used Houston as a launching pad to bigger and better things, and with a young head coach like Applewhite, they can be reasonably sure they have a man who will take time to grow with this program.
Applewhite played his college football at the University of Texas, earning the Big 12's Offensive Player of the Year in 1999, and he lead Texas to a Holiday Bowl win over Washington in 2001. He served as an assistant coach with the Longhorns from 2008-2013 before joining Tom Herman's staff at Houston in 2015.
If you had Houston on your radar as a possible Group of Five entry to next year's playoff with Tom Herman as head coach, it's probably best to keep them on or close to that list with Applewhite taking over.
This article originally appeared on