FSU Football vs. North Carolina In-Depth Recap: What We Learned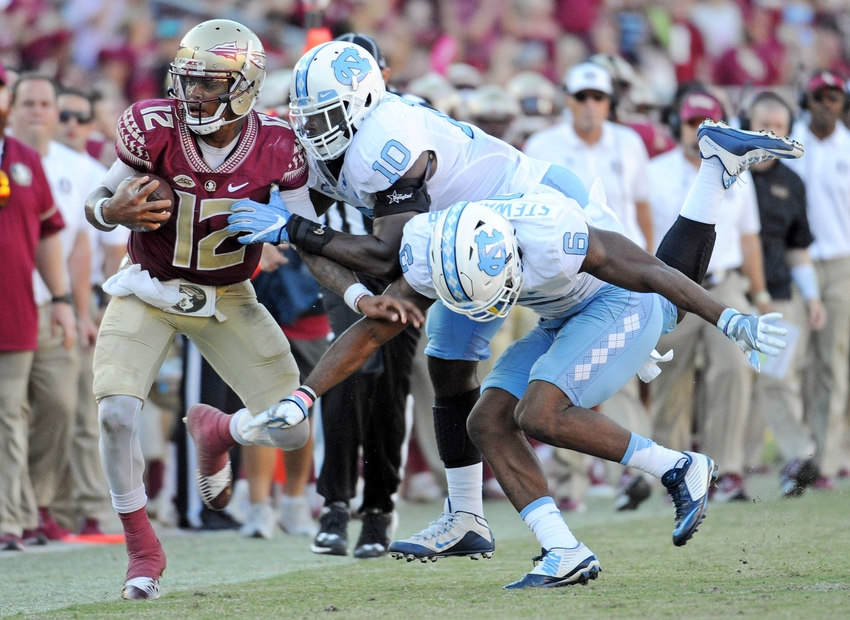 Here's the most in depth recap of FSU football and their latest game and what we learned from their loss against North Carolina.
In just a matter of seconds, everything the Florida State Seminoles worked for the entire preseason and through the first month of the 2016 campaign flew out the window. When the North Carolina Tar Heels connected on a 54-yard field goal with time expiring, the Seminoles' hopes of an ACC title or a spot in the CFB playoff expired as well.
Now, FSU football is left with plenty of questions that needs answers quickly – from a coaching staff that has fans screaming for changes to questions about just how bad things could get if adjustments are made soon.
Here's a look at what we learned from FSU football's latest game against the Tar Heels.
No. 1 – Lets start off with the one bright spot on the day – the play of running back Dalvin Cook. With over 140 yards on the ground and over 100 receiving, Cook has started to play like the star FSU football fans expected in the last two games after what could be generously called a disappointing first three games. With a game next week in his hometown against rival Miami, it will be interesting to see if he can keep it going for another week.
No. 2 – I've been more than willing to give Deondre Francois the benefit of the doubt for much of the first five games, but there were plenty of times Saturday where he looked every bit the part of a quarterback in over his head. Short hopping the ball, overthrowing badly and looking at his primary receiver the whole way when second and third options are wide open are just a few of the things he needs to fix if the Seminoles are going to salvage the season.
No. 3 – Of course, something that would help D12 big time would be if the offensive line would actually block worth a damn or not jump offside at least three times a game. You cannot hide that fact that the entire group – even All-American player Roderick Johnson – has disappointed the entire year to the point you have no faith in that segment of the team.
No. 4 – On defense, the hot and cold play of the FSU front seven was on display the entire game. There are times when DeMarcus Walker, Josh Sweat, Derrick Nnadi, Matthew Thomas and others look like world-beaters – and there are other times it looks like a feather could keep them from getting inside the opponents' backfield. With teams like Miami, Clemson and Florida looming, the front seven needs to shape up in a hurry.
No. 5 – Earlier in the week, we gave the Seminoles' secondary the worst grade out of any group through the first month of the season. Saturday's "effort" against the Tar Heels did nothing to help that case. The entire unit seems to think that the game of football is either tag or two hand touch, because there was almost no effort to come up and tackle the North Carolina receivers the entire game. If you don't think Brad Kaaya or Deshaun Watson are going to watch that film and salivate, you're crazy.
No. 6 – Lets all be honest for a moment – that game did not come down to a long field goal to win. Like many other games this season and in the previous two years, the Seminoles lived on borrowed time and thought that because they had comeback before, it was going to happen again and everything would be okay. You would like to hope this was a wake up call, but we won't know until next week against Miami.
Extra Point
I am one of the first people to say that there is no problem with celebrating after you do something – if people don't want to see it, they should stop you from scoring or making a big play that wins the game.
But, when North Carolina kicker Nick Weiler celebrated his massive kick by mocking the tomahawk chop in front of the FSU bench (joined by many other players), it was a display that could have started a massive issue had the Seminoles wanted to.
Does Weiler have every right to do it as he's in front of the UNC fans or going into the locker room? Of course. Would I have faulted someone in garnet and gold for knocking his head off for doing it in front of the bench? Not in the least.
Going For Two
So now, the Seminoles sit at 3-2 – their worst record at this point in the season since 2011 when they started off the year 2-3. It could get much worse very quickly if FSU football isn't careful.
With a game next week at Miami and one at the end of the month, the Seminoles could legitimately end up being 4-4 entering the month of November. With a game on the road at N.C. State (a spot that has given FSU nightmares over the years) and the regular season finale against Florida, a scary 6-6 finish could happen if FSU doesn't turn this thing around.
I'm not writing that because I want it to happen or even think it will – but FSU football fans, after much recent success, need to prepare for the idea that this season could end up far different than what was projected at the start of the year.
This article originally appeared on