College Football Rankings 2016: Week 2 AP Poll Winners and Losers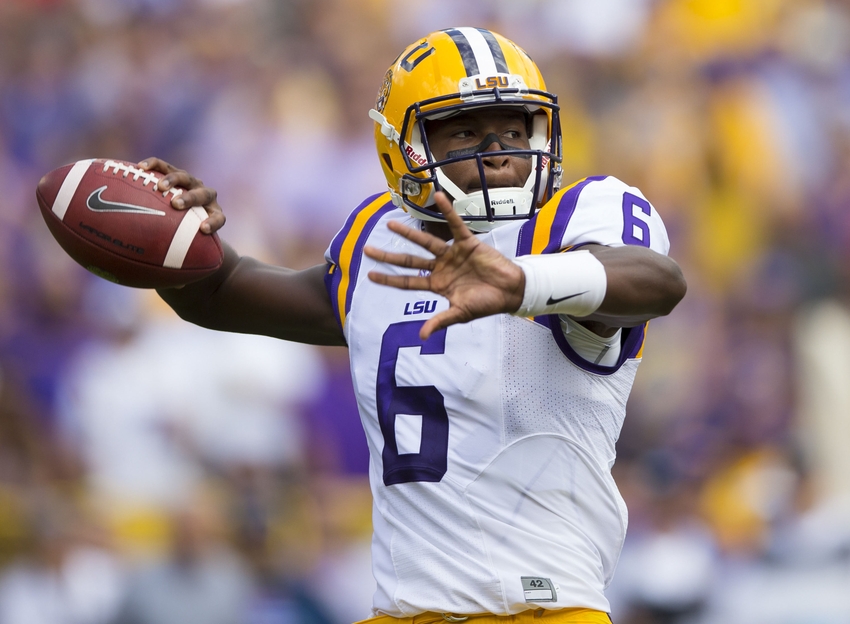 Saturday Blitz breaks down the biggest winners and losers from the first AP Top 25 Poll of the regular season.
It was a wild Week to mark the return of College Football. As the Week 1 polls are released, see which teams won and lost thanks to the latest Top 25 poll from the Associated Press.
For the entire Top 25 AP poll, check out their official website here.
Losers
21
LSU
Tigers
(0-1)
Last week:
16-14 L vs. Wisconsin
Last rank:
No. 5
The LSU Tigers AP ranking will certainly take a hit after losing their first season opener under Les Miles since 2004.
The LSU Tigers offense looked nonexistent outside of LSU Tigers' running back Leonard Fournette. Fournette rushed for 138 yards but did not score a touchdown. Quarterback Brandon Harris had 131 passing yards and a touchdown but also threw two interceptions.
Les Miles is certainly searching for answers on offense as things get a little easier for the Tigers next week. In week 2, they face Jacksonville State and although they've got their running back problem solved, they may want to get the quarterback situation solved as well.
NR
USC
Trojans
0-1
Last week:
52-6 L vs. Alabama
Last rank:
No. 22
The USC Trojans looked lost and were outplayed in a 52-6 rout by Alabama. The Trojans only managed to score 6 points on the national stage on the and it's going to take a lot for them to get back in the rankings now.
The USC Trojans only managed 194 yards of total offense and the Trojans only had 64 rushing yards against a very heavily rated Crimson Tide defense.
Losing by 60 points and being ranked is not okay. The Trojans may not be ranked for the rest of this season if they have more showings like this.
Winners
6
Houston
Cougars
(1-0)
Last week:
33-23 W vs. Oklahoma
Last rank:
No. 15
The Houston Cougars definitely strengthened their case for the College Football Playoffs with their opening season 33-23 victory over the Oklahoma Sooners. The Cougars started the season ranked 15th in the poll and could certainly see a huge jump in their ranking this week.
The defense played spectacularly, only allowing 70 rushing yards and sacking the Sooners five times on the day.
The Cougars will have to win out, though. It's possible, with their next possibly ranked game being against 19th ranked Louisville on November 17.
11
Texas
Longhorns
(1-)
Last week:
50-44 W vs. Notre Dame
Last rank:
NR
The University of Texas had a good week under Charlie Strong's second season as head coach. The Longhorns look like they have a winner with quarterback Shane Buechele at quarterback as well.
Longhorns' quarterback Buechele was stellar, going 16-26 with 280 passing yards and two touchdowns. He played like it wasn't his first college football game and certainly puts Texas in a position to upset some teams in Big 12 competition this season.
Tyrone Swoopes also proved useful as well. Swoopes rushed 10 times for 53 yards and three touchdowns, including the game winner in double overtime. He gave the Texas offense momentum when they needed it most.
Texas should definitely get the AP voters attention this week.
Winners, Part 2
8
Washington
Huskies
(1-0)
Last week:
48-13 W vs. Rutgers
Last rank:
No. 14
The Washington Huskies looked every bit like a top-10 team in their dominating win over the Rutgers Scarlet Knights. Of all of the teams in the Pac-12, the Huskies arguably looked the most dominant.
Moving forward, the Huskies will have to prove to the rest of the nation that they belong in the national title conversation despite teams like Stanford and Oregon in their conference. It's a long road ahead, but a Week 1 win could give them some serious momentum.
9
Georgia
Bulldogs
(1-0)
Last week:
33-24 W vs. UNC
Last rank:
No. 18
The Georgia Bulldogs could see their number 18 ranking go up to the top 10 after defeating the North Carolina Tar Heels in the Georgia Dome.
University of Georgia running back Nick Chubb looked good after returning from injury, rushing for 222 yards and two touchdowns. The Bulldogs running back look like he had missed a step, carrying the ball a hefty 32 times.
The Bulldogs were a bright spot for the SEC in the opening weekend, as seven teams in the nation's best conference lost in Week 1.
This article originally appeared on