Alabama Crimson Tide: Players of the Game, Week 4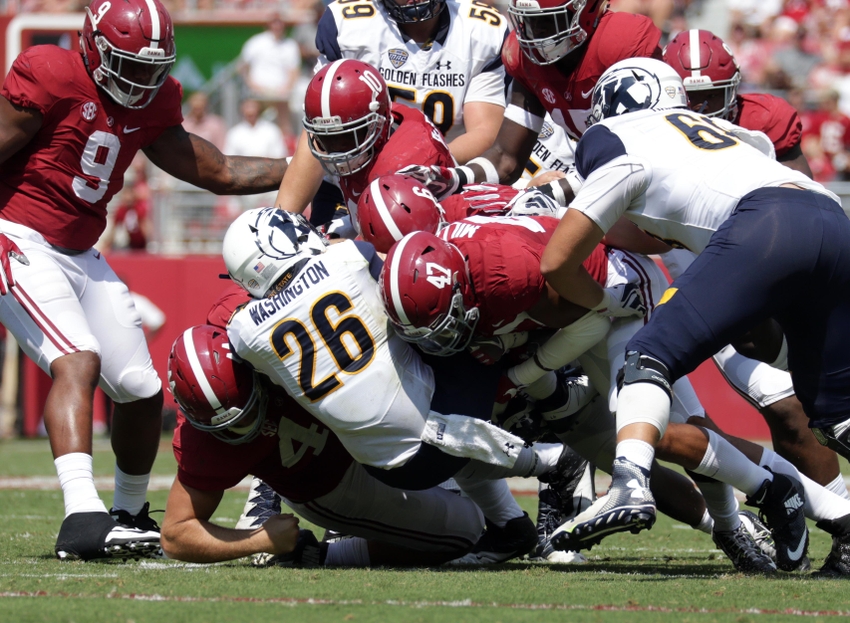 Alabama Crimson Tide squashed Kent State easily Saturday, and there were several players that upped their games.
Now THAT'S how you take care of an overmatched team in your home stadium. Tennessee, Arkansas, Mississippi State, and others should probably take some notes on how an SEC team is supposed to dominate from whistle to whistle.
Here are BammaHammer picks for MVP's on offense, defense, and special teams.
Offensive MVP
Joshua Jacobs
Everyone held their breath as last week's Crimson Tide MVP was carted off the field with an ankle injury, but Jacobs picked right up where Harris left off and rumbled for 97 yards and a couple of touchdowns. He had one beautiful 24-yard TD run that had the Alabama crowd ready to crown him the next Mark Ingram. Hopefully Harris can come back soon, but Jacobs certainly eased the minds of many who were worried about the Alabama Crimson Tide run game.
Honorable Mentions: Jalen Hurts (QB), OJ Howard (TE), Mack Wilson (FB, LB, WR, TE, ??)
Defensive MVP
Reuben Foster
Reuben stepped into some very large shoes this year, replacing Crimson Tide standout Reggie Ragland, and to this point he's done a fantastic job. Hard hitting (just ask Leonard Fournette and Chad Kelly) , always around the ball, gets everyone lined up, and did I mention he's hard hitting? On a day when the defense dominated, we'll give this one to the defensive QB.
Honorable Mentions: Minkah Fitzpatrick (CB), Tim Williams (LB), Christian Miller (LB)
Special Teams MVP
Adam Griffith
Call me crazy, but when Adam Griffith hits a 48-yard field goal that would have been good from 60, you recognize him for it. Is it too much to hope that this is a turning point for Griff? Probably, but I didn't think I would get  a chance to use a picture of him this year, so I'm gonna go for it.
Honorable Mentions: Xavian Marks (PR), JK Scott (P)
Thanks for checking in with us, Gumps! We hope everyone has a fantastic week. Tune in Saturday to ESPN and watch the Alabama Crimson Tide take on the Kentucky Wildcats. BamaHammer will cover all the action live on Twitter, and come at you fast with updates from the game. Roll Tide!
This article originally appeared on