4 reasons why Nick Chubb will not win the Heisman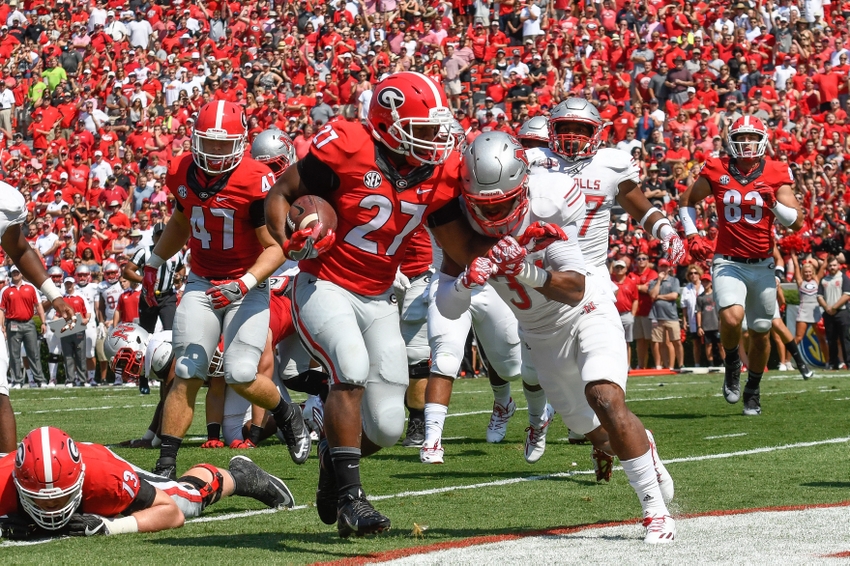 Nick Chubb is still a Heisman candidate despite his mediocre rushing performance last Saturday.
Chubb is one of the best running backs in college football today. He eclipsed 2,500 career rushing yards two weeks ago, and it only took him 20 games to do so (19 if you exclude last years Tennessee game where he was injured on the first play of the game).
He is the most popular Heisman Trophy contender around Athens, and he is certainly high on the watch list of most voters. But it takes more than just great stats to win the Heisman, you have to be the most outstanding player in FBS college football.
That being said, here are four reasons why Heisman voters may look elsewhere to name someone the most outstanding college football player rather than C
4. Lamar Jackson
In just two games this season, the Louisville quarterback has 697 passing yards and 318 rushing yards. He also has six rushing touchdowns and seven passing touchdowns.
That is 1,015 yards and 13 touchdowns by one player in two games. He is the Cardinals offense. Of course it is early in the 2016 season, and Florida State is visiting this week, but if Jackson continues to carry their offense at the pace of 400-to-500 yards per game, it will be hard to vote for anyone other than Jackson. Especially if the Cardinals keep winning.
3. Sony Michel
Just ask former Arkansas star rusher Darren McFadden. Nothing can dampen your Heisman hopes quite like a great back-up running back. For Chubb, Sony Michel is his Felix Jones.
The nation has already seen what Michel can do as a starter; he rushed for over 1,000 yards last year with Chubb injured. Voters may decline to vote for Chubb to win the Heisman knowing that his backup is really only a step behind him.
Some will point to Trent Richardson's 800 yard year in Mark Ingram's Heisman season to show that Michel might not keep Chubb from winning. But time will tell.
2. Georgia's offensive line
This past Saturday, Nick Chubb was held to 80 yards rushing on 20 carries against Nicholls State. That was against a team, who has not had a winning record on the FCS level since 2006.
All game the line struggled to open up holes, and they could not keep defenders out of the backfield. Of course Nicholls State keyed on Chubb all game, that is evident from how successful misdirection plays with Isaiah McKenzie were.
Better opponents will not need to key on Chubb or load the box if the offensive line does not improve. And until Georgia can get more consistent in the passing game, they will need to lean on Chubb.
1. Deshaun Watson
Last year's Heisman runner-up as a sophomore clearly is going to be the front-runner early in the season. Watson lead Clemson to their best season since 1981, and they just missed out on a national championship.
More from Dawn of the Dawg
He may not have the video game stats that Jackson has, but he is the proven leader between the two. Jackson has a chance to prove his legitimacy this week, but Watson has already proven himself.
Besides Ingram and Derek Henry, the Heisman voters have leaned towards quarterbacks in the last 10 years. Eight of the last ten were quarterbacks. There also seems to be bonus points for quarterbacks who can also run like Tim Tebow, Cam Newton and Robert Griffin III.
Watson and Jackson are both mobile guys, who will run for a lot of yards to go with their big passing numbers in 2016. However, Ingram beat out Tebow, and Henry beat out Watson, so a running back winning the Heisman over a quarterback can be done in the modern era.
Overall, Nick Chubb is a dynamic running back, but he will not win the Heisman this year. There are just too many other outstanding players, and when your offensive line cannot block, it is hard to pump up your Heisman stats. However, only time will tell what will happen.
This article originally appeared on