UNC Basketball: Wildcats vs. Tar Heels game preview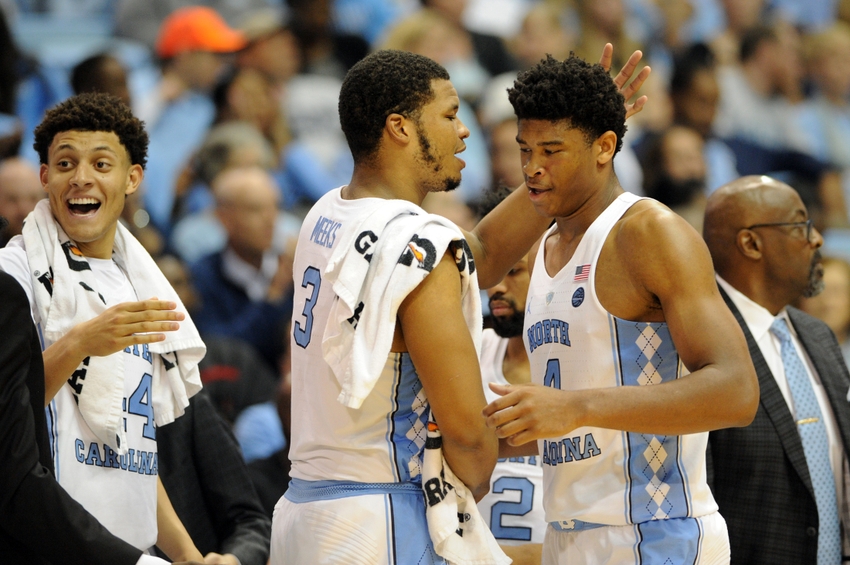 After a huge win on their return home, the Tar Heels take on Davidson. What do the Wildcats bring to the table? 
There's no place like home.
That has to be what the Tar Heels said on Sunday afternoon when they played their first home game in 19 days.
As most would expect against a team with a 3-4 record, the Tar Heels were dominant.
The bad news is Joel Berry II may be out for a while with an ankle injury.
Luckily the Heels have a couple more home games before their next big test against Kentucky in Las Vegas.
Up next is Davidson.
So what do the Heels need to know about the Wildcats?
Davidson Wildcats
Head Coach: Bob McKillop. Current record 516-315. This is McKillop's 28th season with the Wildcats and his only head coaching job. Often forgotten in the light of guys like Mark Few, McKillop's tenure at Davidson has been impressive.
Conference: The Wildcats play in the Atlantic 10 conference. Last season they finished sixth overall with a 10-8 record. After losing in the semifinals of the A-10 tournament, Davidson was invited to the NIT where they lost in the first round to Florida State.
Best Former Player: Steph Curry. Maybe you've heard of him? The two-time reigning NBA MVP holds six NBA records. The former world champion is also a three-time All-Star and three-time All-NBA player. He currently has 11,088 points, 3,416 assists, and 2,129 rebounds in just 7 seasons in the NBA.
This Season: The Wildcats are 5-2 this season with wins over Arizona State and Missouri. They are 0-1 against the ACC with a 95-78 loss to Clemson in November. Davidson is averaging 74.3 points a game which is good for 170th in the nation.
Key Players
Davidson: G Jack Gibbs
The Senior guard is living up to preseason expectations surrounding him. He leads the team in scoring and assists. He has also been a rock from the free-throw line, hitting 43 of his 50 free throw attempts this season. With Joel Berry II either out, Gibbs will find it a lot easier going up against his replacement.
North Carolina: G Kenny Williams
The sophomore guard had his coming out party on Sunday against Radford. He set career highs in points and three-pointers made, and that was just in the first five minutes of the game. He finished the game with 19 points on 7-of-10 shooting, including 5-of-6 from behind the arc.
Kenny Williams becoming a consistent deep threat is one of the few final components the Tar Heels to challenge for a national championship.
Impact Freshmen
Davidson: G Jon Axel Gudmundsson
Gudmundsson is a 6-foot-4 guard from Iceland. He has played in seven games this season and is averaging seven points and four rebounds in 29 minutes of play. Like Gibbs, Gudmundsson will be key against a UNC team without their floor general for this game.
North Carolina: G Seventh Woods
With the injury to Joel Berry II, Woods gets another look. He played a season-high 22 minutes against Radford, mainly due to Berry being injured. In that time he finished with nine points, three rebounds and an assist.
He also had five turnovers. Three of those came back to back to back not long after Berry went out. Woods' development will be tested the next few games as Berry might not be available for a stretch of the season.
Three Questions
Will Davidson take advantage of a poor UNC perimeter defense?
UNC has been susceptible to good three-point shooting teams this season. Part of that has to do with all the offensive rebounds they are giving up. Those lead to second chance points and many times, that means open threes.
Radford hit only six threes against the Heels, but they are not a very good three-point shooting team. Davidson averages almost 10 made threes a game. It is definitely something to keep an eye on.
Who can step up in the absence of Joel Berry II?
The obvious candidates are Nate Britt and Seventh Woods. Britt will probably get the start alongside Kenny Williams in the back court. Britt brings the age and the experience. Woods brings the potential for pizzazz. Britt is the safer choice. Woods is the higher risk but greater reward.
The Heels will need a healthy Berry when they play Kentucky. This also allows Nate Britt and Seventh Woods to get some meaningful reps at the point and create depth for one of the few weak spots on the roster.
What should Kenny Williams nickname be?
How big was Kenny Williams breakout on Sunday? Not only did he get a spotlight in the impact players section, but he also gets a question here. My top two votes are "Kenny Thrilliams" and "Three-NE Williams".
What do you think? Let us know in the comments.
Prediction
Davidson has gotten most of their wins this season against lesser competition. Jack Gibbs is good and without Joel Berry the Tar Heels will have some point guard issues. However, UNC is playing focused and they are definitely not the level of competition that Davidson has been playing this season.
Final Score: 93-72 UNC over Davidson. Better teams usually win at home and UNC is definitely the better team. Davidson will keep it close for most of the first half. However, Nate Britt or Seventh Woods steps up as Joel Berry's court replacement and the Heels roll in the second half.
More from Keeping It Heel
This article originally appeared on