UCLA Basketball Gets Big Production From the Big Men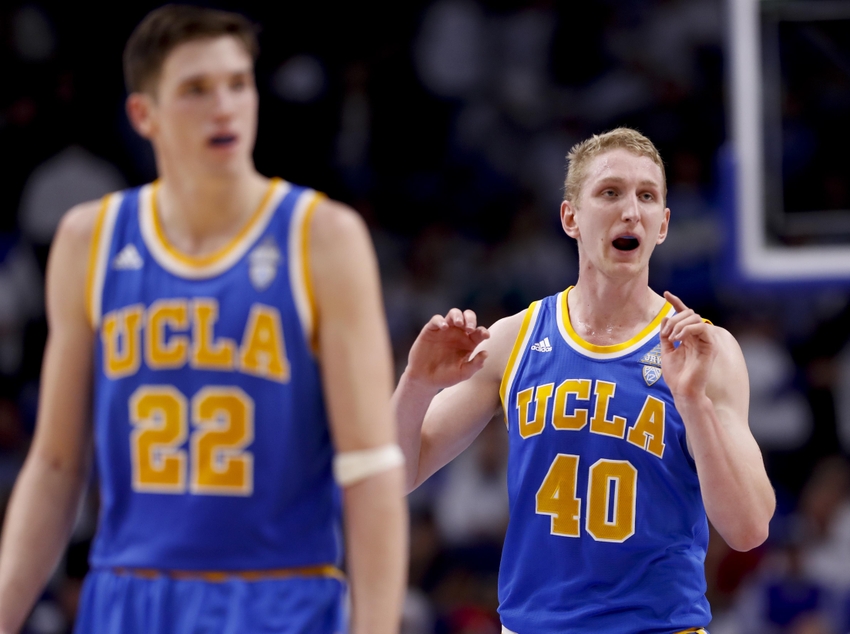 Between Thomas Welsh, TJ Leaf and Ike Anigbogu, the UCLA Basketball team is dominating the frontcourt this season.
The UCLA Basketball team is in full remission from their abysmal 2015-16 season. From style to roster management to development, the Bruins have taken a step forward in every facet of their game.
A big reason for that (pun intended) is the Bruin front court. Thomas Welsh, TJ Leaf and Ike Anigbogu are bringing another dimension to the UCLA's interior and it is paying dividends.
UCLA started the season with only Welsh and Leaf as Anigbogu was recovering from a meniscus tear. Since the start of the season, the two big men have been an offensive threat.
Through nine games, Welsh and Leaf have combined for nine double-doubles. Last Saturday, Leaf claimed is 4th and biggest of the year against Kentucky as he dominated down low.
Leaf had 17 points and 13 rebounds with 5 assists, 1 steal and 1 block, good enough to be named the Pac-12 and National Player of the Week. On the year he is averaging 17.2 ppg and 9.4 rpg. This is definitely a freshman to keep an eye on.
Welsh may not have the finesse that Leaf possesses, but he is getting his points a different way. Since the beginning of last year, Welsh has been developing his short to mid-range shot, which has developed nicely and this season, the Bruins have a big man as another shooting option.
And why not? Welsh is nearly automatic from within 15 feet. This season he is 3rd on the team in field goal percentage with .573.
Welsh has also been more of a defensive presence this season. So far he is averaging 9.6 rpg and 2.2 blocks, both marks are improvements from last season.
Now focusing on defense, it is safe to say that it is slowly improving, but it got even stronger in the last week. Freshman center Anigbogu has finally joined the team and though he is patiently coming along, he is already making himself a presence under the rim.
He does not have the numbers (3.8 ppg, 3.5 rpg, 1.8 blk in 4 games) as Welsh or Leaf, but it is the little things he is doing (blocking shots, changing shots, forcing players out of the lane, etc.) that is making UCLA scary under the rim. Though he fouled out against Kentucky, his 6 pts, 6 rebs and 2 blocks were essential against the tough Wildcat team.
Most of the time Anigbogu was in the game, he was battling for position against UK's big man Edrice Adebayo and a few times it looked like a wrestling match. But that is what UCLA needs. Just like Alfred Aboya and Lorenzo Mata-Real in the Ben Howland years, the Steve Alford Bruins finally have a physical big man that can push people around. This is going to help UCLA on so many levels going forward.
The Bruins have big men that can score and big men that can defend. If teams are going to try and stop the Bruin Bigs, they are going to have to be better than UCLA, and right now, there are not many teams that can say they have a better front court than the Bruins.
This article originally appeared on