Syracuse Basketball Defeated by Wisconsin 77-60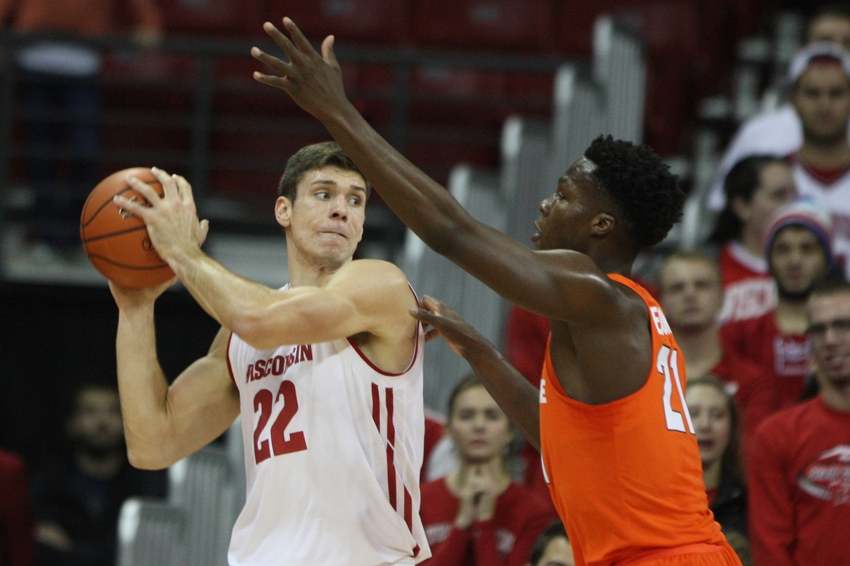 The Syracuse basketball team continued their early season struggles with their second straight loss to the Wisconsin Badgers. What went wrong and how can they fix it?
As Syracuse looked to rebound after their game against South Carolina on Saturday, they were dealt another blow-out loss when they were picked apart by #17 Wisconsin. Once again, it was a rough game for the Orange as they continue to struggle early in the season. There is no question this team is in a slump right now. But what is really going wrong?
It all starts on the defensive end. Over the past two games, Syracuse has allowed shooting percentages of 45% and 49%. Credit to both South Carolina and Wisconsin, but the 2-3 zone has simply not clicked thus far. A lot of that has to do with the defense in the back court. Frank Howard and John Gillon's inexperience in the 2-3 zone is being exposed. This allows easier passes into the paint and therefore the opportunity to score down low. It leaves the big men very vulnerable because they are put into one on one situations.
That was evident last night, as Ethan Happ scored an impressive 24 points (10-12) and grabbed 13 rebounds, six of those which were offensive. Happ is a great player, but a stat line of that nature shows the flaws in Syracuse's defense.
Happ wasn't the only Wisconsin player who had the hot hand. Bronson Koenig was absolutely deadly from behind the arc. He finished with 20 points, as he shot 6-9 from three point range. Again, credit to Wisconsin for their hot shooting, but they were able to do this by shredding the zone defense. By making the extra pass on each possession, they were able to constantly find an open man and get off a good shot. Their offense has a clear identity and they were able to be very efficient.
Syracuse, on the other hand, has struggled to find their identity on offense. First off, they don't
More from Inside the Loud House
have a true starting point guard. Even though Howard got the start, Gillon still played 24 minutes compared to Howard's 16. This lack of consistency at the point guard position is hurting the team because depending on who is playing the point, it looks like two different offenses.
Second, they struggle to get open looks. Part of the reason why Syracuse has shot so poorly the past two weeks (32% and 38%) is because they are forcing bad shots as the shot clock expires. It's a very isolation style of basketball. There are times where Lydon will be forced to take contested three's when he really has no business taking that shot. It's not his fault, there is just no offensive rhythm at times.
I wish I could say their defense in the paint was better, but it wasn't. Syracuse was out-rebounded by a whopping 40-25 and gave up 18 second chance points, compared to Wisconsin's 10.
After a nice offensive performance against South Carolina, Tyler Lydon followed it up with a less than stellar performance, as he finished with nine points (1-6 from 3-pt) and five rebounds. Nebraska-transfer Andrew White finished with 14 points, but shot an inefficient 5-15 from the field. The best performance from the Orange tonight came from the veteran center, Dajuan Coleman, who finished with 12 points on an efficient 5-7 shooting.
Freshman Tyus Battle was given 20 minutes by Coach Boeheim tonight and really looked lost on the court. He is hesitant to shoot the ball and looks slow in the zone. Obviously, he must be given the benefit of the doubt as it is very early in his college career, but it is fair to say that it's been a rough start for the highly touted guard. He finished the night with four points on 1-4 shooting and four fouls.
I said this after their first loss and I will say it again: It's not time to panic yet. This is a good, young roster with a hall of fame coach. Two losses won't dictate the entire season. There is no question that changes need to be made, but as always, in Boeheim we trust.
This article originally appeared on