Michigan State Basketball: Report card for Kentucky loss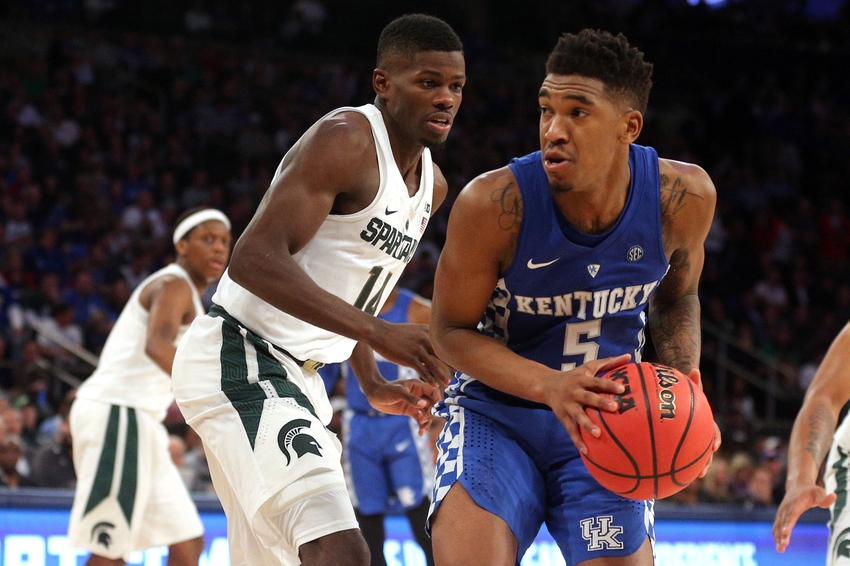 Michigan State basketball lost a tough game against No. 2 Kentucky on Tuesday night.
Suffering a second straight loss on Tuesday night at Madison Square Garden, Tom Izzo and Michigan State basketball acknowledged that they didn't play well — at all. The Spartans shot the ball like a glorified high school team and had a difficult time defending the athletic Kentucky Wildcats.
Before the game, I released my keys to victory for the Spartans and it seemed like none of those were taken care of. Michigan State turned the ball over way too much, missed a ton of free throws but did somehow win the rebound battle.
For a team that has been decimated by injuries to post players, the Spartans have been holding their own rebound-wise this season. Overall, it was a poor effort, though. Michigan State couldn't hit water if it fell out of a boat and the defense was subpar, at best.
Which player graded out the best on Tuesday night?
Lourawls
Nairn
PG,
Junior
C-
Man, when is Tum Tum Nairn going to be a bigger force on the offensive side of things? He's quick on defense and recovers nicely if he's ever beaten off the dribble, but he has been nothing more than a body who passes the ball around on offense.
At least when he was healthy last year or the year before, he would drive to the basket and draw defenders before kicking it out for an open three, but this season has been quiet.
Nairn's sluggish start may have something to do with the fact that he's not entirely comfortable with his jump shot, which makes sense. He has been working on it, reportedly, all summer long but has yet to prove that he can make a shot from 10-15 feet out.
The junior point guard had just two points and two rebounds with only one turnover and one assist. For a point guard, one assist throughout an entire game is a crime. Time to step up your game, Lourawls.
Eron
Harris
SG,
Senior
D+
There may not be a player on this team who has taken as big of a step back from last year than Eron Harris. The senior guard has been MIA through the first two games and Izzo has even put him on the pine through crucial moments in the second half. He had a very minimal impact on either side of the ball against Kentucky.
Before the season, all the talk was about how Harris was going to rise to the occasion and become the true leader of this team. Through two games, that hasn't been the case as he's disappeared on offense and his defense has been mediocre, at best.
Out of all the starters, Harris played the least amount of time. He was on the court just 13 minutes, which also happened to be the lowest amount on the team outside of Kyle Ahrens and Matt Van Dyk.
There's a reason why he found himself on the bench for most of the second half. Izzo was not happy with his out of control play, questionable defense and lack of shooting. He took only three shots when he was in and he's supposed to be the top offensive threat on the team.
Harris finished with a lackluster stat line of two points, three rebounds, one assists and three turnovers in 13 minutes.
Matt
McQuaid
G,
Sophomore
C
Although I think he's been solid, Matt McQuaid needs to step his game up another notch. He's in there for solid defense, which I think he has improved, as well as his shooting prowess. There's a reason Izzo has him in the starting lineup, but he has yet to show that this season.
Once again, he passed up some open shots, but when he did shoot, he made just 1-of-6 three-pointers. That's just unacceptable for a kid who is known for shooting the rock with infinite success. He played much better in last year's Champions Classic when the Spartans took down Kansas, but this year was a different story.
McQuaid played the third-most minutes on the team, 23, and still only finished with three points, two assists and a rebound. He didn't make any bonehead plays as he was the only starter who didn't commit a turnover, but he also didn't provide much on offense.
Not only that, but he committed four personal fouls and too often tried to take charges with his feet moving. He did draw a couple of offensive fouls, but then the refs caught on and whistled him for blocking infractions.
It's time for McQuaid to prove why he could be the scariest shooter in the Big Ten.
Kenny
Goins
PF/C,
Sophomore
A-
I have to say, Kenny Goins might be a fan favorite before the season is over. Sure, there are four freshmen on the team who could be the most exciting players on the team, but you can't overlook a former walk-on forward who has taken on a much larger role in 2016-17 with injuries to Gavin Schilling and Ben Carter.
Through two games, he may be the most consistent player on the team. In fact, he had a decent first game with four points and eight rebounds in 26 minutes and he followed that up with a solid nine-point, eight-rebound performance against Kentucky. Two games against elite opponents, averaging 6.5 points and 8.0 rebounds — not bad.
Goins has played primarily power forward or center for the Spartans and is performing much bigger than his 6-foot-6 frame. Not many former walk-on players can take on the role of starting center when a more natural positions would be power forward (even a stretch there) or small forward.
The sophomore forward/center played the second most minutes, 29, on the team and he was smart when he was on the floor. He only committed one foul and had one turnover which was a no-call in which he had his arm swiped and lost the ball.
Miles
Bridges
F,
Freshman
C-
If you didn't believe in growing pains before Tuesday night, you must be a believer now. Miles Bridges seemed immortal through his first two exhibition games, averaging 26.5 points per game, and the season-opener against Arizona in which he put up 21 points and seven rebounds.
Everything seemed to be going his way and he was only going to get better, however, his performance against Kentucky on Tuesday had to be the lowest moment of his college career. It's never easy for a freshman to come out and perform at an increasingly high level each time out when expectations are already unfair.
The pressure definitely got to him on Tuesday night as he crumbled in from of the Madison Square Garden crowd, finishing with just six points but he did grab a game-high 12 rebounds and had three blocks.
What hurt him the most was his inability to hold on to the ball. He had nine turnovers, which was the most of any player, and his three fouls didn't help his confidence, either.
It was clear at the end of the game he was demoralized, but he put his arm around Izzo with his head down and listened to what his coach had to tell him. He will only learn from this.
Bench
Players
Bench,
Michigan State
B+
The bench players really impressed me. From top to bottom, these guys played well, as a whole, and earned a B+ grade.
Must Read: MSU Basketball: 5 bold predictions for November
The sixth men have to be the trio of freshmen — Josh Langford, Nick Ward and Cassius Winston. Those three could be in the starting lineup before we know it, especially if Tum Tum, Harris and McQuaid don't hold their own.
Starting with Langford, he came in and still looked less than 100 percent with his hamstring bothering him. He might say he's feeling great, but he can play at a much higher level. He still played well, scoring five points with five rebounds and an assist in 19 minutes.
Winston continues to look like the top point guard on the team, but he needs to stay out of foul trouble. He did telegraph a couple of passes, but he finished with nine points and two assists in 22 minutes. His silky-smooth shot will keep him on the floor.
Ward impressed me with his aggressiveness down low and if he can get in better shape, there's a good chance he can play 20-plus minutes a game. He was on the court just 15 minutes and picked up four fouls, though. He had eight points and six rebounds as well.
Alvin Ellis struggled to find his shot, accounting for just four points on 1-of-5 shooting and grabbing two rebounds. Kyle Ahrens and Matt Van Dyk combined for seven minutes and didn't score.
This article originally appeared on