Men's Tennessee Basketball Preview vs Presbyterian: Live Stream, Game Time, TV Info for Vols & Blue Hose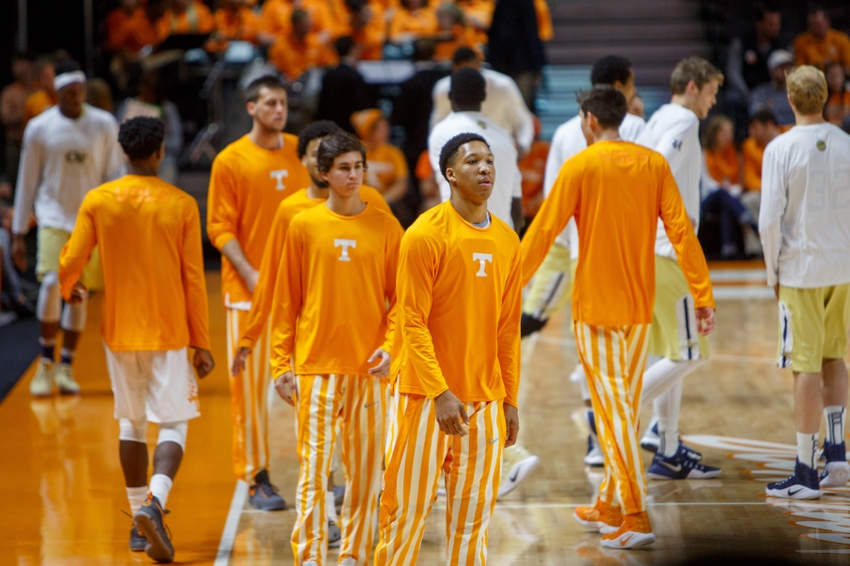 Men's Tennessee basketball returns will hosts the Presbyterian Blue Hose Tuesday night. Here is the preview and information for the Volunteers' game.
Coming off of a dominating victory over the Georgia Tech Yellow Jackets this past weekend, Rick Barnes's Vols return to the court Tuesday to take on the Presbyterian Blue Hose. Tennessee basketball will be looking to finally reach a winning record this year.
After a brutal schedule to start off the year, the Vols are on a two-game winning streak. Before that, they won over numerous fans with their hustle in Maui by nearly beating the Wisconsin Badgers and Oregon Ducks.
Now, at 3-3, the Vols get a breather game for maybe the first time all year. However, with this young team, Barnes knows he can never relax.
The Vols are currently in the midst of a five-game 13-day stretch. And this is one rare light game in a month with brutally tough opponents.
But they still can't relax too much.
Here is all the information you need to know about Tennessee basketball's Tuesday night game.
Presbyterian Blue Hose at Tennessee Volunteers
When: Tuesday, Dec. 6 at 7 p.m.
Where: Thompson-Boling Arena; Knoxville, Tenn.
TV: SEC Network Plus
Live Stream: WatchESPN
Presbyterian College is currently 3-4. They just got back on track after defeating Johnson and Wales last Thursday.
However, the Blue Hose are 0-4 away from home this year, so all signs point to the Vols winning. Still, you never know with Jordan Bone hurt and Admiral Schofield's status completely up in the air.
Add in the fact that Presbyterian is well-coached under 28-year veteran Greg Nibert, and this game is dangerous.
Tennessee basketball would like a breather game, but taking anything lightly could be dangerous for them.
And that happens when you have a young team made up of three-stars.
So while the Vols should win, it's not a guarantee.
More from All for Tennessee
This article originally appeared on