ASU WBB: Sun Devils Ranked Highly in Preseason Polls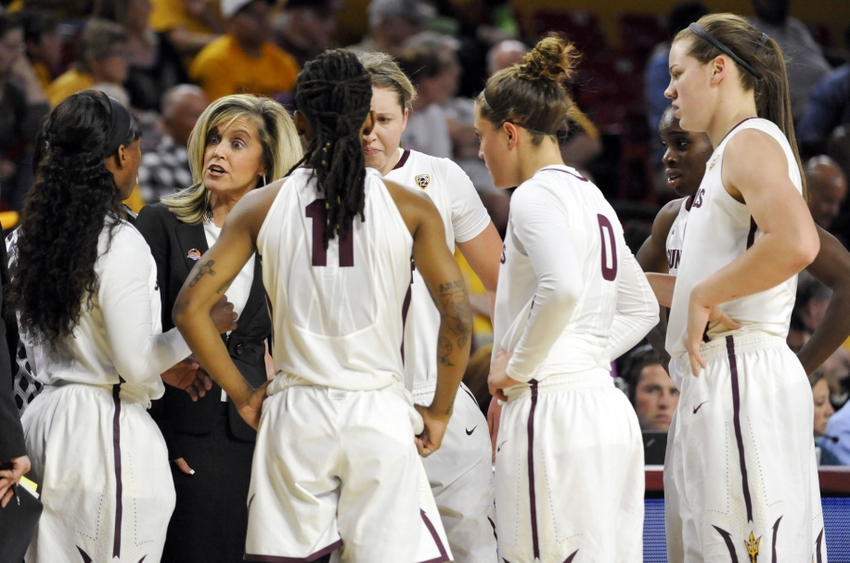 Coming off a 26-win season and a share of the Pac-12 regular season title, Arizona State women's basketball team is ranked to open up the 2016-17 season.
In the past week, the Sun Devils were ranked in the Preseason USA Today Coaches Poll and in the Preseason AP Poll.  Last week, Arizona State was ranked 16th in the Coaches Poll, the same spot they finished last season. In the AP Poll, they are ranked 18th after finishing last season ranked 11th.
It's no surprise to see the Sun Devils ranked with majority of their front court players returning. Starters Sophie Brunner, Quinn Dornstuader and Kelsey Moos are all returning for their senior season and should make a large impact.
More from Devils in Detail
The intriguing (and rather unknown) part of the Sun Devils is the collection of back court players. With Elisha Davis, Katie Hempen and Arnecia Hawkins graduated, the Sun Devils are relying on inexperienced players and a highly-touted freshman class. At Pac-12 Media Day, head coach Charli Turner Thorne said this was the deepest team she's had and one of her biggest and fastest teams.
While Arizona State is ranked in the Top 20, the Pac-12 is loaded with ranked teams. Including the Sun Devils, there are five ranked Pac-12 teams in the Coaches Poll. In the Coaches Poll, UCLA is ranked ninth, Stanford 10th, Washington 15th and Oregon State 17th. In the AP Poll, it's the same teams with UCLA ranked ninth, Stanford 11th, Washington 17th and Oregon State 25th.
In addition to the five ranked conference opponents, the Sun Devils will potentially face three ranked non-conference opponents. On November 25, Arizona State will play Maryland in Las Vegas at the South Point Thanksgiving Tournament. The Terrapins are ranked fifth in the Coaches Poll and sixth in the AP Poll. The following week in the ASU Classic, the Sun Devils could face the Florida Gators, who were ranked 20th in AP Poll and 24th in Coaches Poll. Lastly, the Sun Devils will travel to Lexington to face the Kentucky Wildcats on December 11, who were ranked 19th in both polls.
With the best recruiting class in school history set to make their debut, it should be another exciting season for Arizona State. While this is a young team, expectations are still high in Tempe for a team that should be a Pac-12 contender this season.
This article originally appeared on