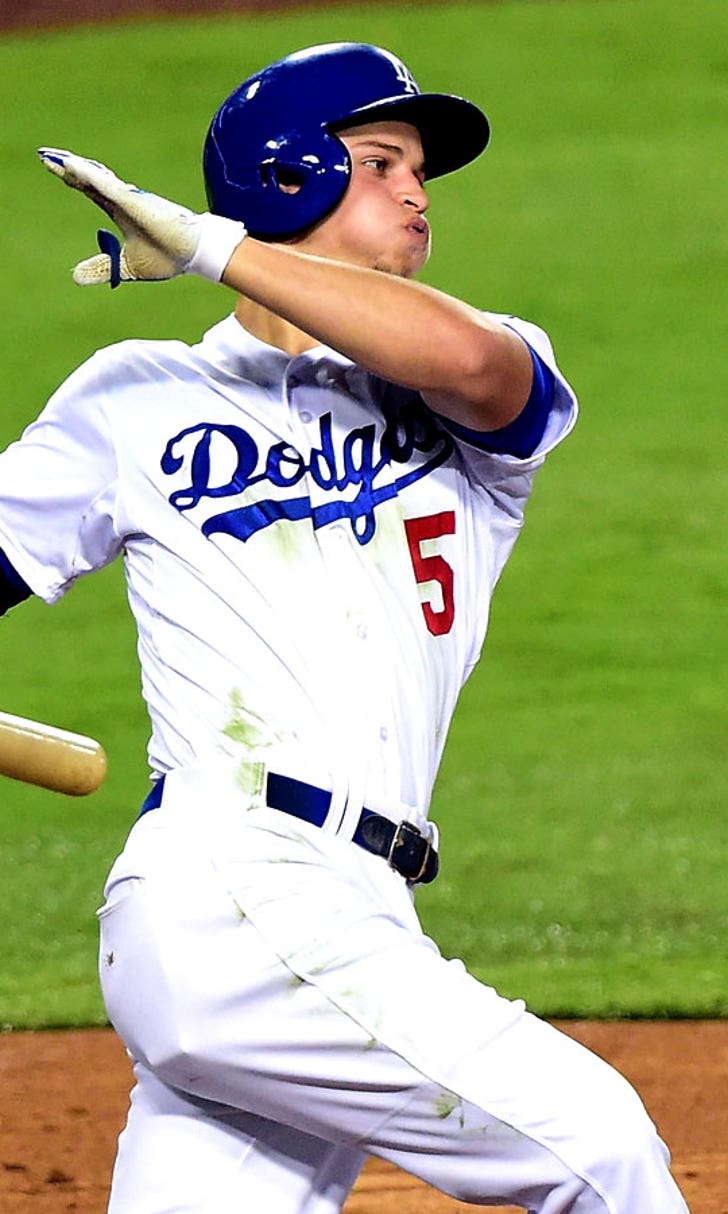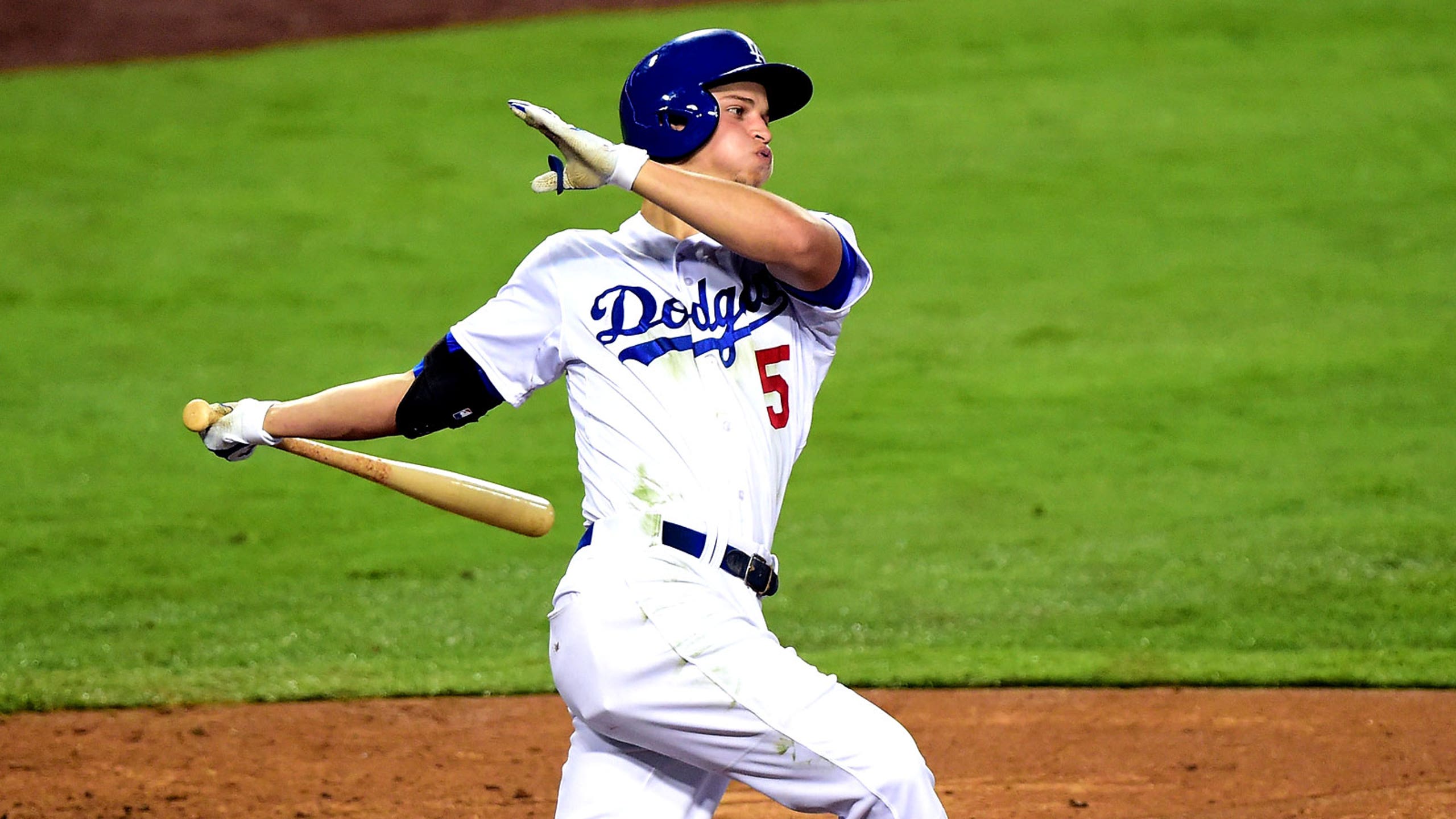 Top 2012 MLB Amateur Draftees see No. 18 pick, Corey Seager, closing fantasy gap
BY foxsports • June 7, 2016
While our 2011 MLB Amateur Draft fantasy baseball retrospective highlighted several household names and prospects on the horizon, many of the 2012 first-round draftees remain a work in progress, but with high fantasy impact celiings.
The Household Names
Carlos Correa (No. 1 / First Round) – The reigning American League Rookie of the Year may be experiencing some sophomore swoons after posting a .239 batting average in May, but when it comes to fantasy shortstop value, Correa's still a top dog with guys like Francisco Lindor and Corey Seager nipping. Also, despite his eight homers matching Zack Cozart's current production, Correa's pace for 20+ stolen bases propel him into the upper echelon of fantasy shortstops.
Byron Buxton (No. 2 / First Round) – He hit .209 with a 32 percent strikeout rate in his first 46 MLB games last season. Buxton followed his debut with a horrific start to the 2016 to the tune of a .156 batting average before a demotion back to Triple-A. However, 29 minor league games may have flipped a switch. Buxton's bat has looked strong since he was called back up last week and has seven hits (two triples) in his past three games.
Addison Russell (No. 11 / First Round) – A high strikeout rate continues to push him down in the Cubs' lineup. Granted, his glove is pretty valuable, but Russell's fantasy ceiling should be higher than .250 batting average, 10-12 homers with 10 stolen bases. Until he cuts down on the strikeouts, the 22-year-old isn't a highly valuable fantasy asset.
Corey Seager (No. 18 / First Round) – After poking five balls out of the yard in his past four games, Seager's 14 homers are 10th-best (tied) in MLB. His 38 runs and 35 RBI both rank in the top three among fellow shortstops (including Machado).
Stephen Piscotty (No. 36 / First Round) – He's on pace for 21 homers, 108 runs, 99 RBI with nine stolen bases this season. Without question one of the most consistent and reliable bats in fantasy baseball this season. His average draft position was Outfielder #50.
Michael Wacha (No. 19 / First Round) – He's a season removed from a 17-7 record, 7.59 K/9 rate with a 3.38 ERA, but the 2016 script has flipped on Mr. Wacha. He allowed 27 earned runs in his past six starts. The opposing hitters .343 BABIP indicate some offensive luck, but for Wacha to reach 2015 fantasy norms in 2016 would take a miracle.
Marcus Stroman (No. 22 / First Round) – Stroman's fantasy draft season hype train was filled to capacity. So, 12 starts into the season, the 25-year-old has undelivered with a strikeout rate closer to six than seven and ERA closer to 5.00 and 4.50. Stroman stresses, he's still learning.
The Works In Progress
Joey Gallo (No. 39 / First Round) – The Rangers' big bat may be maturing as a hitter in 2016. Although his K-rate is still 23.9 percent, that's a huge improvement and the fact his walk-rate is 20 percent is 33 games means Gallo is taking more pitches. When/If he puts the puzzle together, fantasy owners should expect 30-40 homers per season from the Bishop Gorman High School product.
Tyler Naquin (No. 15 / First Round) – The Tribe's former first-round pick made headlines last week after he homered in three straight games. Naquin's minor development crawled at a snail's pace. So, this prospect was easy to ignore. Despite the trio of long balls, Naquin's .338 batting average in 32 games is muted somewhat by an unsustainable .469 BABIP.
Kevin Gausman (No. 4 / First Round) – At one time, Dylan Bundy and Gausman were the future 1-2 punch in the Orioles' rotation. While I believe injuries have marred Bundy's chances, 25-year-old Gausman still has a shot. Although he doesn't have a win in nine 2016 starts, the 8.39 K/9 rate is more in line with minor league stats that got people excited a few seasons ago.
Jose Berrios (No. 32 / First Round) – After a four-game cup o' coffee earlier this season didn't go as planned (10.20 ERA), the 22-year-old Berrios returned to Triple-A Rochester. He's 4-2 in seven minor leagues starts with a 10.10 K/9 and 3.07 ERA. Berrios struck out 11 in eight innings pitched in his most recent start.
On The Horizon
Lucas Giolito (No. 16 / First Round) – With 19 Double-A starts under his belt, the 21-year-old pitching prospect is 8-4, consistent K/9 rate north of 8.00 and a sub-3.50 ERA. Giolito is the top rated prospect in all of baseball by MLB.com.
Mark Appel (No. 8 / First Round) – That's right Appel was drafted in 2012 by the Pittsburgh Pirates before the Houston Astros took him with the overall No. 1 pick in the 2013 MLB Draft. Now, he's with the Philadelphia Phillies with a strong K/9 rate, but sub-standard ERA for a No. 1 overall pick. Plus, Appel is currently dealing with a "barking" shoulder. Exams showed no structural damage, but he's a month away from coming off the disabled list.
David Dahl (No. 10 / First Round) – Part of the Rockies' farm system since he was 18 years old, Dahl's fantasy prospects center on his 10-15 HR (or more courtesy Coors Field) plus 20+ stolen bases per season potential. He's hitting .270 (.357 OBP) with 11 homers and 12 stolen base in 53 games. Dahl is close if – and say it with me - he can cut down on the strikeouts.
Richie Shaffer (No. 25 / First Round) – FanGraphs crafted a spring training preview blurb on the Tampa Bay Rays' farm system and touched on Shaffer's development. Although Evan Longoria's presence clogged an earlier promotion, the now 25-year-prospect's power has evaporated, while the high strikeout rate remains. Shaffer only has four homers in 55 Triple-A games compared to 19 Triple-A homers in 69 games a season ago.
Jesse Winker (No. 49 / First Round) – The future big bat in the Reds' outfield is currently hitting .287 / .384 / .370 (yikes). However, Winker seems to be focused on contact rate in his first Triple-A season with a personal-best 13 percent strikeout rate. If he can blend the consistent contact with a little pop – say 15-20 homers per season – he'll be embraced by fantasy owners.
Mike Zunino – The No. 3 overall pick in the 2012 Draft has yet to stick with the Mariners' big league club. Although the power is readily available, the .193 batting average and 32.1 strikeout rate through 295 games forced him back to the minors to start the 2016 season. Don't look now, but Zunino, now 25 years old, has cut his whiff-rate to 17.6 percent and is hitting .265 with 12 homers in 51 Pacific Coast League games this year.
Albert Almora – The No. 6 overall pick in the 2012 Draft by the Cubs just earned his first promotion today after Jorge Soler hit the disabled list. Almora, 22, is part of the uber-deep Cubs' farm system that continues to churn out top prospects after years of futility. Known more for his glove, six year of minor league marination hasn't show a ton of fantasy friendly production. He's got a little pop and a little speed, but a .260 average and .290 OBP proves he's still developing.
Andrew Heaney – The No. 9 overall pick in the 2012 Draft by the Marlins was dealt to the Dodgers and Angels on the same day in December 2014. His big league numbers are a far cry from the minor league dominance and now Heaney's on the 60-day disabled list trying to avoid Tommy John.
Eddie Butler – The No. 46 overall pick (compensation) of the 2012 Draft by the Rockies got fantasy prospectors stoked after he finished 9-5 with 8.00+ K/9 rate and 1.80 ERA at three different levels of Colorado's system. Through his first 25 MLB starts, his ERA is just south of 6.00.
Matt Olson – The No. 47 overall pick (compensation) of the 2012 Draft by the Athletics has great power. He hit 41 homers in rookie and High-A ball in 2014 and 17 more long balls last season at Double-A. As is the case with so many minor league power hitters, a consistent batting average is a luxury in Olson's world. He's a .206 career minor league hitter.
All following fun facts courtesy Baseball-Reference
Michael Wacha - Pick from Angels as compensation for Free Agent Albert Pujols
Marcus Stroman  – Compensation pick for Unsigned pick Tyler Beede
Jose Berrios  - Supplemental Pick for loss of Free Agent Michael Cuddyer
Kevin Plawecki - Supplemental Pick for loss of Free Agent Jose Reyes
Stephen Piscotty - Supplemental Pick for loss of Free Agent Albert Pujols
Joey Gallo - Supplemental Pick for loss of Free Agent C.J. Wilson
Lance McCullers  - Supplemental Pick for loss of Free Agent Clint Barmes
Eddie Butler  - Supplemental Pick for loss of Free Agent Mark Ellis
Matt Olson - Supplemental Pick for loss of Free Agent David DeJesus
Jesse Winker  - Supplemental Pick for loss of Free Agent Ramon Hernandez
---
---