Heisman Forecast: Race tightens as season reaches final weeks
BY Cory McCartney • November 18, 2015
So Leonard Fournette is more Dak Prescott than Troy Smith; more Denard Robinson than Reggie Bush. At least he has helped to give this Heisman Trophy pursuit an intrigue that didn't seem possible weeks ago.
The LSU running back has faded over the past two Saturdays, joining the long list of players to dominate the race, only to see their chances fall apart. The runaway favorite in September and October -- who seemed poised to join Bush, whose win represented the highest percentage of possible points in the voting's history at 91.7 or Smith and his record 86.7 percent of first-place votes -- losing his seemingly inevitable date it making this feel a bit like 2009.
Go dial up Avatar or belt Boom Boom Pow, because this race is taking a shape similar to the year that Alabama claimed its first trophy via Mark Ingram.
That season, we had a defined hierarchy with defending winner Sam Bradford, Colt McCoy (veteran Big 12 star) and Tim Tebow (face of the nation's preseason No. 1 team) entering as the favorites. However, none of them finished higher than third (McCoy), while Bradford suffered a season-ending injury.
Ingram -- the poster boy of a team that emerged as the nation's best -- would win by 28 points over Stanford's Toby Gerhart, who broke out with a career year to lead the nation in rushing.
We had a clear view of the favorites this year, too despite not having the winner return, led by TCU's Trevone Boykin (veteran Big 12 star), Ohio State's Ezekiel Elliott/J.T. Barrett/Cardale Jones (faces of the nation's preseason No. 1).
While Elliott remains a viable candidate, none of those other preseason leaders can still be considered as such. Meanwhile, a la Gerhart, Alabama's Derrick Henry has broken out with a chance to lead the nation in rushing, and Clemson's Deshaun Watson is in the role of Ingram, his star rising with that of the Tigers.
Will it play out the same way, with Watson hoisting the trophy? Can Henry follow in Ingram's footsteps?
There are three weeks before votes will be due, and thanks to Fournette's free fall, things have gotten a whole lot more interesting.
Before we look at the players who are poised to rise and fall, herewith is the Forecaster's latest cyber ballot.
1. Derrick Henry, RB Alabama, Jr.
2. Deshaun Watson, QB Clemson, Soph.
3. Baker Mayfield, QB Oklahoma, Jr.
ON THE RISE
1. Derrick Henry, RB Alabama, Jr.
Henry would seem the logical choice to rise as Fournette slips, racking up three 200-yards games over the past month -- making him the first Crimson Tide player to do so in a single season. That has him on pace for 1,750 yards. That would be a school record and 208 more yards than Ingram had in 2009 and 167 better than Trent Richardson, who was a finalist in '11. Don't expect him to get much of a workload this week against Charleston Southern, but Nov. 28 he has a chance to dominate rival Auburn, which has improved the last two games, but remains 90th against the rush.
2. Deshaun Watson, QB Clemson, Soph.
In four of the last five games, Watson has had at least 400 yards of offense, and in those outings, he's been responsible for 16 touchdowns. The ACC's leader in total offense (319.1 yards per), he's trailing North Carolina's Marquise Williams in pass efficiency with a 160.3 to Williams' 163.8, but those two are on a collision course with the Tar Heels needing one more victory to set up an ACC Championship Game matchup. For the third straight week the Tigers are atop the College Football Playoff rankings. As long as that remains the case, and Watson keeps putting up these kinds of numbers, he will remain one of the biggest threats in this race.
3. Baker Mayfield, QB Oklahoma, Jr.
He took a step back with the loss to Texas on Oct. 10, but over the past three weeks Mayfield has worked his way into the conversation once more. In wins over Kansas, Iowa State and Baylor, he totaled 1,114 yards and 12 scores and was sensational in the Sooners' win over the previously unbeaten Bears. Just like his team's CFP chances, Mayfield has massive games over the final weeks that could help him get to New York in No. 18 TCU (Saturday) and No. 6 Oklahoma State (Nov. 28). Much has been said about the level of defense being played in the conference, but it's only going to help Mayfield's final numbers as the Horned Frogs are 60th in total D, while the Cowboys are 61st.
*NOTE: If this list went to four, Florida State's Dalvin Cook would earn a spot. Last weekend he broke Warrick Dunn's single-season school rushing record, but as detailed here, his numbers make you wonder what could have been had he stayed healthy. 
FALL GUYS
1. Leonard Fournette, RB LSU, Soph.
Arkansas held Fournette to 91 yards, making it two straight games with less than 100. That being said, he remains the nation's leader with 163.8 yards per game and 1,474 yards overall. He's in for another stiff test this week, though, as Ole Miss is allowing 125.7 per (23rd) and last season limited him to 113 yards on 23 carries. Weighing in Fournette's favor, linebacker Denzel Nkemdiche (the Rebels' leading tackler) and defensive lineman Fadol Brown are uncertain for the game, but the fact remains that Fournette's air of invincibility has been stripped away. Getting that, and the Heisman lead back, are tall tasks.
2. Corey Coleman, WR Clemson, Jr.
Oklahoma and its Big 12-best defense held Coleman to season lows in catches (three) and yards (52) and kept him out of the end zone for the first time all year. He simply needed a big performance in that primetime affair to gain the kind of momentum a wide receiver needs to make a legitimate run, and he didn't deliver. With TCU's Josh Doctson out for the season, Coleman should run away with the Biletnikoff Award, though, as the nation's best receiver, and his ridiculous numbers -- he leads FBS in receiving yards per game (136.6) and TD catches (20) -- will get him on some Heisman ballots.
3. Christian McCaffrey, RB Stanford, Soph.
A loss to Oregon that all but ended the Pac-12's chances of putting a team in the CFP wasn't on McCaffrey. He had 147 yards and a touchdown to go along with five catches for 42 yards, and hasn't had a game of less than 133 total yards since Sept. 12. McCaffrey should dominate Cal, which is 106th in total defense and 100th vs. the rush, and he can help his resume on Nov. 28 vs. No. 4 Notre Dame, but with the Cardinal's stock falling, rebounding while other contenders help deliver statement wins isn't helping him right now. But of anyone of these Fall Guys, it's McCaffrey that has the best chance to turn things around.
Follow Cory McCartney on Twitter @coryjmccartney
---
---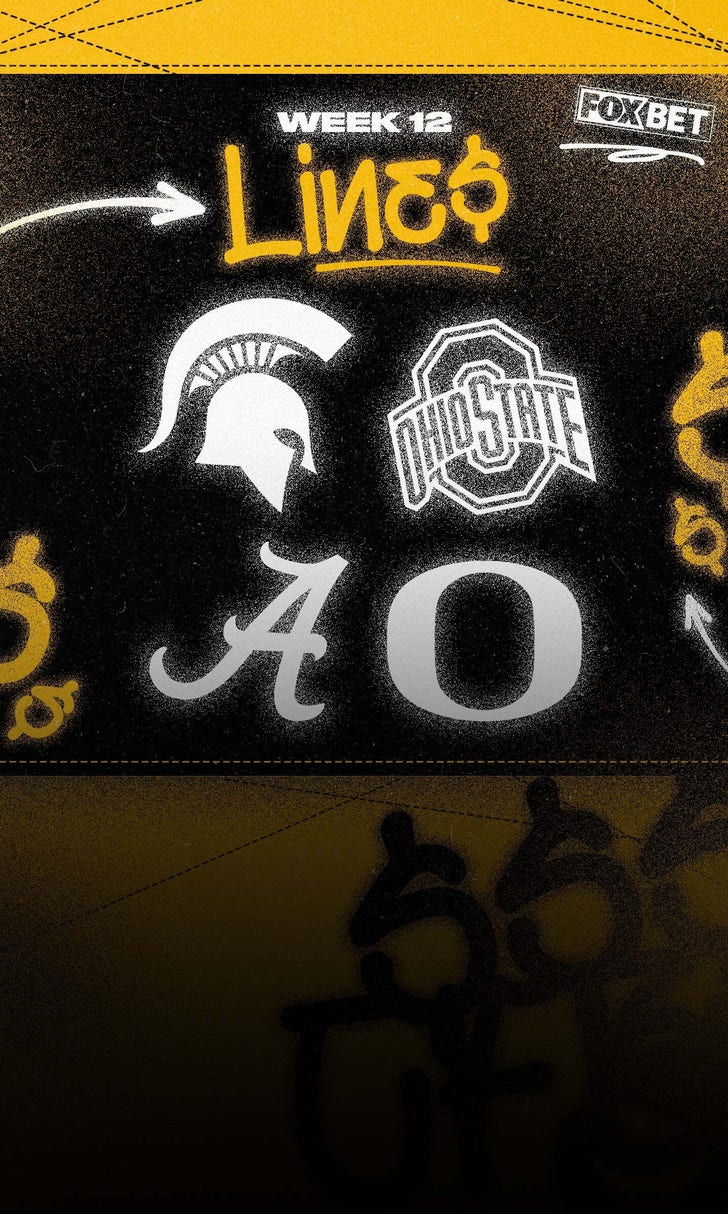 College football odds Week 12: Results, closing lines for every top 25 game